San Francisco Digital Signage Company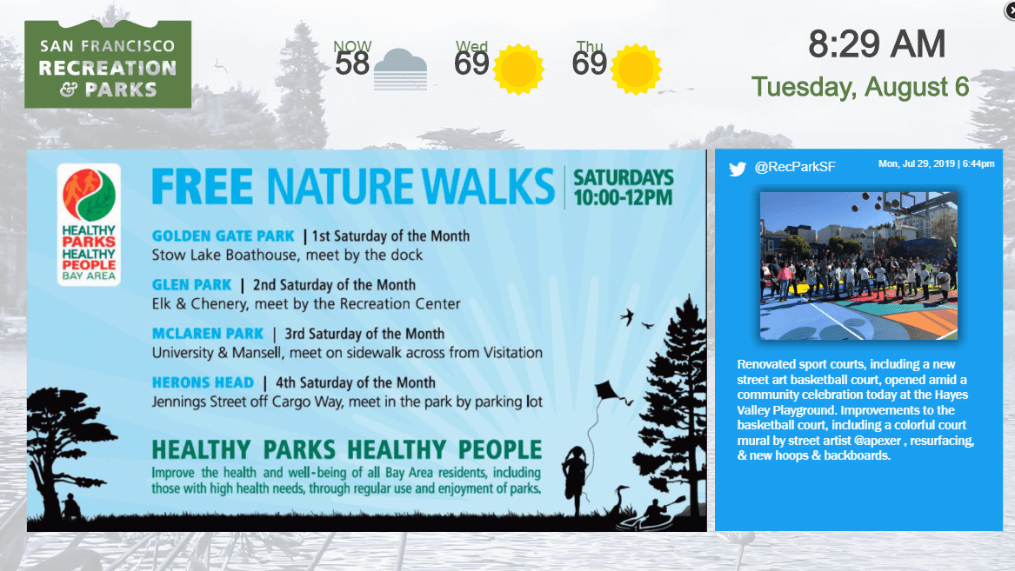 If you're a growing company in the California area, you may be interested in learning about the many benefits of digital signage. As a San Francisco digital signage company, REACH Media Network stands ready to assist you in easily distributing information of all types to your target audience.
Why Choose a San Francisco Digital Signage Company?
You have a number of choices when you're looking for a digital signage company. You can choose a company that requires you to install on-premises equipment and software or you can turn to a cloud based provider. At REACH, we offer cloud based digital signage software for a number of key reasons, a few of which include:
Access Digital Signage Content from Anywhere – One of the biggest advantages of cloud based digital signage software is that you can access your content from literally anywhere. Simply login to your content management system from any computer that's connected to the internet and you'll instantly be able to make changes to your digital signage.
Cost Effective – Not only can you access the software from anywhere, you also don't have to purchase additional software. Everything can be accessed from the cloud and you can easily add or remove digital signage devices as needed.
Increased Security – When your data is hosted in the cloud thanks to our cloud based digital signage software you can rest easy knowing your data is always secure. We take all of the necessary precautions to ensure our data center is completely secure so your data will never be compromised.
Constant Updates – At REACH, we're constantly improving our software to add new features, many of which our partners have recommended. Instead of having to download updated software, because our software is hosted in the cloud, you'll automatically receive these updates without having to take your digital signage offline. This ensures you always have the latest digital signage software to better connect with your target audience.
Interactive Widgets – Because our software is cloud based, you'll have access to hundreds of interactive widgets that will allow you to make your digital signage more engaging. Imagine being able to automatically showcase social media content, traffic updates, weather alerts, emergency information, news headlines, live TV and much more!
Learn More About REACH Media Network – A San Francisco Cloud Based Digital Signage Company
Don't delay, the time is now to request a free demo of our cloud based digital signage software. You can call us anytime at 952-255-6296 to setup your free demo and see for yourself just how versatile and user friendly our software can be for your growing organization.