Digital Signage for Hospitals & Medical Clinics
AWARD WINNING HEALTHCARE DIGITAL SIGNAGE
JOIN LOTS OF HEALTHCARE INSTITUTES THAT ARE ALREADY USING REACH!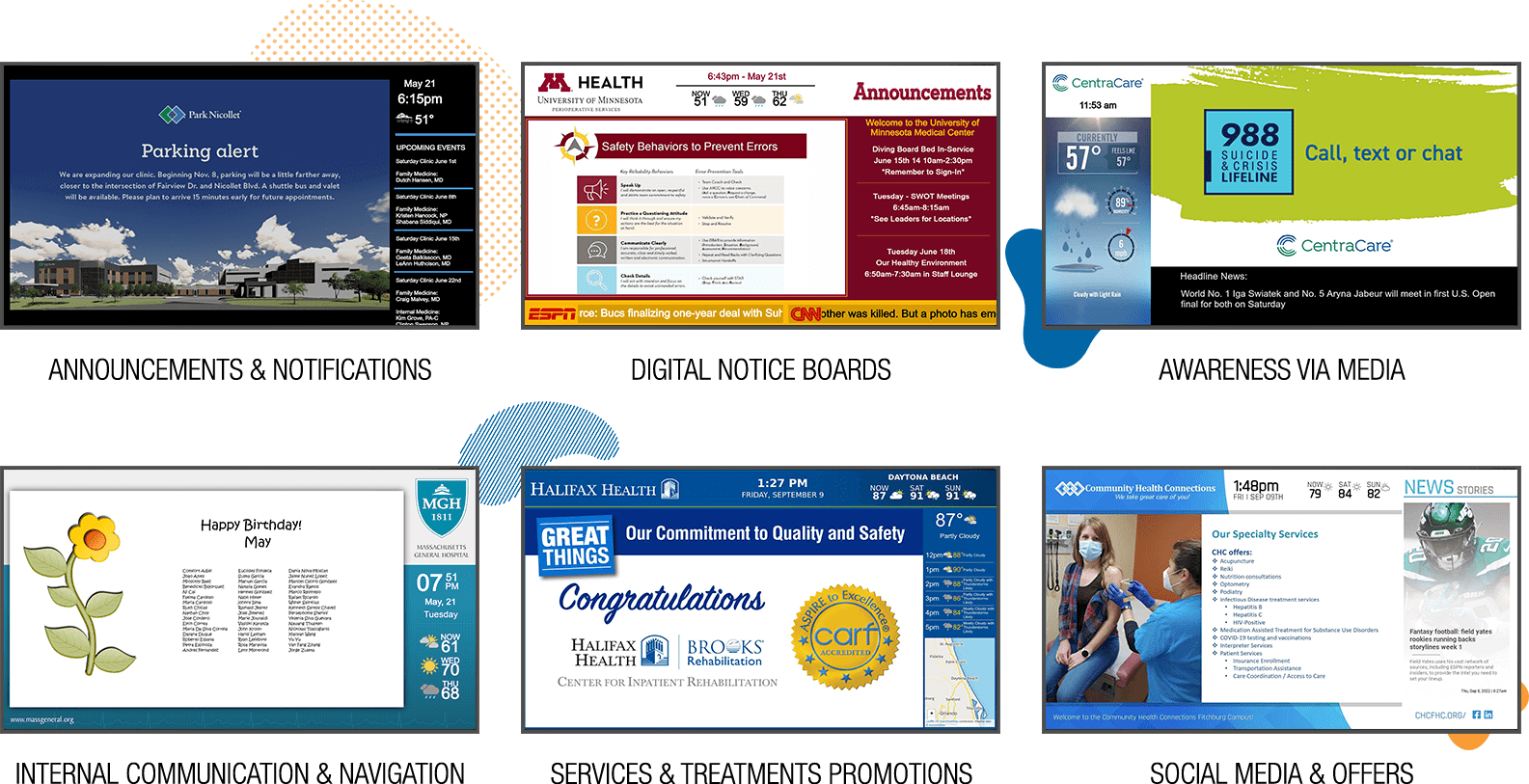 CREATE, SCHEDULE, & MANAGE
SET UP & CONTROL THE CONTENT ON YOUR SCREEN
With REACH's healthcare digital signage software, manage your healthcare and hospital
digital signs from any computer or laptop. Create individual user accounts for sub-user management.
To facilitate quick content updates, pre-schedule media to play at specific times.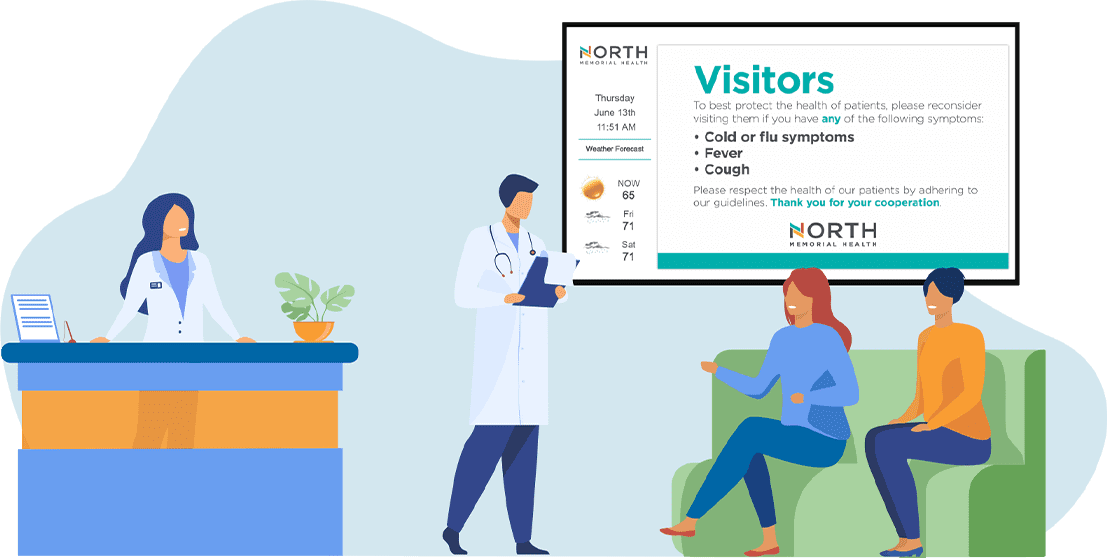 HEALTHCARE & DOCTOR OFFICE APPS
AUTOMATE & CUSTOMIZE YOUR CONTENT EASILY
When it comes to healthcare, our digital signage software for hospitals and healthcare is tailored to simplify the dissemination of critical announcements while automating the way you send your content to screens, kiosks, and video walls spread across your medical building.
DIGITAL SIGNAGE SOFTWARE FOR HOSPITALS
SIMPLE & EASY CLOUD SIGNAGE
To encourage communication and teamwork between employees, hospital and doctor office digital signs can be purposefully placed in high-traffic areas of your medical facilities. Lobbies, waiting areas, and near elevators are all key locations where you can use healthcare digital signage.
Distribute information on seasonal colds and flus
Advance and promote cutting-edge new medical practices
Bring attention to fundraising events
Introduce updated HR and training videos to your staff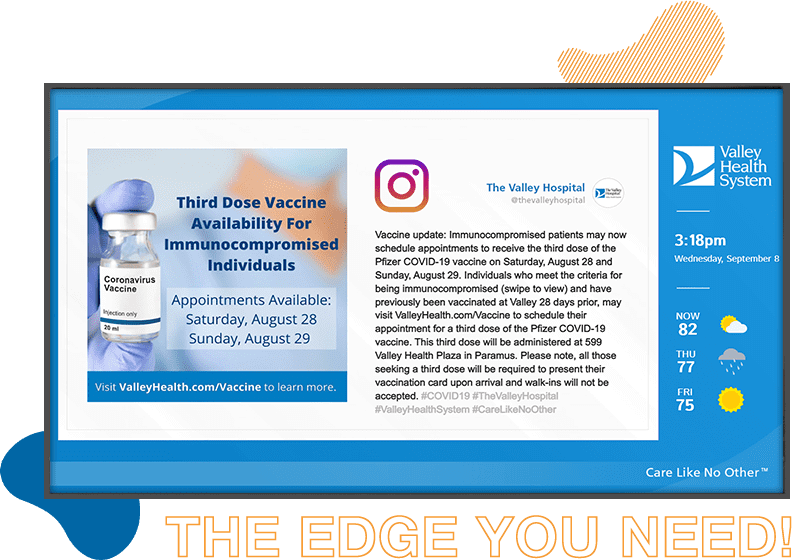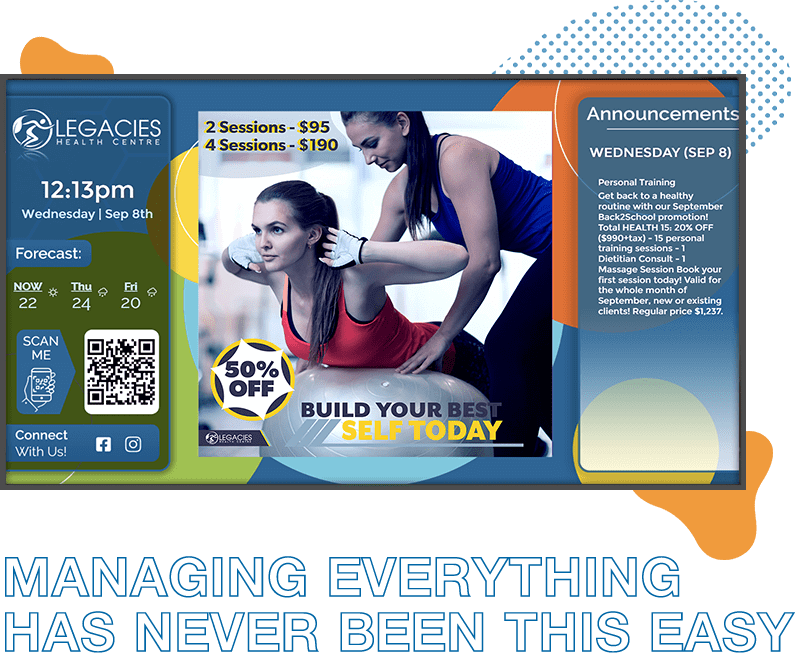 DIGITAL SIGNAGE SOFTWARE
FOR HOSPITALS &
MEDICAL CLINICS
BRIDGING THE INFORMATION GAP
The ultimate digital signage solution for hospitals improves patient care. Keep your patients entertained with short, instructive healthcare-related videos, quotes of the day, and breaking news entertainment updates.
Healthcare Branding: customize the signage with your colors, fonts style, logos, and overall look & feel
Doctor and Staff Communications: share healthcare organization news, required new policies, and procedures
Wayfinding: Set up easy-to-use directories and maps to help patients and visitors find their doctor
CLINIC, HOSPITAL, & DOCTOR'S OFFICE DIGITAL SIGNAGE
USING DIGITAL SIGNAGE FOR HOSPITALS & MEDICAL CLINICS
Our digital signage for healthcare is entirely web-based so that you can update the screens from any location with an
internet connection. Additionally, all content is set to cache and will play without an internet connection.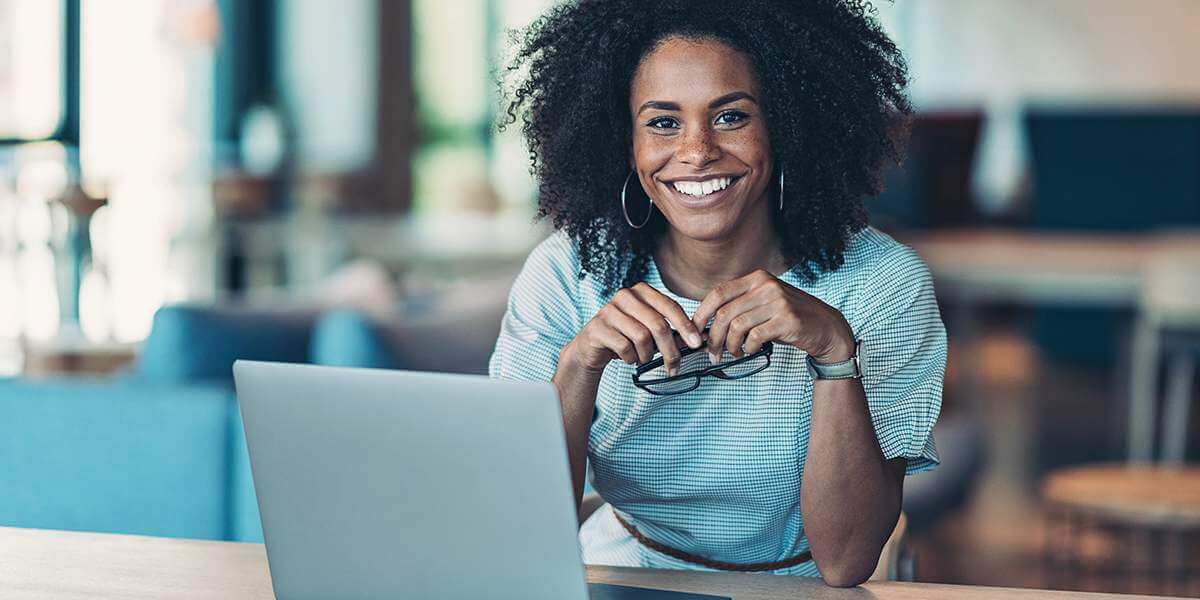 Digital Signage solutions
Our team is ready to deliver easy-to-use digital signage solutions to your business. With dedicated support teams and powerful design tools, anyone from any skill level can design professional-looking designs in minutes!