Aurora Public Schools Fully Utilize Digital Signage for Education
AURORA PUBLIC SCHOOLS FULLY UTILIZE THE STRENGTHS OF DIGITAL SIGNAGE FOR EDUCATION
Background
Digital signage for education is transforming the ways students and staff engage with learning across the country. One of the best examples can be found within the Aurora Public School district. Gradually building its digital signage network, Aurora Public Schools has found creative ways to get the most utility out of its displays. From bus schedules to school calendars to menu boards, digital signage is found in every facet of Aurora's strategy. This has resulted in increased student engagement, more efficient workflows for staff, and added security for all parties. As the district continues its plans for expansion, more creative use cases reveal themselves, presenting an interesting study of the flexibility of signage solutions. Regardless of the industry, digital signage can improve communication for any business. Looking to start your journey? Then click here to get started!
The Challenge
Initially, Aurora Public Schools was looking to implement digital signage for basic maintenance tasks. However as the use of signage became more apparent, schools became hungry for their own technology. With more events, students, clubs, sports, and staff every year, schools were beginning to request more advanced communication capabilities such as live streaming, digital menus, and weather updates. Not only would this allow each facility to promote its own materials, but it would also help students and staff with other day-to-day tasks. However, each location wanted to control its own content in order to fit the needs and branding guidelines of its community. Hence, the solution needed to be controlled from a central location so assets and important information could be shared, but still allow a degree of freedom for each school. For a network of 63 buildings, this was absolutely crucial, and the software provider needed to be reliable. After a successful demo and seeing their stellar support firsthand, Aurora Public Schools partnered with REACH to initiate their digital signage strategy. 
The Solution
Since partnering with REACH, Aurora Public Schools has incorporated digital signage into nearly every facet of its strategy. Digital signage software for education has made transportation more efficient, as driver schedules, bus routes, and weather conditions are able to be placed right before drivers within warehouses. Digital menu boards let students know what's available each day, and even offer nutritional information to help students make healthy choices. Within breakrooms, teacher lounges, and even some lunchrooms, Live TV helps viewers unwind and learn what's going on outside of school. Across each facility, integrated calendar solutions help teachers plan lessons, schedule sporting events, and make students aware of important deadlines. Through API connections, staff are able to integrate calendars that are already built into the REACH software, resulting in greater ease of use. Of course, every school is able to create its own content. Content can then be organized into playlists that are themed and employed for a specific purpose. This means school events, pep rallies, fundraisers, and other promotions are entirely controlled by its staff who are in tune with the community's needs. In this way, Aurora Public Schools demonstrates a complete commitment to the strengths of digital signage.
The Results
The impact of adding digital signage to its facilities was felt almost immediately among Aurora's schools. Students are more engaged than ever, as clubs and sports have seen increased registration numbers. Kids are routinely looking up at the displays to see the latest information and deadlines, and taking action to get involved. Busses are able to update and change routes in real-time based on weather conditions, ensuring the safety of drivers and passengers alike. With nutritional menu boards, students are able to apply the health and wellness lessons they learn in class to their meal planning. Hence, Aurora Public Schools have been able to intertwine learning and real-life applications through digital displays.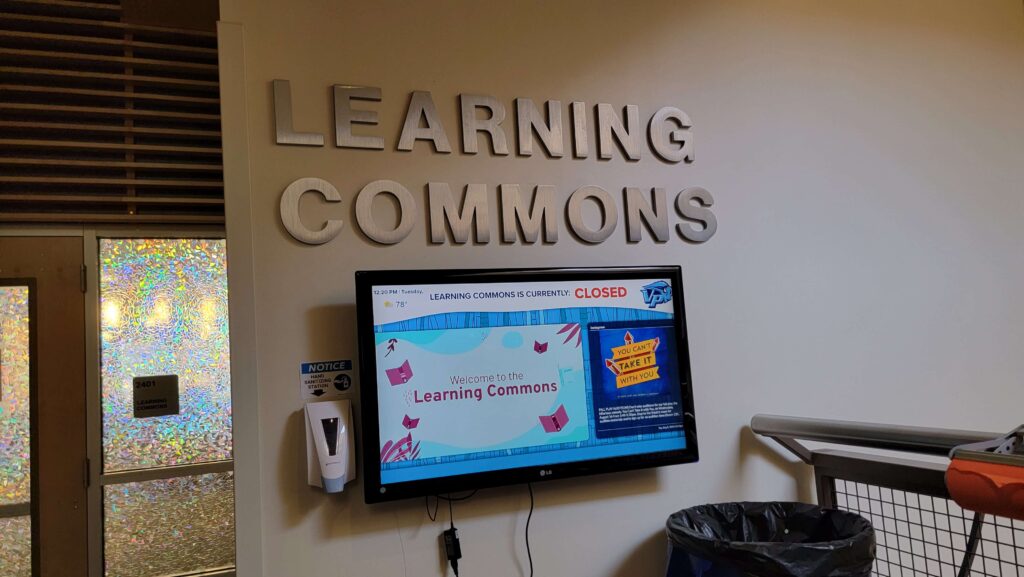 Testimonial
"I've always had a great experience with the REACH team, from top to bottom."
Patrick Lopez, Digital Multimedia Engineer at Aurora K12
About REACH
REACH acts as both a hardware and software provider for digital signage. When you partner with REACH, you join a network of industry professionals committed to your success. A strong belief in evolving technologies runs throughout the company, resulting in robust digital solutions. Learn more by clicking the link below!