Digital Signage for Manufacturing & Warehouses
AWARD WINNING DIGITAL SIGNAGE FOR MANUFACTURING FACILITIES
JOIN COUNTLESS ORGANIZATIONS THAT ARE ALREADY USING REACH!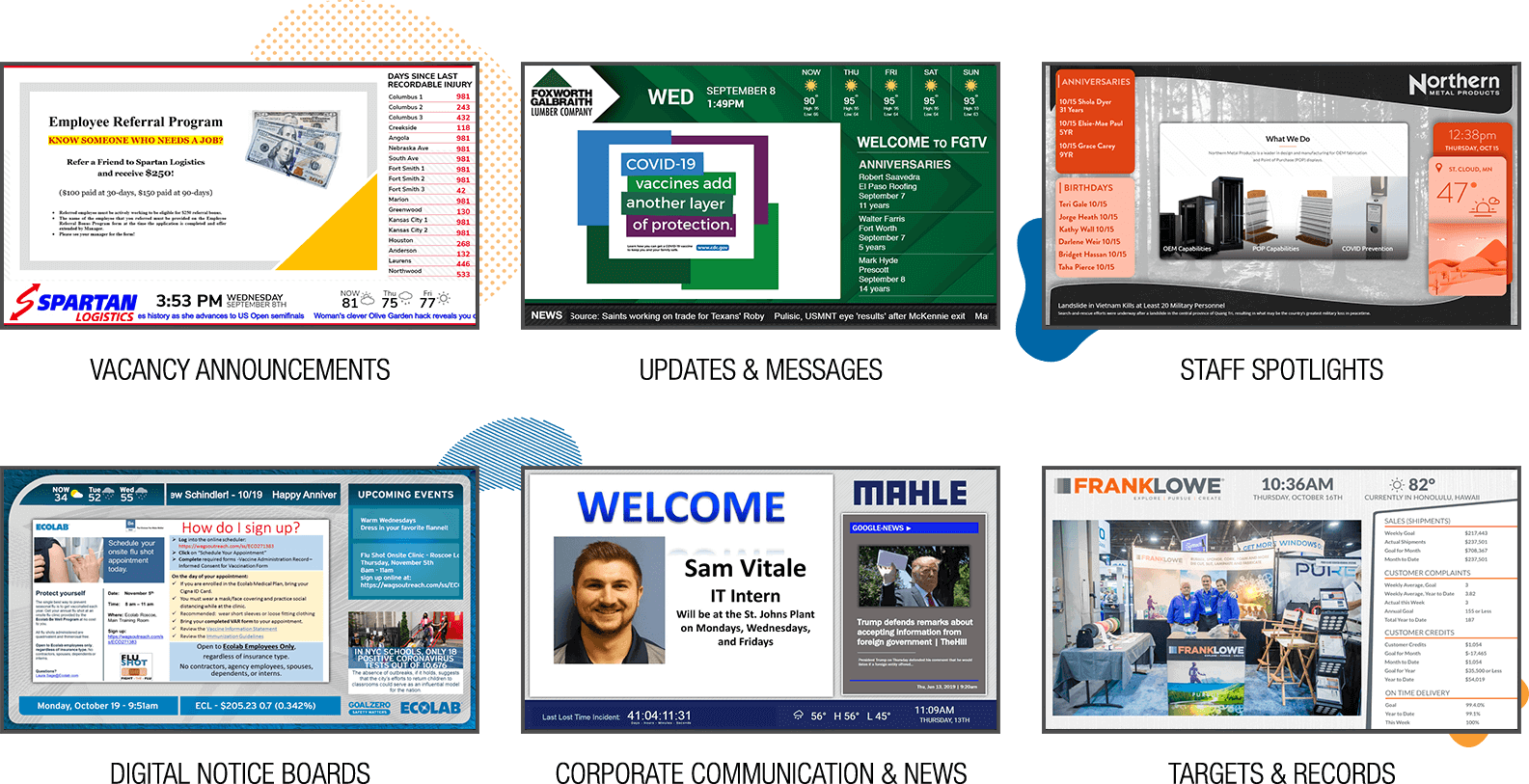 DESIGN, AUTOMATE & CONTROL
TRACK & MANAGE FROM ANYWHERE
From any computer or laptop, you will have complete control over what you show
on your factory floor digital signs. Set up sub-user management personal user accounts for easy
content updates and even preschedule your media to play at desired times.
FACTORY & WAREHOUSE SIGNAGE APPS
CONNECT & STREAMLINE COMMUNICATIONS
Our digital signage software for manufacturing plants is especially designed to automate data
and metrics delivery while making it easier for you to broadcast your most important notifications.
MANUFACTURING SHOP
FLOOR DISPLAYS
The scope of the automation of your manufacturing facility can extend beyond the actual machines themselves and into the realm of communication systems. For example, shop floor display boards enable reliable, rapid communication, increasing productivity and decreasing downtime.
Do you have a client who requires a quick turnaround or special modifications to your products? Provide your staff with up-to-date information in real-time using shop floor digital signs
It is essential to keep tabs on your output, pick rate, and shipping; use factory floor digital signage to display your numbers
Preschedule daily morning announcements and updates that are essential to your day's operations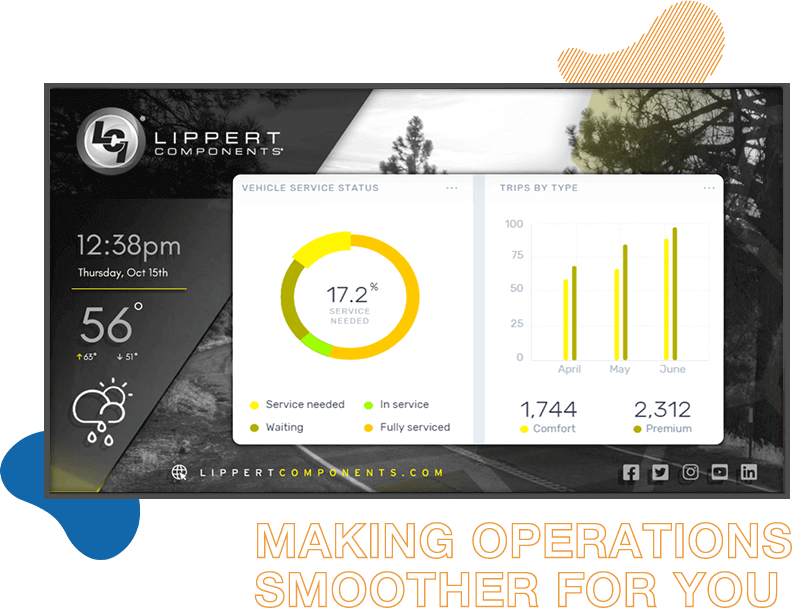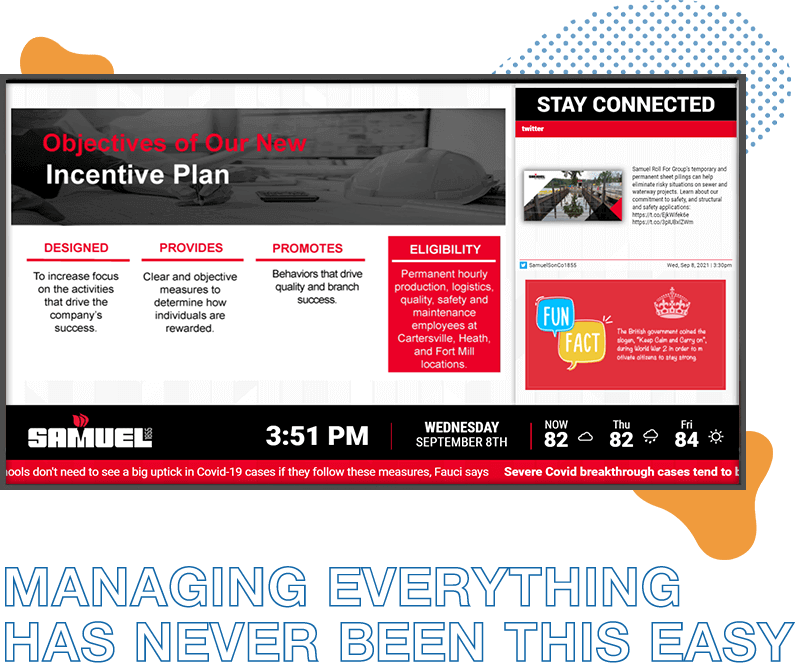 DIGITAL SIGNAGE FOR
OFFICE & CORPORATE
COMMUNICATIONS
Digital signage warehouse and manufacturing displays open up a world of possibilities for your staff and overall productivity rates, whether you're trying to improve communication within the firm or speed up decision-making on the factory floor.
Visitor and customer engagement, welcome special guests by their name and logo on the screen!
Changes in product expectations: let workers know of changes in product or output timelines.
Wayfinding: set up interactive directory displays with maps
Social feeds: include your company's Facebook, Twitter, and Instagram updates
ENTERPRISE LEVEL MANUFACTURING DIGITAL SIGNAGE
YOUR ULTIMATE CORPORATE COMMUNICATIONS PARTNER
Creating professional-grade material is a breeze with REACH's Digital Signage for
Manufacturing facilities. Easily set up your production line display to share metrics,
company news, bulletins, and media. Upload slides or customizes a template!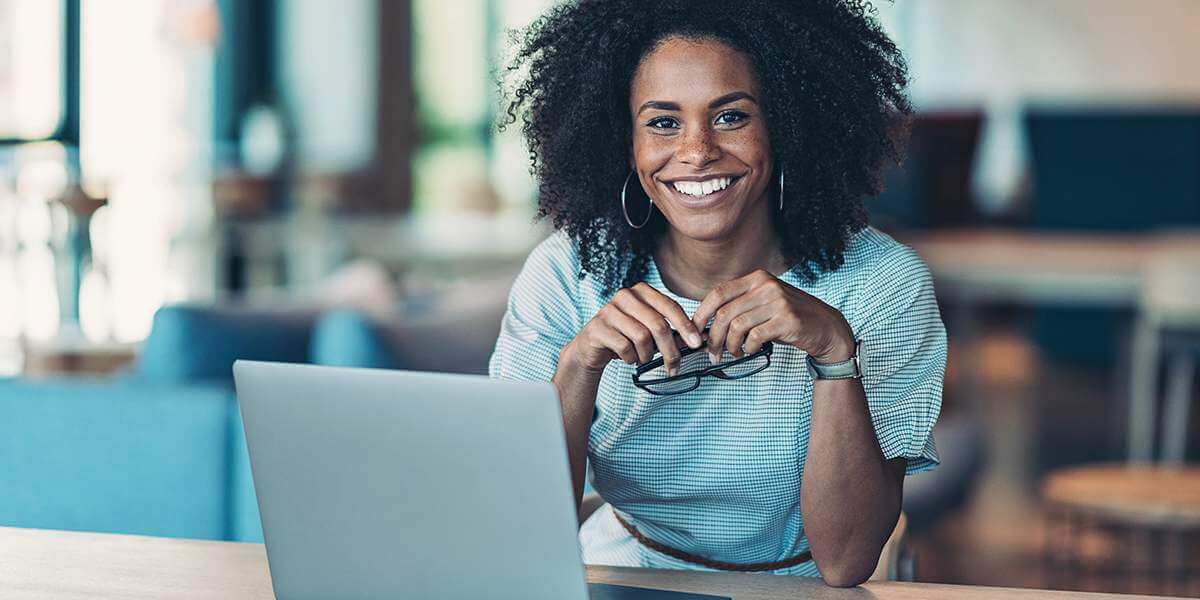 Digital Signage solutions
Our team is ready to deliver easy-to-use digital signage solutions to your business. With dedicated support teams and powerful design tools, anyone from any skill level can design professional-looking designs in minutes!