Warn Automotive Streamlines Internal Communication With Digital Signage
Warn Automotive Streamlines Internal Communication With Digital Signage
Background
Warn Automotive is an automotive manufacturing company focused on developing products for OEMs, specifically improving the performance of vehicles while reducing emissions. With a full suite of services including engineering and product design consultation, Warn Automotive often has a lot of moving parts (no pun intended) going on at once. With this in mind, it's important for Warn to communicate effectively with staff in order to operate safely and efficiently. As a result, Warn Automotive has partnered with REACH to streamline internal communication through digital signage. Looking to try digital signage out yourself? Click here to sign up today!
The Challenge
Before utilizing digital signage, Warn Automotive would have to host physical meetings to relay important information to staff. Its digital media solution was also limited to TVs running a PowerPoint presentation on each display. This resulted in time wasted meeting or updating each display individually. Warn Automotive realized it needed a more modern communication method. Being able to relay important information and data from a central location. Additionally, they needed software that was flexible enough to integrate apps and software they used to display manufacturing-based signage. After an impressive demo, the team was ready to move forward with REACH.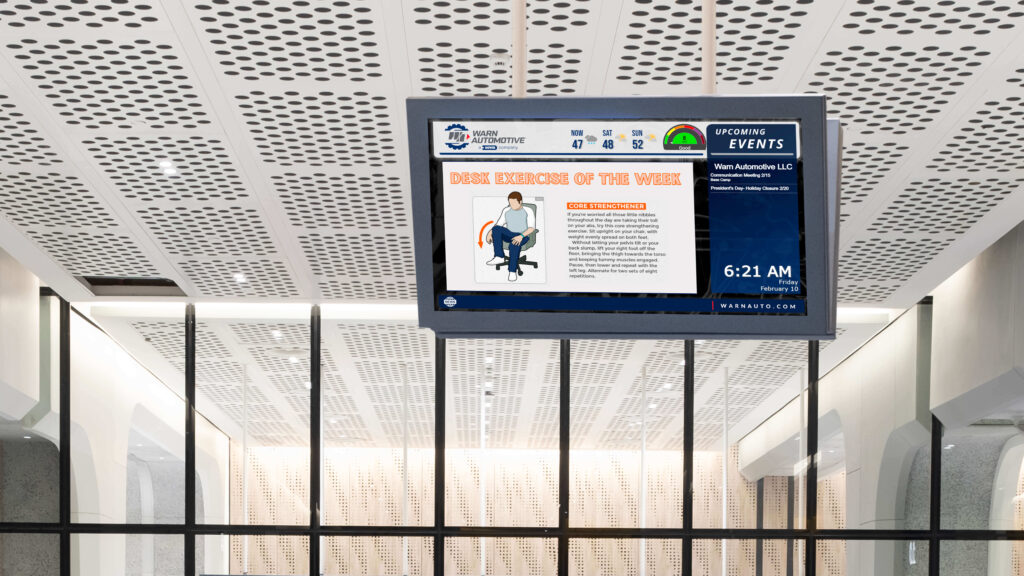 The Solution
Since implementing digital displays, Warn Automotive has seen a drastic improvement in internal correspondence and workflow. Focusing mostly on manufacturing-based signage, Warn is now able to display information such as community sales, vendors, and business customers. This keeps teams on the same page and focused on achieving specific goals. Dynamic apps have drawn and maintained more attention than previous signage, meaning people also retain more of the information they have seen on these screens. REACH's flexible software also allows them to create content both in the CMS as well as embedding from third-party software.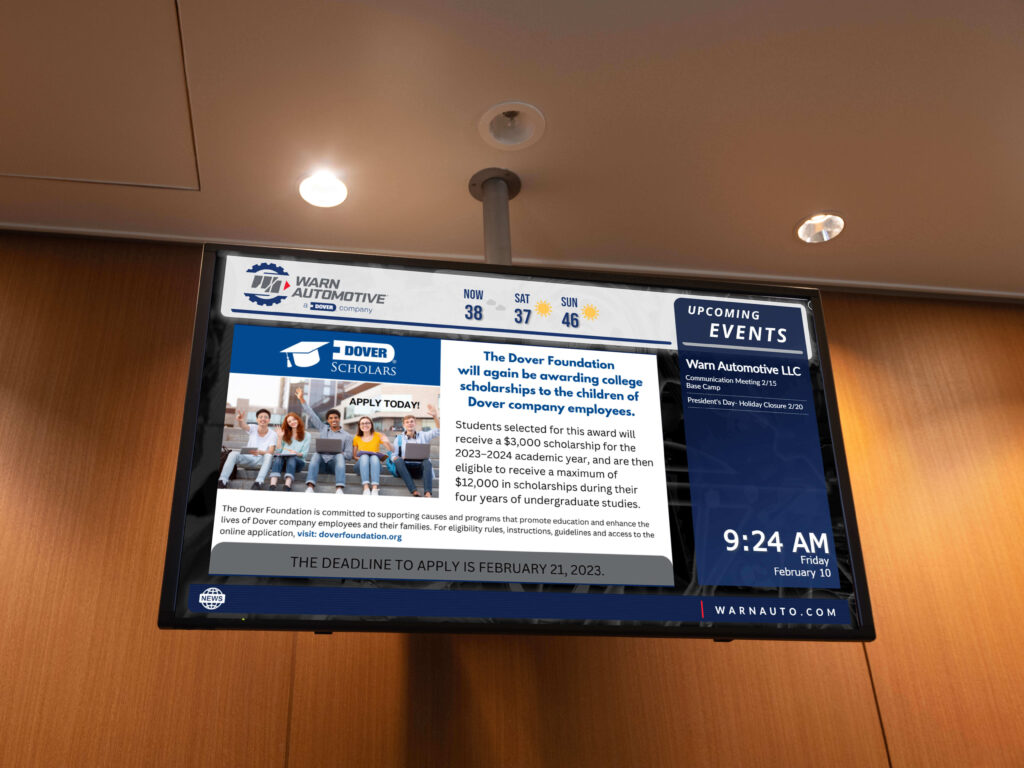 The Results
Warn Automotive has now expanded to 19 OptiPlex players across its facility. Each PC powers a screen that users can update individually or all at once depending on their objective. In addition, staff not as knowledgeable with tech are still able to create content through REACH's user-friendly interface, resulting in easy onboarding and content creation for their marketing team. Calendar integrations have also been crucial to remind the team of important events, such as monthly server and network maintenance.
Testimonial
"We needed a platform that didn't require a lot of care or maintenance. [REACH] gave us that solution."
Tyler Bell, Director of IT at Warn Automotive.
About REACH
REACH acts as both a hardware and software provider for digital signage. When you partner with REACH, you join a network of industry professionals committed to your success. A strong belief in evolving technologies runs throughout the company, resulting in robust digital solutions. Learn more by clicking the link below!