Manufacturing Digital Signage Strategies That Improve Productivity & Output
MANUFACTURING DIGITAL SIGNAGE STRATEGIES THAT IMPROVE PRODUCTIVITY AND OUTPUT
MANUFACTURING SUCCESS THROUGH SIGNAGE
If the U.S. Manufacturing industry was its own economy, it would be the 8th largest economy in the world. With such an expansive industry, manufacturing plants and businesses need technological solutions to help streamline the production process. There are many factors to be aware of, and plenty of data that needs to be accurately tracked. When implemented with digital signage, manufacturing plants can see increased success and more productive workflows. Aside from production data, schedules, calendars, highlights, and more can also be displayed through digital signage. The result is a comprehensive solution that allows you to share a variety of data in a concise manner. In this document, we will go over some of the most popular and successful manufacturing digital signage strategies. These methods can be applied to your own business and tailored to your needs and brand. However, if you haven't chosen a platform for your signage, click here to get started!
1) POWERBI AND KPI METRICS
Digital signage for manufacturing and production plants offers flexible solutions that allow for third-party integrations. One of the more popular, premium applications is iFrame solutions, a Microsoft data organization software that allows users to find insights about their company. Through digital signage, your PowerBi account can be integrated with your content management-system. Charts, data tables, reports and more can all be pulled for display through your digital screens. Other software can be integrated as well to display other important corporate metrics. By displaying these metrics, you're giving your team the information and tools they need to perform efficiently. Using this data, the team can make adjustments to strategy, the production process, or prioritize other tasks. Having access to this type of info helps your team see how productive and efficient they are, allowing them to more efficiently hit deadlines and production outputs. 
2) SAFETY GUIDELINES AND MESSAGING
Production floors can be dangerous places. Heavy machinery, sharp objects, and motorized vehicles can all be zooming around the floor at any given time. Couple this with rapidly approaching deadlines and client demands, workers may find themselves hustling without paying attention to typical safety practices. Here is where digital signage can help slow things down. Safety guidelines can be displayed across screens to remind employees of proper safety guidelines. Instructional videos can be played in break rooms and other employees gathering areas to remind them of proper handling of machinery or how to navigate the floor. Placing this type of signage in areas where employees can take the time to digest this info will ensure that the lessons are properly conveyed. Demonstrating a vested interest in the continued safety of your employees also strengthens an employee's connection to your business, encouraging them to perform well. It also bolsters your reputation as a respectable business. 
3) CALENDARS AND SCHEDULES
Manufacturing plants are often large facilities that can host hundreds, or at times even thousands of employees at a time. As a result, there are many moving parts at any manufacturing plant. Digital signage can help organize and keep track of each sector of your business through digital schedules and calendar integrations. Through our calendar tool, you can organize calendars based on similar traits and thematic elements. Once created and organized, these calendars can be placed within layouts for display. Through CSS, you can edit the look of each calendar to reflect your branding guidelines. This will unify the look of your displays across each facility. Calendars can also be integrated with basic animations such as vertical scrolls or static fades, catching the eye of anyone within distance. Events, teambuilding exercises, fundraisers, and other important deadlines can all help keep people aware of everything going on in the company. Aside from calendars, schedules can also be created within the calendar tool. Displaying schedules will help employees know who is on the clock, what days to work, who's responsible for what duties, and so on. This can alleviate confusion in the workplace and help streamline workflows. If your business has calendars or schedules built out in third-party software such as Google or SharePoint, they can be integrated and directly pulled into your signage.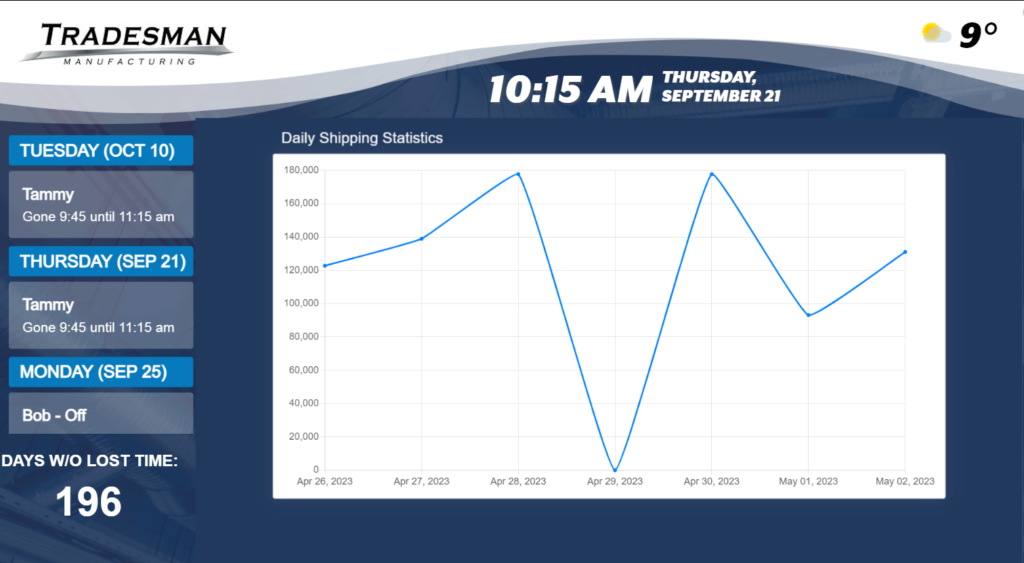 4) General Announcements
Of course, general company announcements can all be displayed through our playlist tool as well! Here, you can display employee highlights, promote upcoming events, convey new company initiatives, and so on. Assets can be directly created and pulled from your Media Library, allowing for seamless content creation. Even more powerful applications can be applied, such as iFrames, which will allow you to display segments of your website or other web-based data for your staff to interact with. This gives you more creativity and flexibility when designing your layouts. Certain content, such as employee highlights or entertainment, can encourage employees to work more efficiently by providing much needed breaks and highlighting high performers.
ABOUT REACH
REACH acts as both a hardware and software provider for digital signage. When you partner with REACH, you join a network of industry professionals committed to your success. A strong belief in evolving technologies runs throughout the company, resulting in robust digital solutions. To begin your digital signage journey, click the button below to request a free demo from REACH today!