5 Tips You Need To Maximize Revenue For Education Digital Signage
5 TIPS YOU NEED TO MAXIMIZE REVENUE FOR EDUCATION-BASED DIGITAL SIGNAGE
A FOREVER FUNDRAISER
According to a 2020 study released by The Century Foundation, public schools are underfunded by the U.S. by $150 billion annually. With this in mind, it becomes evident why many schools rely on outside resources to fund their programs and staff. Initiatives to raise money for schools can be strengthened by investing in a robust digital signage program! Not only that, but digital signage can actually save you money compared to traditional media as well. When utilized properly, these aspects can be employed to create a potential revenue stream through your signage. In this article, we will detail 5 ways digital signage can be used to generate revenue. These tips are meant to show the flexibility of education digital signage and can be applied to elementary and secondary education institutions. Looking to try digital signage out yourself? Click here to get started!
ADVERTISE YOUR GOODS
All schools have some type of merchandise people can purchase to showcase some school spirit. However, these are usually reserved for sporting events, pep rallies, and other special occasions. This also means people aren't aware of your school's swag until they see it! This can result in a loss of sales as people are not able to properly assess their options, and people are less likely to impulse purchase larger items like clothing or otherwise. With this in mind, digital signage can cue your audience in on some great things your school is selling! From spirit wear to backpacks or water bottles, digital signage can advertise your products in a variety of ways. For instance, standard announcements can be organized and displayed through playlists. But for more ambitious endeavors, video walls can be set up to show off your products in a more prominent light.
Of course, school merchandise isn't the only thing that can be advertised through signage. As stated previously, many educational facilities host fundraisers throughout the year. Digital signage can give life to these events and get people excited to participate! Doing so also prepares audiences, giving them ample time to raise more money and prepare for more sales. The result is more revenue for the school and money being raised for each fundraiser! This can be extended to other events as well, as big sports games, theater productions, and more can be advertised in advance with digital signage. Some integrations can even be used to stream these events, ensuring no one misses out on the fun. Regardless of what it is you want to advertise, digital signage can ensure it turns heads and brings in more revenue!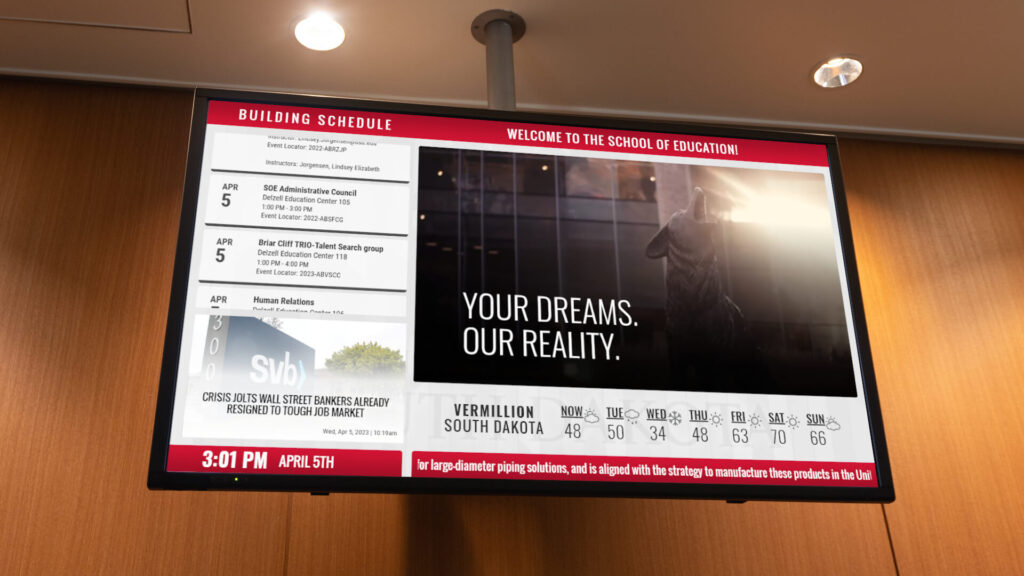 PROMOTE EVERY EVENT
We briefly touched on promoting events through digital signage. Obviously through tools like our announcement editor or Canva integrations, stunning designs and promotions can be used and displayed in the main zone of your layouts. However, promotions aren't the only way to promote school events. REACH's content-management system has its own tool that allows you to create your own calendars. Multiple calendars can be created and organized into groups with similar themes. Everything from fitness class schedules to testing weeks, field trips, and club meetings can be scheduled and displayed on your signage.
But how does this actually increase revenue? By providing the necessary information, students and staff are able to more accurately evaluate the clubs and activities they want to participate in. They are therefore more likely to make a purchase after seeing the upcoming dates on your displays. Calendars can be customized to include simple animations as well, allowing them to draw more attention. By promoting events, you will increase the audience as well as the revenue.
COORDINATE YOUR SOCIAL MEDIA
Many educational institutions, especially elementary and high schools, neglect their social media accounts. Some rarely post at all, or keep posts relegated to simple, informative posts. While that is all well and good, the potential social media offers extends far beyond this, especially when it comes to revenue. Trends and hashtags can be capitalized on through school spirit participation. These trends can then encourage people to flock to buy school merch or other items to participate. Building up your social media profiles also allows you to leverage user-generated content for display. This means you can save money by using other people's posts rather than creating your own. Social media is also extremely flexible, allowing for regular announcements, videos, infographics, comment threads, community highlights, and more! Each post or profile can be coupled with links to digital storefronts, and sales can be promoted to a wider audience via social media. Sharing that on your screens expands your digital footprint and provides more avenues for your audience to interact with the school.
LEVERAGE INTERACTIVE ELEMENTS
There are certain digital signage displays that allow for more interactive elements. For example, many schools on larger campuses have begun implementing digital signage for wayfinding. This helps visitors navigate, students find their classes, and staff get to their offices. Certain displays can even be displayed outside, providing even more touchpoints for users to interact. This cuts down on frustration and gets people to your facilities faster, resulting in more sales. But even more so, other interactive elements can be utilized to drive conversions. QR codes can be embedded into any layout or playlist and be used to redirect viewers to different web pages. These web pages can include promotional items/deals, interactive flash games, and other digital storefronts. Giving audiences the convenience to take action means they are more likely to do so, resulting in a boost in revenue.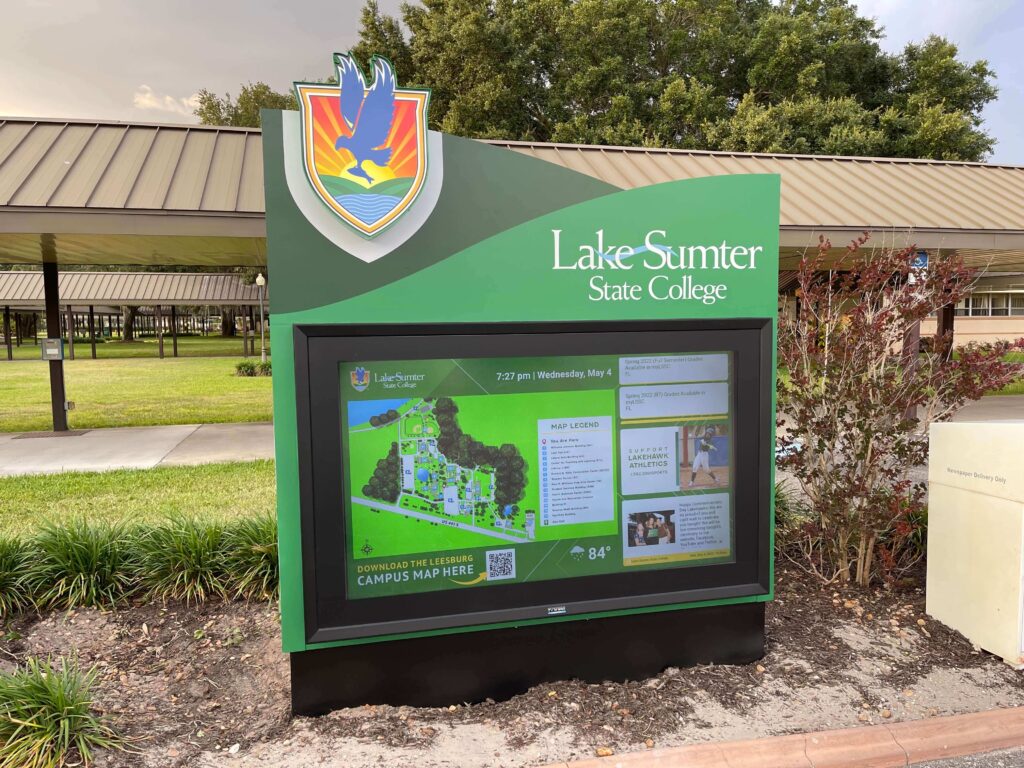 LONG-TIME SAVINGS
So far, we have detailed ways digital signage for education can actively increase your revenue streams. However, there are ways in which digital signage actually saves you money which can then increase revenue. For example, replacing your traditional bulletin board with a digital solution reduces printing costs. Rather than printing and hanging up physical poster boards, you will be able to update up to hundreds of signs at a time. This also means you eliminate the time and cost of actually getting someone out to each physical location to change your announcements. So long as you have an internet connection, you can update any of your displays at any time.
ABOUT REACH
REACH acts as both a hardware and software provider for digital signage. When you partner with REACH, you join a network of industry professionals committed to your success. A strong belief in evolving technologies runs throughout the company, resulting in robust digital solutions. To begin your digital signage journey, click the button below to request a free demo from REACH today!