7 Ways Digital Signage For Education Improves Learning
7 WAYS DIGITAL SIGNAGE FOR EDUCATION IMPROVES LEARNING
LEARNING SOMETHING NEW
If you listen closely, you can hear school bells ringing in the not-too-distant future. That's right, the back-to-school season is already here, meaning it's time to update your signage and welcome back your students. Odds are, your educational facility's digital displays have been stagnant since the start of summer. But as students and staff begin to trickle back for welcome events, open houses, and class registrations, you'll need the appropriate content to make the transition back a smooth experience. That's why we've researched 7 of the most effective ways digital signage empowers learning. Haven't taken the plunge and looking to try digital signage for yourself? Click here to get started!
SHOWING SCHOOL SPIRIT
Digital signage provides a blank canvas for you to design stunning digital assets. With REACH's flexible Media Library, you can create, edit, and store content from a variety of sources. To get started, you may want to explore REACH's first-party announcement creator. With this tool, you can use assets from your institution in fresh designs. This will result in a collection of digital content that still adheres to your branding standards. From here, you can also access REACH's extensive library of stock photos. This allows you to quickly create content using prebuilt templates. These stock images include holiday and seasonal assets, community photos, lifestyle images, and other categories. Other pieces of content included highlighting outstanding students/staff to showcasing field trips on social media, These can all be edited as well to fit your messaging.
However, for even more options, you can integrate your Canva account with REACH's CMS as well. Once you've signed in to either your free or Pro account, you can access the entirety of Canva's tools and assets. This even includes animations and videos. Canva has some advanced editing tools, so we encourage you to explore this option as well! However, it's important to remember assets created in Canva will only save to the Media Library if they are created within REACH's ecosystem. Any images created on Canva will need to be uploaded to the Media Library separately. In fact, you can also integrate your OneDrive account to pull assets you have already built internally. School logos, mascots, and other images can be pulled right from any computer synchronized with your company's OneDrive profile. This can help get your content off the ground while maintaining school spirit.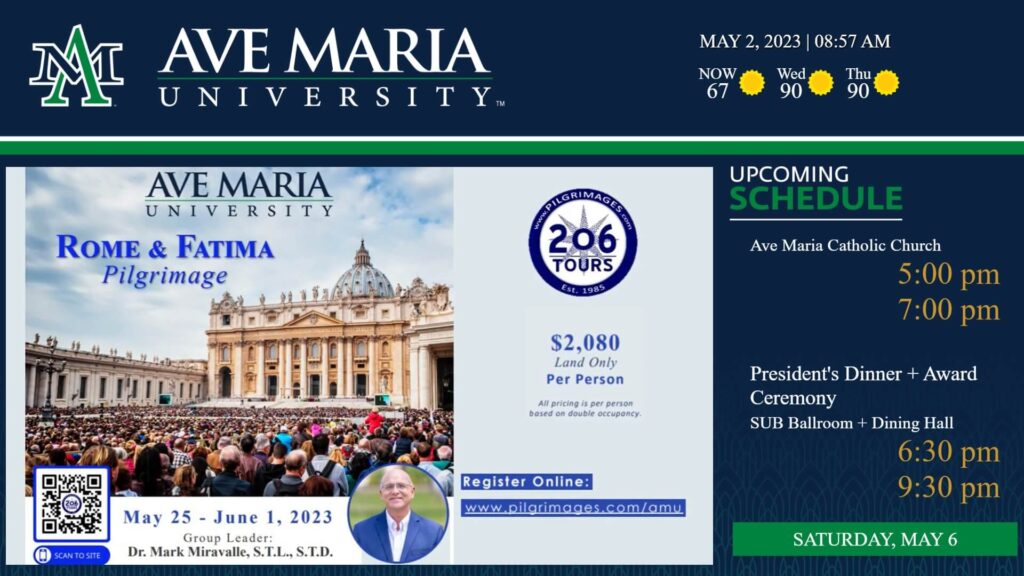 HIGHLIGHT THE BIG EVENTS
Whether a private elementary school or a large college campus, there's always plenty going on around educational facilities. To keep everyone on the same page, digital signage can be used to promote events and display deadlines. For students, this content can come in the form of test dates, project deadlines, club registration periods, and other information. Simultaneously, staff benefits from being aware of busy times in students' lives, grading deadlines, and important events. This goes a long way toward creating a sense of community within your halls while providing the necessary information tenants need to thrive. Of course, like with every other aspect of digital signage, even these calendar formats can be customized to adhere to school colors. To tailor things even further, you can also organize calendars together into groups. This way, you can create an umbrella category to organize multiple calendars under a similar banner. This will help streamline your workflow and coordinate between events. Lastly, if you have calendars already built out in Google Calendar, SharePoint, or another third-party software, you can integrate those as well.
STAY ON SOCIAL
Many educational institutions, especially elementary and high schools, neglect their social media accounts. Some rarely post at all, or keep posts relegated to simple, informative posts. While that is all well and good, the potential social media offers extends far beyond this. By building up your social media profiles, you can then leverage this content for your digital displays as well. This means you can show regular announcements, videos, infographics, comment threads, community highlights, and more! By making your social media timeline a place that encourages viewers to interact, you're also creating an extensive library of user-generated content. This then can also be displayed to viewers across multiple screens, which in turn encourages other viewers to take a desired action in hopes of appearing onscreen as well. You can use this excitement to promote enrollments, events, fundraisers, and other school drives. As stated before, this strengthens the sense of community that inspires students and staff to get involved with the school.
INTERACTIVE WAYFINDING
Interactive kiosks are a growing sector in the digital signage market and are seeing a lot of use on school campuses. Especially on large campuses, interactive wayfinding kiosks are being used to give users direct control of their experience. This has helped reduce confusion and frustration as people are able to determine exactly where they need to go. Even without an interactive display, digital signage lends itself well to wayfinding by allowing for customizable data sets to be displayed. This means Google Sheets or Excel spreadsheets can be customized and promoted through digital signage. You can learn about such examples in depth through our case studies conducted with Lake-Sumter College and Eastern Kentucky University. Both facilities utilize digital signage to help visitors navigate campus with ease. Lake-Sumter even takes the extra step to place some of its signage outdoors! To the right, you can see an immediate example from Northern Michigan University showcasing how digital wayfinding streamlines traversal in large buildings.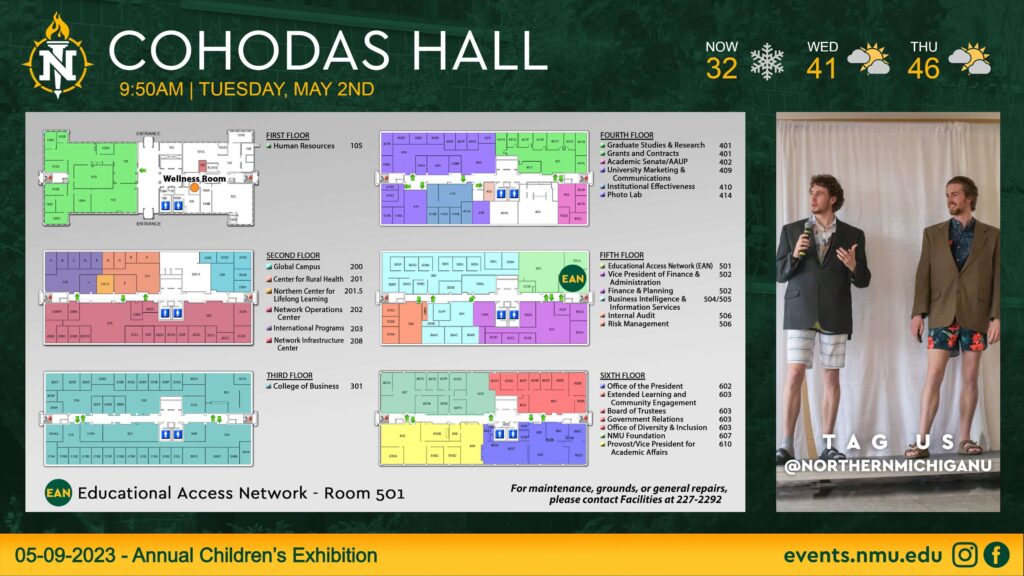 SAFETY GUARANTEED
Emergencies happen, and it's important to be prepared when they do. Emergency alerts are announcements that can take over each of your screens to relay an important message or announcement. The information displayed can range from situational details, to escape routes, or brief instructions. This goes a long way toward ensuring the safety of your students and staff. If you're interested in setting up emergency takeover signage, contact your account manager today!
COMPLETE CONTROL
Under your REACH account, you have the ability to link multiple facilities in order to share content between the two. By creating organizations and editing user permissions, you can share media library assets, users, data sheets, playlists, and even entire layouts! For higher education institutions, these functions can be used to educate students on basic digital marketing practices. By editing the security properties of each user, you can set up tasks for your students to perform without hampering other signage objectives. In this way, digital signage literally becomes a tool for education!
WHAT'S ON THE MENU?
You may recall earlier in this article that we mentioned Google Sheets and Excel can be utilized to create customizable data sheets. This tool can also be used to create enticing menu boards. With a combination of actual photos, well-structured data, and even video, you can encourage people to line up at the register. Aside from just menu boards, you can also promote limited-time items, seasonal promotions, and other exclusive deals alongside menu items. This way, you are providing an informative resource while still accomplishing your marketing goals.
ABOUT REACH
REACH acts as both a hardware and software provider for digital signage. When you partner with REACH, you join a network of industry professionals committed to your success. A strong belief in evolving technologies runs throughout the company, resulting in robust digital solutions. To begin your digital signage journey, click the button below to request a free demo from REACH today!