"Refresh" On These Player Tips & Tools
"REFRESH" ON THESE PLAYER TIPS & TOOLS
PLAYER STATUS & OPTIONS
As you look over your players from the dashboard, you'll find you have more tools available to you than it initially seems. For instance, the 3 icons to the right allow you to interact directly with your players in a variety of ways. In this article, we will refresh your knowledge on everything you can accomplish from the dashboard with your players.

REFRESH
When you refresh a player, it scans the REACH platform for new content or layout changes. New content should automatically update, but refreshing gives an immediate response to the player. Think of it like refreshing a webpage. An important thing to keep in mind is that our players will conduct an automatic update every 10-15 minutes, with the playlist tool refreshing every 30 seconds. However, if you add a new event through the calendar tool and need it to show immediately, this will allow you to do so.
REBOOT
Have you ever found yourself in a situation where your player needed a quick reset? Just tap on the reboot icon to power off the device and kickstart the restart process. It's as effortless as rebooting a Windows PC!
ACQUIRE SCREENSHOT
This shows you a preview of what is currently being shown on from the selected player. From here, you can then pause the screenshot and download them for future reference.
STATUS: ONLINE/OFFLINE
To the right side of your CMS, you can find a pie chart of your Network Health. If a player is offline, the status will appear in RED on the dashboard. This means it is not running any of the content you have assigned to that screen. The buttons to the right will be greyed out, as the CMS cannot communicate with the player without a network connection. However, if it is online, the player is running the REACH software and connected to the internet.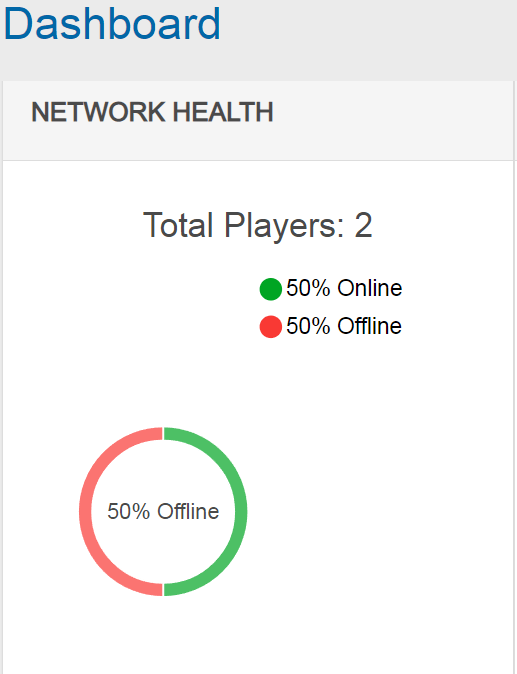 ABOUT REACH
REACH acts as both a hardware and software provider for digital signage. When you partner with REACH, you join a network of industry professionals committed to your success. A strong belief in evolving technologies runs throughout the company, resulting in robust digital solutions. To begin your digital signage journey, click the button below to request a free demo from REACH today!