Why & How to Use Digital Signage for Medical Offices
Why & How to Use Digital Signage for Medical Offices
Why Digital Signage?
Unfortunately, you can't get rid of the common colds everyone comes down with this time of year. However, you can offer up fantastic digital signage that alleviates some of the frustration of being sick! As hospitals and medical offices get filled this season, implementing great digital signage content. Giving visitors something to keep their minds occupied or entertained while they wait can reduce perceived wait times, resulting in happier clients. Additionally, it can help streamline your internal communications process. Digital signage software is flexible enough to fit your needs.
How to Implement Digital Signage
Entertainment
One of the most common uses of digital signage in medical offices is the use of live streaming and live TV. This is an extremely simple way to provide entertaining content to your audience without having to build new assets. Not only that, but the nature of live tv ensures they will have new content every day. Additional services can be streamed through the internet as well, such as YouTube. You can even supplement these displays with further entertainment options such as sports scores and news stories. Keeping viewers glued to these screens should help those long waits at the office fly by!
Wayfinding
Some hospitals have large campuses that can be confusing to navigate. Depending on the situation, this can be a huge stressor for visitors trying to find the right office. Offering digital wayfinding tools around your campus can alleviate these frustrations. Placing these displays in high-traffic areas guarantees visitors will see the information they need.
Information
Hospitals and medical offices can often offer a wealth of information. However, most of their informative materials come in the form of brochures and magazines. Traditional media does not receive the same amount of attention as digital displays. Hence, using your signage to present basic health & safety tips, reminders, and other useful information can be extremely relevant to your audience. It also establishes your facility as one that cares for the genuine well-being of your patients. This can even be updated seasonally, giving different advice based on flu, allergy, and cold seasons.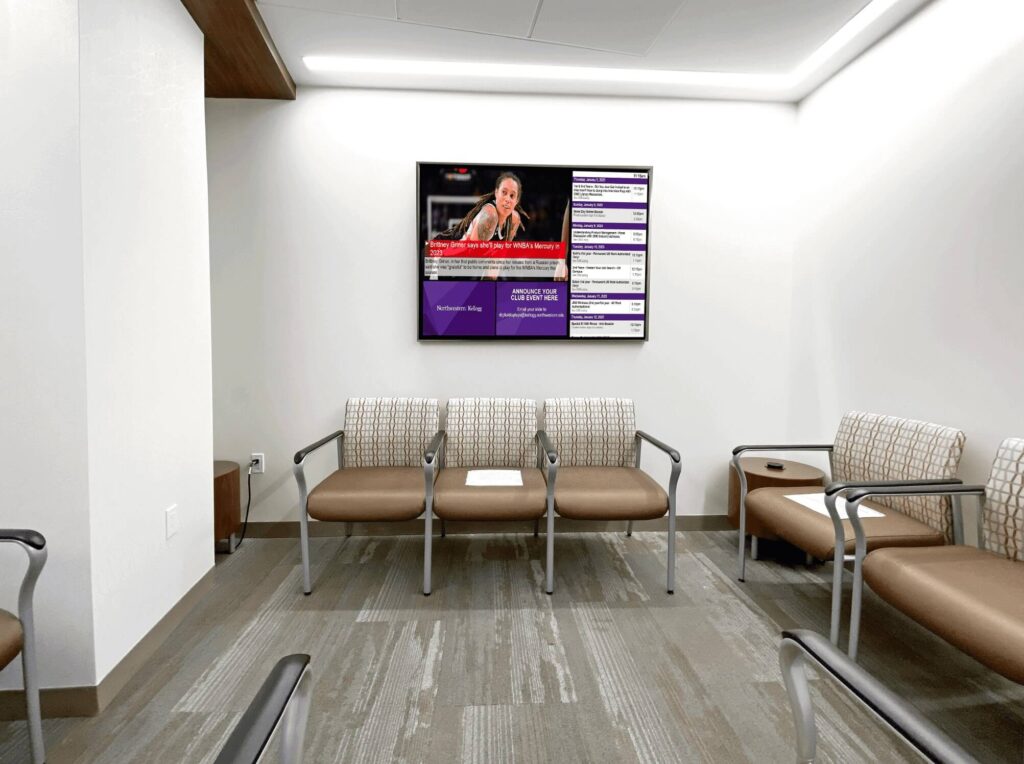 About REACH
REACH acts as both a hardware and software provider for digital signage. When you partner with REACH, you join a network of industry professionals committed to your success. A strong belief in evolving technologies runs throughout the company, resulting in robust digital solutions. Learn more or subscribe to the holiday playlist, today!