Digital Signage Helps South Point Casino & Spa Elevate Live Events
South Point Casino & Spa Take Live Events To The Next Level
Background
The South Point Casino & Spa is a bustling facility with dozens of activities for visitors to engage in. Whether trying your luck at the tables, enjoying a round of bowling, or relaxing by the pool, South Point Casino serves a wide variety of interests. Live events only further bring in guests, requiring the facility to constantly communicate to everyone what exactly is going on at all times. With this in mind, the company embarked on finding a digital signage solution for hospitality. Looking to try digital signage out yourself? Click here to sign up today!
The Challenge
A key factor in South Point Casino & Spa's pursuit of a digital communication platform was needing a more efficient way to manage the pre-production of assets. The resort planned to implement digital signage in order to improve communication and promote live events. Live events require a much different workflow compared to other venues, meaning a lot of data needed to be turned on and off automatically on a daily basis. Streamlining these workflows and scheduling tasks to perform automatically ahead of time were complex systems the resort could not find through other vendors. In fact, even REACH initially did not host these capabilities when they first signed on. However, through working with REACH's renowned customer support, the two were able to come up with a unique solution to get this functionality implemented!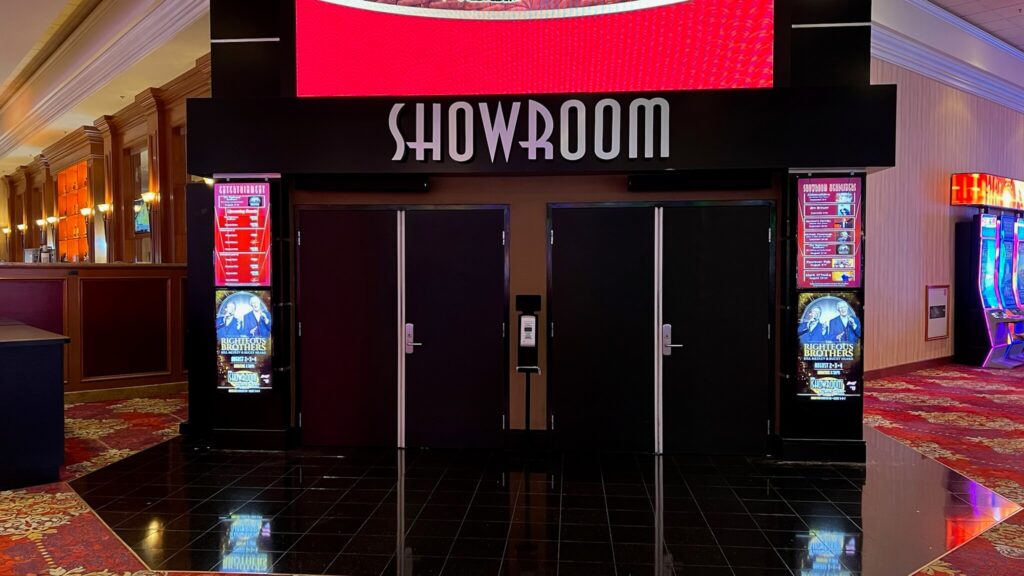 The Solution
As stated previously, South Point Casino & Spa needed to integrate its complex scheduling and sharing data with REACH's content-management system. While initially incompatible, Install Coordinator Rachel Kuddle created a unique calendar integration and scheduling tool that was able to sync with all of South Point's programs and meet their requirements. After doing some testing with Account Manager Alex Kosseff, the integration is now a key factor in how the facility promotes showroom events and communicates with guests. The two have demonstrated a dedication to client success and perfectly exemplified REACH's industry-leading customer support. Since its implementation, 90% of all signage South Point Casino & Spa employs revolves around this calendar system.
The Results
As a result of the team's efforts, South Point Casino & Spa has expanded to multiple screens powered by around 125 BrightSign players. The ease of use allows staff to quickly update assets and push announcements on a daily basis, and are noticeably stopping at screens to gather information before taking action. The resort has even been able to integrate with DelFi systems to automatically pull in data during events. The ease of use allows South Point Casino & Spa to efficiently build assets that create coherent themes for room decor.
Testimonial
"The screens definitely grab attention. People stop at the REACH screens more than other displays due to that 'eye-catch element.'"
Jason Lein, Production Manager at South Point Casino & Spa
About REACH
REACH acts as both a hardware and software provider for digital signage. When you partner with REACH, you join a network of industry professionals committed to your success. A strong belief in evolving technologies runs throughout the company, resulting in robust digital solutions. Learn more by clicking the link below!