A Remarkably Effective Alternative to Spectrio Digital Signage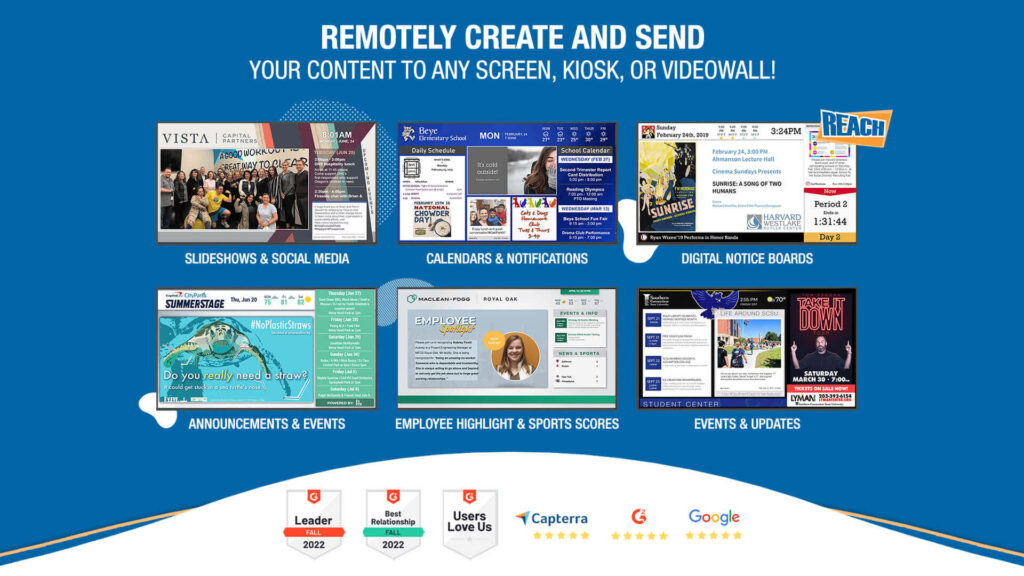 Spectrio Digital Signage may not meet your needs, but another solution with similar capabilities and even more reliability might. This is the end of your search. You've located the optimal alternative to Spectrio. After 17 years in the industry, REACH Media Network has developed reliable, fully-functional digital signage software.
If you need a customized, unique solution, check out one of our customer-favorite solutions below:
Alternative to Spectrio for Digital Signage Software
REACH Media Network's cloud-based digital signage platform has many types of customers in various sectors, including businesses, hospitals, stores, government buildings, and academies. The flexibility of REACH means that it may be used to create anything from a simple full-screen slideshow with scrolling tickers to a very sophisticated, integrated communication dashboard.
Quick-Deployment Digital Signage
Our web-based digital signage software makes creating engaging multimedia presentations for Digital Signage a snap. In addition, thanks to REACH's compatibility with 157+ apps and connections, making brand-consistent upgrades is now a breeze.
Photo, video, and PowerPoints  

Personalized, scrolling tickers of pertinent data

Real-time calendar  feeds

Latest radar maps and traffic reports

Custom HTML

Inspirational daily quotes

YouTube and Vimeo

Custom weather reports 

Media streams

Company communications
Dashboards with KPIs and measurements as practical management tools
APIs, graphs, and KPIs may all be shown in real-time with REACH. Therefore, you should minimize the number of programs you use. A digital sign, for instance, may do away with the requirement for frequent print form updates. In addition, information from a wide variety of systems, such as point-of-sale terminals, reports, and even external programs like Microsoft Office 365, can be compiled in a centralized repository.
Skillful hardware choices that can scale
With REACH, you may use your current gear or take advantage of our team's expertise to select the optimal digital signage and hardware. And we only offer the best digital signage players to our customers.
Administration of Digital Signage at the Corporate Level
Single sign-on (SSO) is the safest and most convenient access option when working with a digital sign network that involves several users or locations.
To use REACH, your staff only needs one login, thanks to SSO and the IdP. Online software as a service (SaaS) can be rigorous regarding security. To comply with REACH, SAML 2.0 must be implemented. According to the network's organizers, many id-card companies will join the network (Security Assertion Markup Language).
Shibboleth, OKTA, and ADFS are examples of SAML2-compliant identity providers that work with REACH. Because of its superior functionality and extensive feature set, Azure Active Directory from Microsoft is the finest of the group. Once SAML2-based SSO is up and running, we will give the customer a permanent URL they can use to access the REACH portal whenever they like. If the user selects this, their credentials will be used for a mediated single sign-on session with the REACH system (often an email address). When comparing REACH and LDAP-SAML2, you'll find several similarities.
Conclusion
Want to learn more about making the switch from Spectrio Digital Signage? Schedule a demo or contact us for a free 30-day trial of our platform. Then, try out our service and see whether it satisfies your requirements.