A Simple Yet Effective Alternative to ViewNeo Digital Signage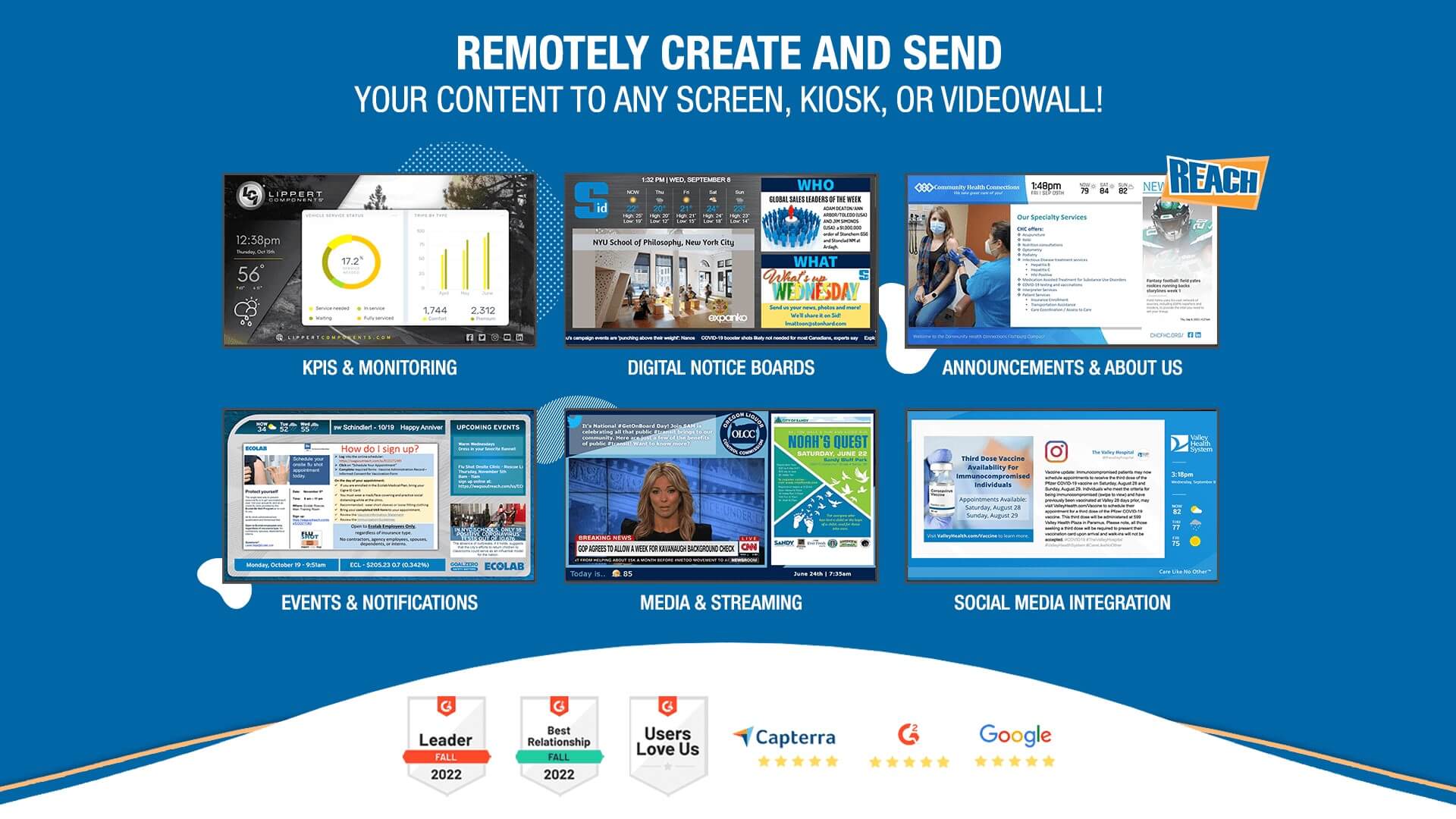 So you're looking for a reliable yet powerful alternative to ViewNeo digital signage? You've just come to the right place! We, REACH Media Network, have been in business for 17 years and specialize in digital signage software.
If you need a specific application, please take a look at our 5 most popular solutions
Alternative to ViewNeo to Digital Signage Software
Corporations, clinics, retail stores, small businesses, government facilities, and colleges are just some places that use the cloud-based digital signage software from REACH Media Network. You can use REACH to make and manage anything from a simple full-screen slideshow with scrolling tickers to complex, integrated communication dashboards.
Digital signs that are easy to set up
Our web-based tool makes it easy to create beautiful multimedia presentations for the digital signage field, which is growing quickly. With access to more than 157 apps and links, REACH makes it easy to make improvements consistent with the brand.
Set up photos, videos, and media slideshows

Include news and sports RSS feeds

Display schedules and calendars for events and meeting places

Feature real-time traffic and radar maps

Add custom HTML feeds

Integrate with SharePoint and PowerBi

Link your company's social media accounts
Performance Metrics and Key Performance Indicators Dashboard Displays
With REACH, you can show a lot of different kinds of data in real-time, like APIs, graphs, and key performance indicators (KPIs). As a result, reduce the number of software programs you use. With a digital sign, for example, you might not have to update a spreadsheet by hand. Also, data from different places, such as point-of-sale systems, reports, and even third-party apps like Microsoft Office 365, can be gathered in one place.
Reliable and scalable hardware options
You can use the hardware you already have with REACH or our team's expertise to choose the best digital billboards and other hardware. But, more than that, we only sell digital signage players that you can trust.
Even if the network goes down, our software will keep playing the digital Signage even if it can't connect to the internet.
Large-scale enterprise corporate user management
Single sign-on (SSO) is the best way to manage a digital sign network that includes multiple users or buildings.
With SSO and the IdP, your employees can access REACH with just one login. Cloud-based SaaS applications can have stringent safety measures. The SAML 2.0 protocol is needed for the REACH service to work. The network organizers are counting on several companies that make ID cards (Security Assertion Markup Language).
Some SAML2 Identity Providers that work with REACH are Shibboleth, OKTA, and ADFS. Due to its more advanced features, Microsoft's Azure Active Directory is by far the best alternative. After we set up SAML2-based SSO, we'll give the client a permanent URL that can be used at any time to get to the REACH portal. If the user chooses this option, their credentials will be used to start a mediated single sign-on session by the REACH system (often an email address). Everyone can choose whether or not to take part. There are a few things that REACH and LDAP-SAML2 have in common.
Conclusion
If you want to know how to switch from View Neo Digital Signage to our platform, we'd be happy to show you or give you a free 30-day trial, so you can see for yourself how it works. So try out our service and see if it meets your needs.