An App Centric Alternative to truDigital Signage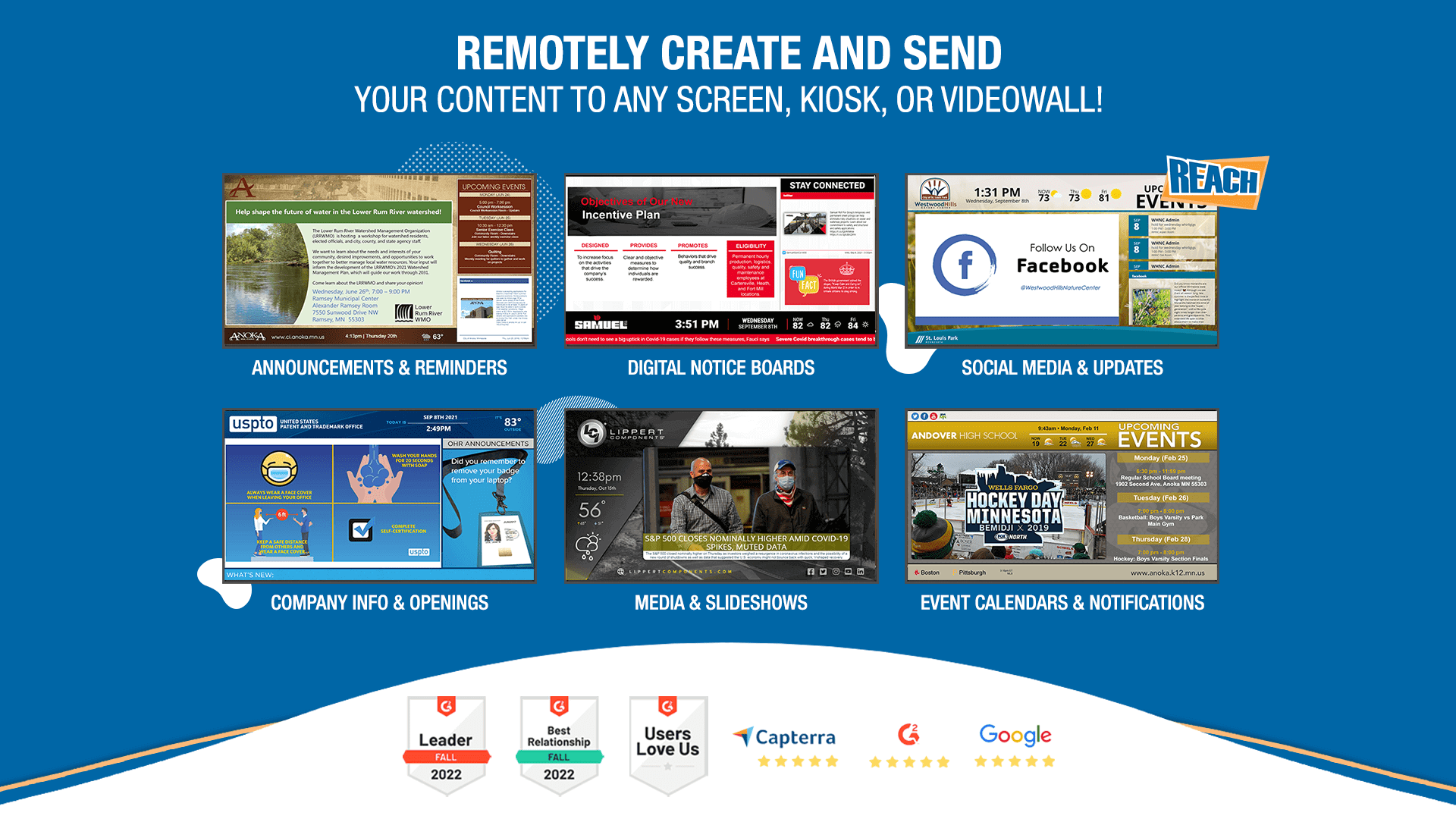 If you're seeking an alternative to truDigital Signage that offers the same level of reliability and functionality, your search can end here. If that's the case, you've stumbled upon an excellent replacement for tru Digital Signage. REACH Media Network has been in business for 17 years, which has allowed us to build a digital signage software that is not only loaded with features but also ahead of the curve.
For a solution-specific application, please check one of the links below:
Alternative to truDigital's Signage Software
REACH Media Network's cloud-based digital signage software is used by a wide variety of customers, including businesses, hospitals, retail stores, offices, bookstores, and universities. REACH makes it easy to develop and manage everything from a simple full-screen slideshow with scrolling tickers to a complicated, integrated communication dashboard.
Easily Deployable Digital Signage
Our web-based service makes it easy to create beautiful multimedia displays for digital Signage, which is gaining popularity. With REACH's access to more than 157 apps and connections, implementing brand-consistent enhancements is a breeze.
Photos, videos, and Powerpoint presentations as media slideshows

Information Feeds and RSS tickers

Event and meeting room schedules

Updated radar maps and reports on traffic conditions

Custom HTML-based Feeds

SharePoint and PowerBi

Twitter, Instagram, and Facebook
Dashboards of Key Performance Indicators and Metrics: Effective Management Resources
Real-time APIs, graphs, and KPIs are just some of the data that can be presented with the help of REACH. Cut down on the number of different systems you use. With a digital sign, for instance, it would no longer be necessary to update a spreadsheet manually. In addition, information from point-of-sale systems, reports, and even external programs like Microsoft Office 365 can be combined in a single place.
Choices in Hardware That Pack a Punch and Scale With Your Needs
You are free to utilize your current gear with REACH, or you may take advantage of the expertise of our staff to help you choose the right digital signs and hardware. Furthermore, we only supply reliable and trustworthy digital signage players.
Our software is designed to keep digital signage content playing even if the network goes down. Despite the low light levels, the
Management of digital displays at the enterprise level
Single Sign On (SSO) is the best option for managing a digital sign network with multiple users or locations.
Thanks to SSO and the IdP, your staff can access REACH with just a single login. Cloud-based SaaS applications can strictly enforce security restrictions. If you want to use REACH, you'll need SAML 2.0. The network's organizers are placing their faith in many id-card companies to participate in the network (Security Assertion Markup Language).
Some examples of SAML2 Identity Providers that are compatible with REACH are Shibboleth, OKTA, and ADFS. Due to its superior advanced features, Microsoft's Azure Active Directory stands head and shoulders above its rivals.. Once SAML2-based SSO is set up, we'll give the client a permanent URL to use whenever they like to log into the REACH portal. To proceed with a mediated single sign-on session, the REACH system will use the user's credentials if they choose this option (often an email address). Every user is free to opt-in or out. REACH, and LDAP-SAML2 share many similarities.
Conclusion
If you're interested in learning more about migrating from truDigital Signage to our platform, feel free to schedule a demo or request a free 30-day trial. So, try out our service and see if it works for you!