New Digital Signage Software Content Themes in Latest REACH Release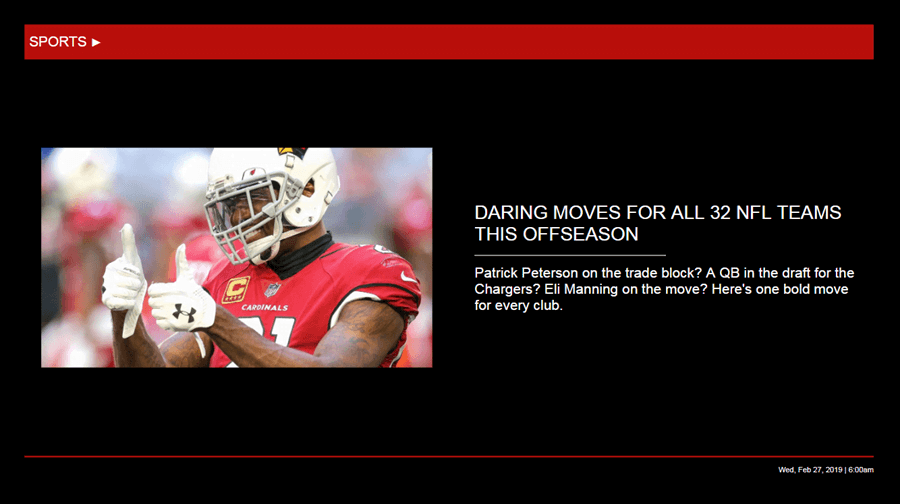 At REACH Media Network, we're constantly updating our cloud based digital signage software based on the needs of our clients. Recently we've added a number of new features that our customers are raving about. Read on to learn more about what you can expect in the latest release of our REACH digital signage software.
New Features inside REACH Digital Signage Software
Below are two new features that we're extremely excited about delivering to our customers:
Health & Safety Messaging – The healthcare industry continues to be one of our most popular industry sectors. Because of this growth in our business, we've devoted significant resources to developing content and templates that are catered to the healthcare industry. Recently we've released new health & safety messaging which makes it extremely easy to keep patients informed about your suite of services. Easily promote health tips and seamlessly distribute important announcements. You can also show upcoming schedules and utilize custom screen designs to ensure your brand is being conveyed across all your digital signage.
News Content Templates – Many of our customers use their digital signage to provide key information such as news alerts. These customers will be pleased to now have the ability to easily add news content templates that are both user friendly and visually appealing. Now you can just focus on getting the information out as quickly as possible, not on how the digital signage is actually going to look. REACH takes all of the guesswork away thanks to our cloud based digital signage software that makes creating digital signage as easy as a simple point and click!
Cloud Based Digital Signage Software = Constant Updates
One of the greatest benefits of cloud based software that's often underappreciated is the fact that we're constantly updating our software not only when it comes to bug fixes, but also adding new features. This means that when you partner with REACH for your digital signage, you can always be confident that you have access to the latest technology. This is much different than software providers who simply sell you a version of software without updates causing your digital signage to become obsolete almost before you even begin to use it.
Partner with REACH Media Network For All Your Digital Signage Needs
If you're intrigued by some of the features we've mentioned above, or if you'd just like to learn more about how digital signage can be used in your organization, feel free to reach out to the REACH Media Network team today by phone at 952-255-6296.