Digital Business Signage | Successful CMS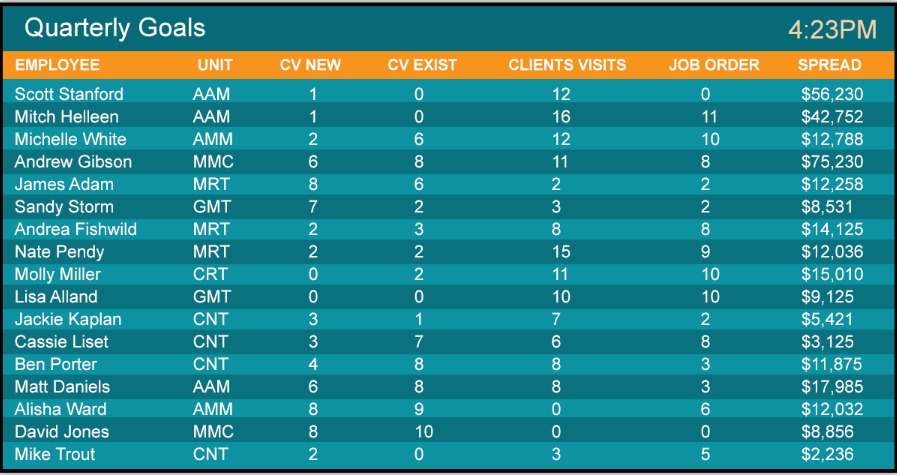 As a business owner or manager, you're always looking for unique ways to measure key performance indicators and to encourage your employees to do their very best. With digital business signage from REACH you can ensure your team members see all of the necessary metrics to make sure they're crystal clear on where the company is headed. With REACH you can have a successful CMS (content management system) that can be used as a portal to quickly disseminate important information to your employees. Read on to learn a few of the ways you can leverage digital signage software to streamline your business.
Let Digital Business Signage Be Your Central Portal
Think of digital signage as a virtual bulletin board where you can post important information for all your employees to see. REACH digital signage software offers a whole host of features that will be a hit with your business, a few of which include:
Display Key Performance Metrics – It's critical that your employees know how the company is performing as a whole. Keeping this information from them can cause issues, especially if you have employees who work on commission. Using digital signage you can instantly integrate and display key performance metrics (KPI's) and other company statistics. Having this data front and center whenever your employees pass by your digital signage can give your employees the little nudge they may need to try a bit harder to hit their goals.
Highlight Important Deadlines – Use digital signage to keep your employees informed of key deadlines that are on the horizon. Integrate digital signage with one of the popular cloud based calendar providers to have events automatically displayed on your devices.
Boost Employee Engagement – One of the main goals of digital signage is to boost engagement within your company. One way that we've seen significant success is through adding social media and other entertaining content to digital signage. This way your employees and customers will be entertained thanks to whatever entertaining content you choose to post to your social media profiles.
Centralized Content Management System – Regardless of how many locations you may have, REACH allows you to have a centralized CMS where you can create content once and instantly distribute it across all of your locations. This can be especially key for important notifications or alerts that need to be distributed as quickly as possible.
Ready to Use Digital Business Signage to Boost Engagement Within Your Company?
We've highlighted just a few of the many features that could be at your disposal if you choose to work with REACH to roll out digital signage for your company. To learn more, or to see a free demo of our digital business signage software, don't hesitate to contact our team today by phone at 952-255-6296.