Digital Signage Hardware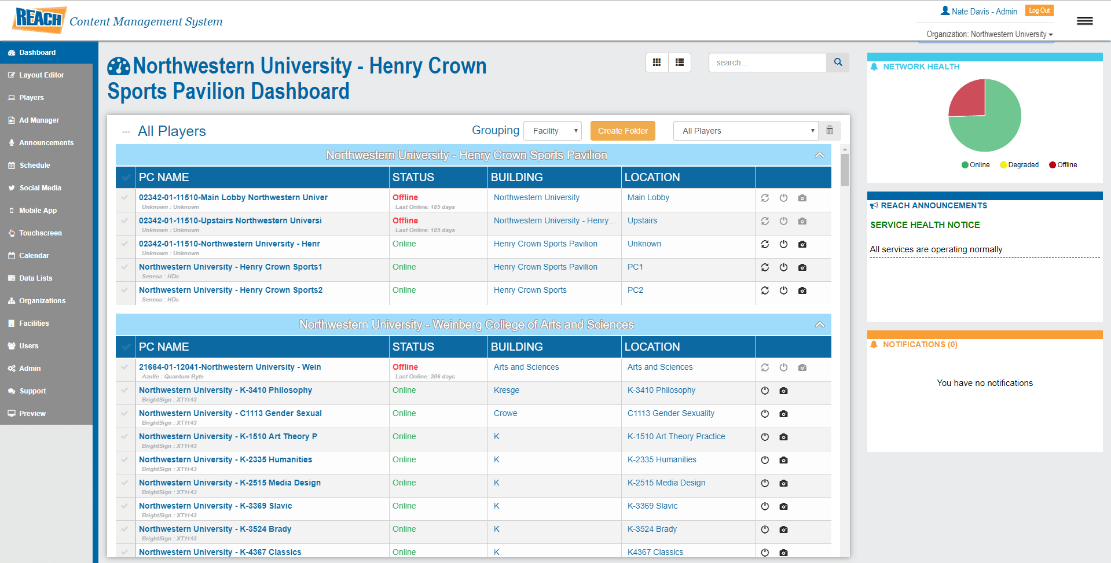 At REACH Media Network, our digital signage software works with a wide array of digital signage hardware platforms. This ensures that our partners can use our technology in all types of applications and industries. Regardless of what type of digital signage needs you may have; our team will be more than happy to work with you to develop the ideal solution that will work for your organization.
REACH Digital Signage Software is Screen & Player Agnostic
Many digital signage software providers try to force you into certain digital signage hardware and software. At REACH, we have developed our software to work with a wide array of different screens and players. In fact, our software is completely screen and player agnostic. This means that our software can work with a wide array of screens and media players. This gives you the ultimate flexibility when it comes to your digital signage. No longer do you have to be held hostage by a digital signage provider that forces you to use a certain type of screen or player. With REACH you have total platform flexibility.
Wide Array of Operating System Options
Digital signage devices are all powered by some type of operating system. Thankfully REACH digital signage software works with a wide array of operating systems including Brightsign media players which are powered by Linux as well as Microsoft Windows based players which offer a number of remote player management tools giving you ultimate flexibility. If you're unsure whether your operating system of choice is supported by REACH software, don't hesitate to reach out to our team today to learn more.
Cloud Based Digital Signage Software
Another benefit of REACH software is that it's 100% cloud based. This ensures you're able to access and modify your digital signage content from any computer provided you have an active internet connection. In addition, because our platform is cloud based, all of your data is always safe and secure in the cloud. No longer do you have to worry about failing digital signage hardware. Your data is always secure when you partner with REACH for your digital signage software needs.
Contact the REACH Digital Signage Hardware Team Today
Are you interested in learning more about the REACH platform? If so, feel free to reach out to our team today. We'll be happy to setup a completely free demo of our software to show you all the many features that will be useful based on your industry and application. We can be reached anytime by phone at 952-255-6296 or via email at info@reachmedianetwork.com.