Top 10 Uses for Digital Signage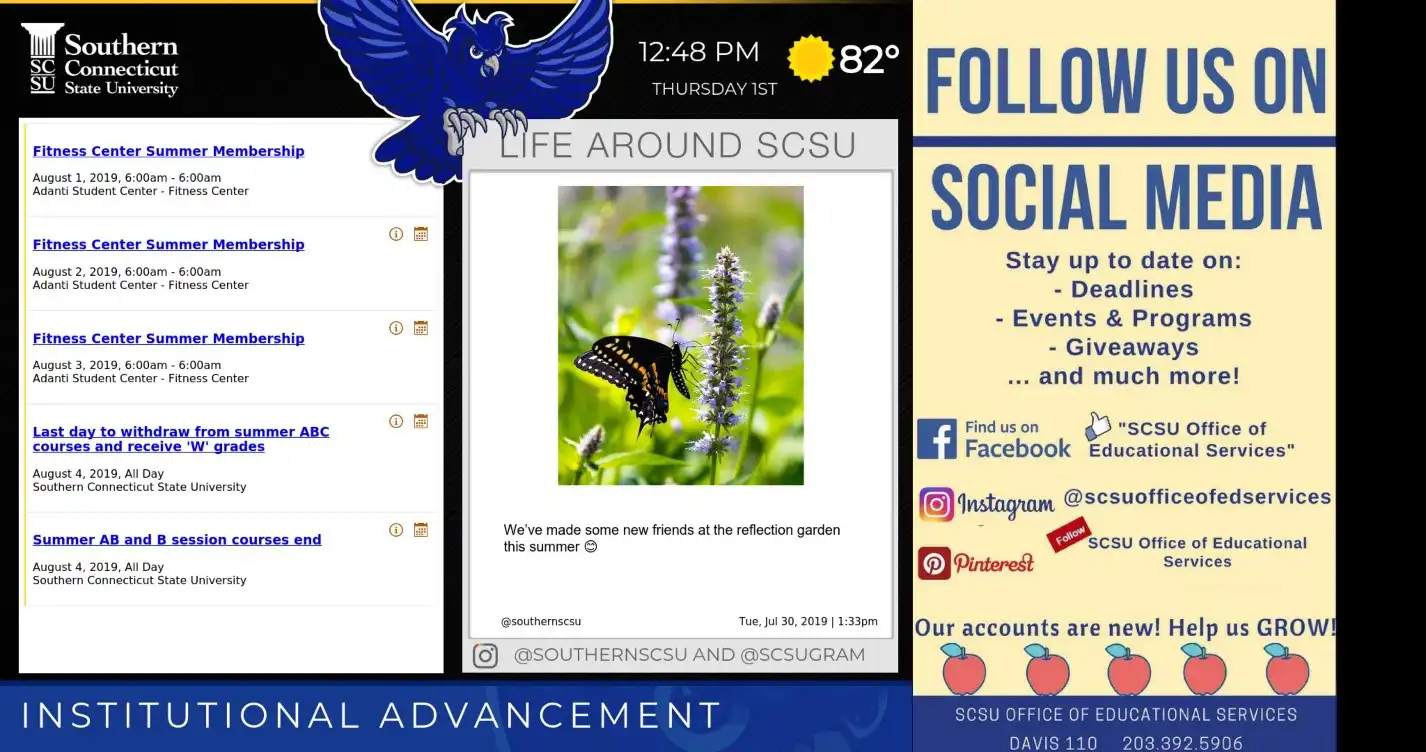 If you're looking for applications for digital signage, the team at REACH Media Network has put together the top 10 uses for digital signage. We hope this list, which isn't necessarily exhaustive, will spark some new ideas on how to use digital signage within your organization. If you have any questions about any of these uses, feel free to reach out to our team for more information.
10 Uses for Digital Signage
Connect Real-Time With Members/Visitors/Patrons — Digital signage allows you to connect with your target audience in ways that you likely couldn't imagine. Easily provide relevant content to your target audience to further cement your brand in their minds.
Promote Upcoming Events — With our digital signage software, you can easily showcase a calendar of events.
Access Social Media in Real Time — Share social media updates in real-time thanks to the ability to interface directly with your social media accounts.
Promote Company KPI's — Ensure your company goals and KPIs are available for everyone to see. Our software even allows you to integrate third party tools, so your data is always updated in real-time.
Digital Menu Board — Easily display your menu offerings and update them on the fly, as opposed to having to manually update your static menu.
Advertising — Depending on your industry, you possibly could sell advertising space on your

digital signage

devices to boost revenue and provide relevant offers for your target audience.
Weather & Traffic Updates — Wherever you're located, chances are your audience would appreciate regular weather and traffic updates to better plan their day.
Digital Directories — Whether you're showcasing individuals or simply providing visitors with an easy-to-follow map of your facility,

digital signage

offers the ultimate in flexibility.
Emergency Notifications — Facilities of all sizes need a way to quickly disseminate information to everyone.

Digital signage

integrated with your existing emergency alert platform can allow you to quickly and automatically announce an emergency to all of your team members.
Employee Recognition — Everyone likes to be recognized, and what better way to reward your top performers than by highlighting them using

digital signage

? This can also encourage your other employees to strive to be recognized themselves.
The Upside to Digital Signage is Nearly Endless
As you can see, there are countless ways to use digital signage in your organization. While we listed 10 of these uses above, this is just the tip of the iceberg. We'd be happy to chat with you to find additional ways that our digital signage platform could benefit your organization. Call us today at 952-255-6296 to set up a free demo of our software.