MacLean-Fogg Expands Digital Signage Program with REACH
REACH has recently partnered with MacLean-Fogg to provide digital signage across their many different manufacturing facilities. MacLean-Fogg Company is a group of global enterprises which partner with key customers to engineer, manufacture and distribute products for the automotive and power utility marketplaces worldwide. Founded in 1925, today MacLean-Fogg is a global enterprise with 26 global manufacturing facilities, annual sales in excess of $1 billion and a worldwide workforce of more than 3,200 people. MacLean-Fogg is a privately held enterprise headquartered in Mundelein, IL USA.
This partnership originally started in 2017 when MacLean-Fogg piloted REACH digital signage software at a couple of its manufacturing locations with the goal of improving employee engagement and communication. After the success with these initial digital signage devices and receiving positive feedback from employees, MacLean-Fogg expanded the use of REACH digital signage software to their corporate headquarters and employee breakrooms. Finally, in April of 2019, MacLean-Fogg expanded REACH software to all its locations to help improve company-wide messaging.
MacLean-Fogg has been extremely impressed with the cloud based digital signage software along with the wide array of features from REACH which is one of the primary reasons why they have rolled out the software across all their locations. Because of the cloud-based nature of REACH software, updates are rolled out continuously to ensure that a company is always taking advantage of the latest digital signage technology.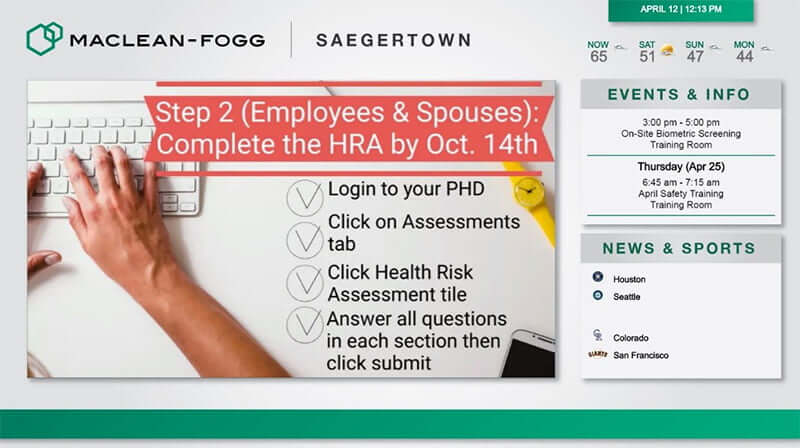 About REACH
Headquartered in Eden Prairie, Minnesota, REACH operates over 20,000 solutions worldwide with our growing 4,000+ partners. The partnership between REACH and the client is our main priority. This important relationship continues to evolve our robust, scalable and easy-to-use software based on our client's needs.
If you are interested in learning more about REACH's suite of digital signage, donor walls, tablet displays or mobile app, feel free to email info@reachmedianetwork.com or call 952-944-7727 ext. 200.