Minnesota Valley Transit Authority Expands Digital Signage with REACH
REACH Media Network is excited to announce an expansion of an existing arrangement with The Minnesota Valley Transit Authority (MVTA). REACH and the MVTA have been partners since 2016, and this new expansion will allow even more residents in seven suburbs surrounding Minneapolis and St. Paul to experience this cutting edge digital signage technology.
The Minnesota Valley Transit Authority (MVTA) is the public transportation agency for the seven suburbs which are located roughly 15 miles south of Minneapolis and St. Paul. These suburbs include Apple Valley, Burnsville, Eagan as well as Rosemount in Dakota County, Savage, Prior Lake and Shakopee in Scott County.
REACH already provides bus terminal reader boards that display the bus schedule as well as other important information. Additionally, REACH digital signage software is also used to provide MVTA bus drivers with safety and traffic information in their break rooms.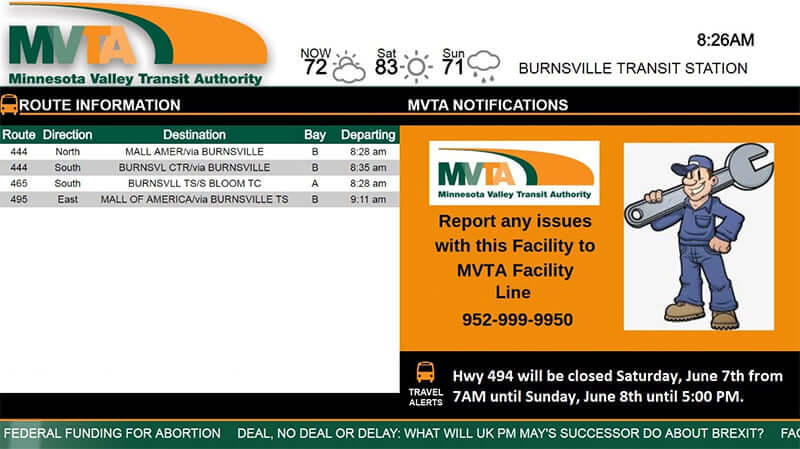 In 2019, MVTA has expanded their use of digital signage by adding outdoor kiosks at bus shelters across Dakota County. These outdoor kiosks, which are powered by REACH digital signage software are built to withstand even the harshest winters in Minnesota.
Both REACH and MVTA are poised to learn additional ways where digital signage can enhance the passenger experience for residents in and around the suburbs of Minneapolis & St. Paul.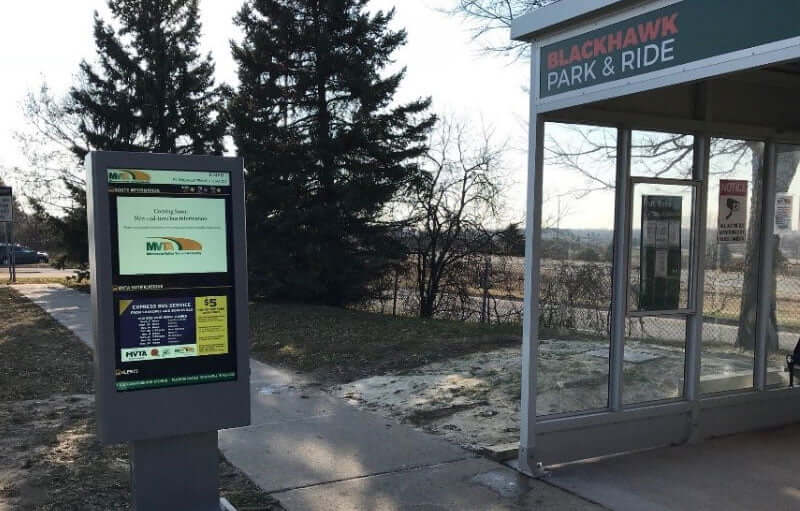 About REACH
Headquartered in Eden Prairie, Minnesota, REACH operates over 20,000 solutions worldwide with our growing 4,000+ partners. The partnership between REACH and the client is our main priority. This important relationship continues to evolve our robust, scalable and easy-to-use software based on our client's needs.
If you are interested in learning more about REACH's suite of digital signage, donor walls, tablet displays or mobile app, feel free to email info@reachmedianetwork.com or call 952-944-7727 ext. 200.