Top 5 Benefits of Corporate Digital Signage
TOP 5 BENEFITS OF CORPORATE DIGITAL SIGNAGE YOU'RE MISSING OUT ON!
NOT YOUR AVERAGE BULLETIN BOARD
Recent studies claim that the digital signage market will grow 33% over the course of 2023. The increase of apps and integrations available to digital signage is helping companies expand at rapid rates. The flexibility of these systems allows you to serve a variety of audiences through dynamic content. When leveraging these integrations together, digital signage offers many benefits you won't find in traditional bulletin boards. As trends such as live streaming, touchscreen innovations, and out-of-home ads continue to rise, you'll want to familiarize yourself with this technology. That's why this article will detail the 5 biggest benefits of digital signage for corporate industries. Regardless of your company, digital signage can transform your business, create more efficient workflows, and increase your revenue. However, if you haven't chosen a platform for your signage, click here to get started!
1) IMPROVE INTERNAL COMMUNICATIONS
One of the most common uses for digital signage we see in corporate sectors is to improve internal communications. This can be attributed to digital signage receiving 400x more attention than standard media! In fact, digital displays also have a recall rate of 83%. The results show that people are drawn to and remember what they see on digital displays. If you're looking to convey crucial information to your staff, digital signage can prove more effective than an email or internal newsletter. Once you've set up your platform, the Media Library and Playlist tools will become critical to content creation. The media library lets you upload or create original content, while the playlist lets you order content for display.
Playlists can be organized with thematic content that cues employees in on what's happening in your organization. From here, you can promote a variety of initiatives that will strengthen your internal communication. Advertising important deadlines, events, conventions, and more can encourage participation or motivate staff to work hard. Teambuilding opportunities can also be expanded through social media integration. This would allow internal teams to share thoughts and pics from staff outings, vacations, and other events. This will cultivate a happier work environment, resulting in more productivity. Truly outstanding or well-performing employees can even be highlighted through signage to let everyone know of their accomplishments. This can result in a domino effect of staff working harder, while also showing their work is appreciated. By demonstrating an interest in the well-being and lives of your staff, you motivate them to perform well for your business. Depending on the type of communication you are looking to implement, any aspect of your business can be improved. Traffic routes and conditions can be displayed to assist drivers with deliveries and scheduling. Restaurants and cafes can promote limited-time menu items through digital menu boards. News headlines can be displayed to make salespeople aware of evolving trends and competitor rankings.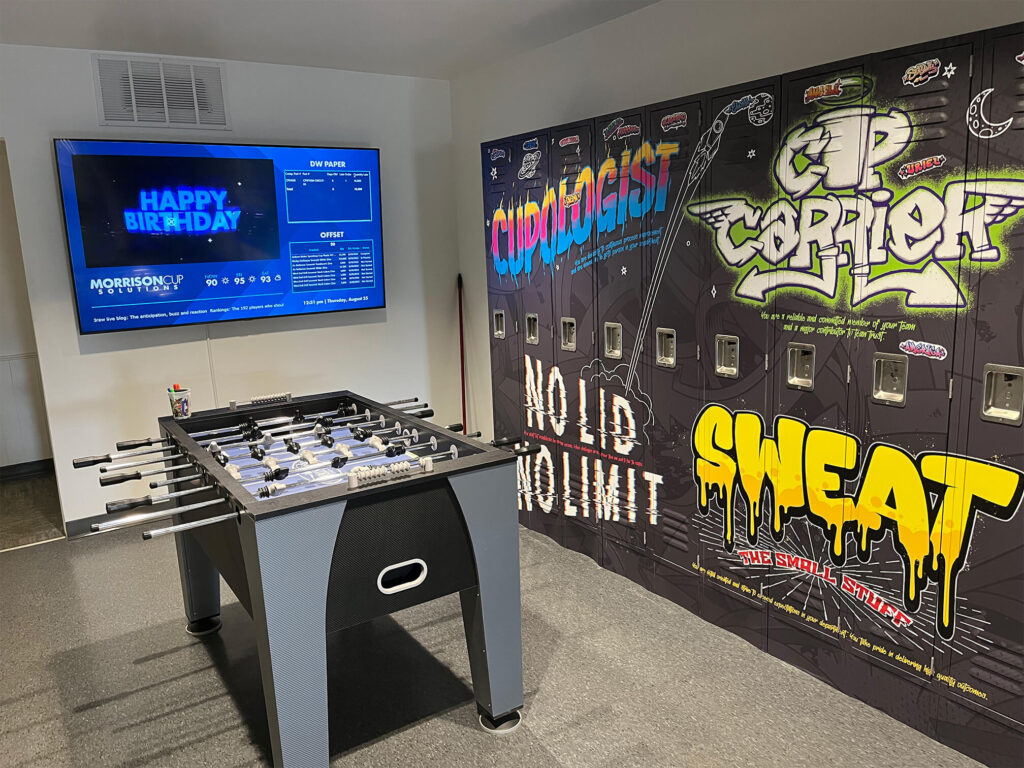 2) MAKE EVENTS MORE EXCITING
We have gone over how digital signage has greater attention and recall rates than traditional bulletin boards. This extends to calendars as well! Integrating calendar options with digital signage fills your layouts with supplemental content that informs your audience of important information. Similar to playlists, calendars can be grouped and organized based on common themes found within each calendar. Workout calendars, shift schedules, registration deadlines, teambuilding outings, and more can all be shown through calendar applications. Multiple calendars can be created at a time, allowing you to serve numerous audiences at once. Additionally, if you already have calendars created through Google, SharePoint, or other third-party services, you can integrate them seamlessly with REACH. This cuts down on work and allows you to immediately begin sharing information with your target audience. Calendars update in real-time as well, reflecting changes you make within minutes. Keep in mind that third-party calendars can not be edited within REACH's CMS. However, changes made within its native software will still be reflected through REACH. Aside from making audiences aware of events, displaying calendars through digital signage has other benefits as well! Making people more aware of upcoming deadlines and registrations can encourage immediate action. This results in more participation and revenue for events and services your business hosts. Additionally, excitement can be generated well in advance of said event, allowing you to expand your reach.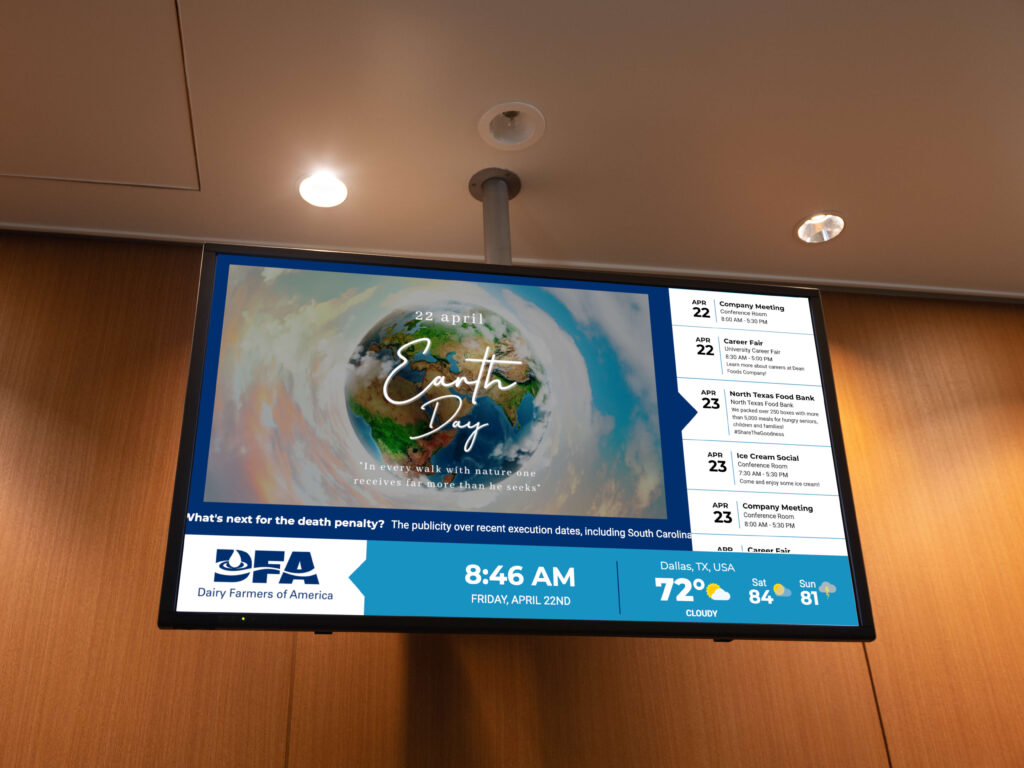 This results not only in greater participation but also in more exciting promotions in the future. Internally, calendars can cut down on confusion revolving around things like client meetings, sales periods, and convention preparations. While you do not want to overwhelm your viewers, ensuring the most critical information is displayed via calendars goes a long way to maintaining consistent levels of engagement for your brand!
3) KEEP STAFF ON TASK
Digital screens are a natural fit on any sales floor. As stated previously, KPIs and other corporate metrics can be displayed through digital signage. If you have a premium REACH subscription and PowerBI account, you can even integrate data sets from your profile. Having this information easily available through digital signage can do wonders for your team. Seeing fluctuating sales numbers, production metrics and deadlines, and competitor standings can help sales and production staff adapt their strategy. This information leads to informed marketing decisions that can greatly benefit your company. This data can also be used to inform meetings, adapt strategy, and change certain operations. If information is power, digital signage can empower the rest of your staff with the tools they need to succeed! Of course, other content such as mission statements or iFrame integrations of your website can remind staff of what they are working towards. Even more effectively, user reviews from social media and other sites demonstrate the effect of your staff's work! Seeing how it benefits customers or clients firsthand drives employees to strive for excellence. 
4) HELP GUIDE VISITORS
Some clients may find themselves in large campuses. These facilities can be frustrating to navigate, as visitors become confused as to where they need to go. Digital signage for wayfinding can reduce these frustrations and allow users to control their own experience. Most digital wayfinding efforts are found in static screens that show some type of map or directory. Indicating room numbers, office wings, and hours of operation is all crucial information your audience will benefit from. Introducing this level of utility provides a real-world function for your display, which could encourage repeat visits. Digital wayfinding still retains all the benefits of typical digital signage as well, allowing you to fill your layouts with supplemental, promotional content! Additionally, interactive kiosks are on the rise. Leveraging this technology puts your audience in direct control of their experience. From here, you can even experiment with other interactive initiatives, such as QR code scanning, video guides, and small games. Allowing users to interact with your brand in this way develops stronger emotional attachments as well, increasing your chance of creating a loyal customer. 
5) EAT SOME TASTY MEALS
Many corporate campuses have small cafes or even mini cafeterias within their campuses. This can serve as another great touchpoint for your digital signage initiative! Digital menu boards can revamp food promotions and tantalize tastebuds like never before. In addition to real-time menu changes and organization, digital menus breathe life into your resturaunt. New or promotional menu items explode onto the scene with fullscreen video takeovers, showing your delicious food in all its glory. Calendars can cue audiences into menu changes, as items shift from breakfast to lunch items. This can be set up automatically through playlists and stream schedules as well. QR codes can also be implemented to give visitors potential deals and savings. Regardless of implementation, digital signage can get tastebuds watering through vibrant, dynamic content!
ABOUT REACH
REACH acts as both a hardware and software provider for digital signage. When you partner with REACH, you join a network of industry professionals committed to your success. A strong belief in evolving technologies runs throughout the company, resulting in robust digital solutions. To begin your digital signage journey, click the button below to request a free demo from REACH today!