The 3 Most Used Apps For Business Digital Signage You Should Be Using!
THE 3 MOST USED APPS FOR CORPORATE DIGITAL SIGNAGE YOU SHOULD BE USING!
APPS MAKE THE WORLD GO ROUND
After you set up your corporate digital signage solution, you'll likely want to immediately start creating content. Applications and third-party integrations are some of the most efficient ways to incorporate different assets and functionality into your screens. With the flexibility of digital signage for business, the possibilities are truly limitless. Of course, certain apps see more use than others. While each company will find its own creative use cases, some apps remain staples across any digital corporate strategy. This is because these apps can help you convey a variety of information in a concise manner. Since each app can be customized to fit each business's branding standards, these apps can be applied to any industry. In this article, we will go over the 3 most used apps our clients use and how you can get the most out of them. By understanding how these 3 critical apps work, you'll be able to creatively expand your communication methods. Through proper implementation, companies see increased profits and more productive employees. However, if you haven't started your digital signage journey, then click here to get started!
Playlists
The playlist application is our most used app by a wide margin. The reason is that playlists are how your content from the Media Library is displayed. Once you have assets created, you can order them within playlists. You can change the order, toggle certain assets as inactive, as well as adding or deleting content. You can even swap an asset from your playlists with an asset from your Media Library, resulting in a streamlined workflow. Items within a playlist can be grouped together to ensure all that content plays front to back. This is useful in situations where users set their app timeline to "shuffle." This will play all the content and apps within your timeline in a random order. However, items grouped together within a playlist will always play in order, even if the rest of the playlist plays randomly. Items that are toggled to "inactive" will remain in the playlist, but will not actually appear onscreen. With all of this in mind, playlists give clients complete control over what and how content is shown. This in turn opens the door for many creative communication opportunities. Seasonal items can be disabled and activated at a whim, saving time on creating fresh assets every year. Additionally, different playlists can serve different purposes, allowing for content to be tailored based on location and target audience.
Calendar
It can be difficult to keep track of everything going on in your organization. With digital signage, missed deadlines become a thing of the past. Digital signage layouts allow multiple apps and integrations to run simultaneously. This means calendars can play alongside your main content without being a distraction. With calendars, you can cue viewers into important dates, deadlines, and events. Your calendars can then be grouped together similar to playlists based on common themes or traits. This allows you to create multiple calendar sets that can be presented in a variety of locations, serving many needs at once. Each calendar can be animated as well, drawing more attention with vertical scrolls or static fades. Of course, CSS editing allows you to maintain branding standards across every display as well. Displaying calendars through corporate digital signage helps staff remain on task, attend meetings, and achieve their goals. For external facing calendars, viewers are encouraged to register ahead of deadlines, made aware of future events, and generate excitement for your business! Additionally, making them aware of future events leaves them with something to think about as they leave your facility. This maintains top-of-mind relevance for your brand. Lastly, you can integrate third-party calendars through Google, SharePoint, or other scheduling software. This allows you to integrate calendars you may have already built out!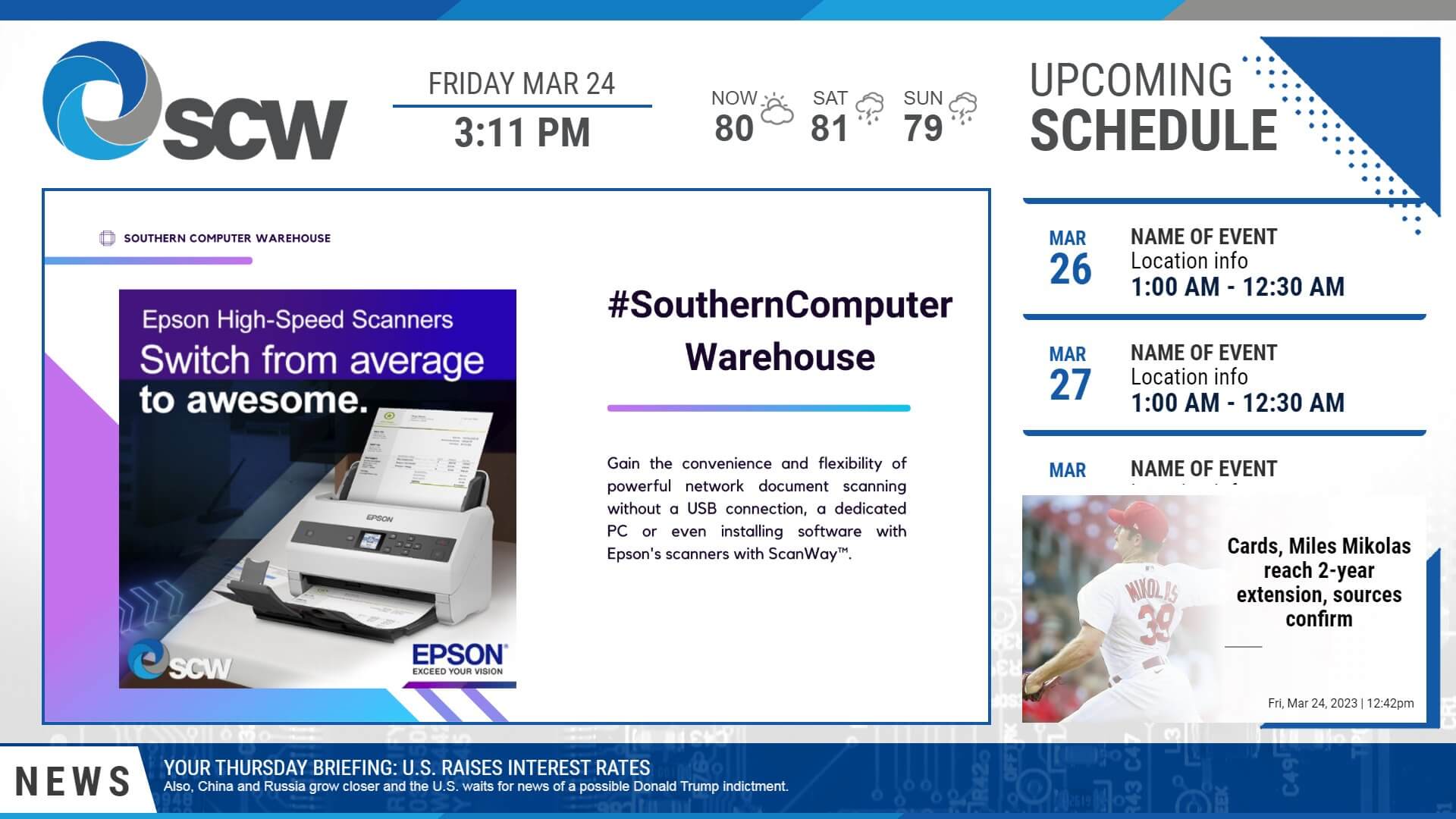 Data Lists
When you think of data lists, you likely think of tables of numbers and other values organized in a grid-like fashion. However, with digital signage, you can get rather creative with data sets. For instance, larger facilities will organize data to create a digital directory! This helps wayfinding purposes and alleviates frustration and confusion for visitors. In other cases, restaurants or cafeterias will use them to create tantalizing menu boards. Of course, production and sales floors can present KPI's to let staff know if they are on track to accomplish their objectives. Data lists are a flexible tool within REACH's ecosystem that allows large amounts of data to be presented on a small scale. Similar to calendars, third-party integrations such as Microsoft Excel or Google Sheets can be synched as well. This will pull spreadsheets you have already created and display them onscreen. Keep in mind that any edits made in the original software will not be reflected through digital signage. To account for any changes, you will have to re-upload the edited version to the CMS.
ABOUT REACH
REACH acts as both a hardware and software provider for digital signage. When you partner with REACH, you join a network of industry professionals committed to your success. A strong belief in evolving technologies runs throughout the company, resulting in robust digital solutions. To begin your digital signage journey, click the button below to request a free demo from REACH today!