REACH Introduces Playlist Grouping & New Integration
REACH Implements PerfectMind Integration & Playlist Grouping
REACH's content-management system will now offer integration with PerfectMind in the calendar application and the ability to group playlist items together. To pull calendars from your PerfectMind account, you need:
The calendar API key
Client number
Base URL
With the new grouping option for playlist items, you will be able to create and rename groups, edit the groups, and copy and paste groups from one playlist to another. When you group items together, whether the playlist timeline is set to linear, loop, or timed, everything within that group will play back to back. It will play EVERYTHING in order.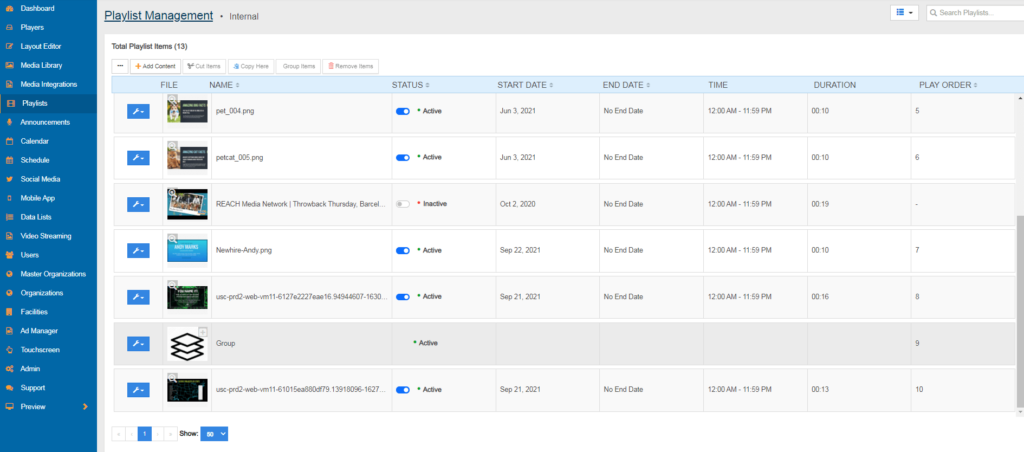 Please note: You will only be able to see groups within the playlist application on a standard or condensed view. If you are viewing from a timeline view in the application, you will not be able to see the group.
About REACH
Headquartered in Eden Prairie, Minnesota, REACH Media Network is a leading provider of digital signage software and solutions. Our team's passion for customer success and evolving technology has driven REACH's employees for the past 15+ years. We strive to create long-term partnerships with each client and provide the best digital signage software to meet their needs.
Founded in 2005 as Reach Sports Marketing Group by Darren Wercinski and Marc Kline, our story started in the ice arena space right here in Minnesota. With the rapidly growing need for our digital signage services, REACH has exponentially expanded into several industries ranging from corporate offices to manufacturing plants to universities. Today, we operate over 30,000 digital signage displays worldwide with our growing 5,000+ clients.