4 Uses For Corporate Lobby Room Signage You're Missing Out On!
4 USES FOR CORPORATE LOBBY ROOM SIGNAGE YOU'RE MISSING OUT ON! 
THE POWER OF HELLO
Try to think about the last building you walked into, and what elements of the building stuck out. The way the room looks and is decorated often stands out more than the floor plan or size of a room. Odds are, your eyes were drawn to vibrant posters, dynamic video walls, or large banner spreads. Perhaps even the sounds appealed to you, hearing promotions over the intercom or learning information from an interactive kiosk. These are all ways corporate lobbies make visitors feel welcome before engaging them in some sort of product, service, or activity. While first impressions aren't everything, they can certainly set the tone for your viewer about what type of company you are. With an exciting lobby solution, you can even encourage viewers to take certain actions that benefit your business. In this article, we will detail 4 corporate lobby signage tips you can use to elevate your facilities. However, if you haven't started your digital signage journey, then click here to get started!
1) SAY WHO YOU ARE
You may think this sounds obvious. Any good lobby signage would have some sort of information that provides background on the company's history. But "saying who you are" means a lot more than just detailing your history. Presenting your company mission statement tells viewers exactly what it is you want to accomplish beyond the product or service you provide. This gives potential customers an idea of what to expect from your service. Additionally, highlighting exceptional staff or including brief bios personifies your brand. By adding some faces to your business, visitors will feel more comfortable engaging with your products or services. Even just introducing more dynamic elements to traditional ads, such as turning employee highlights into a gorgeous video wall, will attract more eyes to your screens. As a result, it will attract more revenue as well. But why not let your customers do the talking? Digital signage for corporate communication also allows you to integrate social media channels. From here, you can share user reviews, trends, and polls directly from your timeline(s). In fact, a recent study found that 93% of consumers claim online reviews impact their purchasing decisions. User-generated content is clearly a powerful tool, and proper implementation can boost revenue.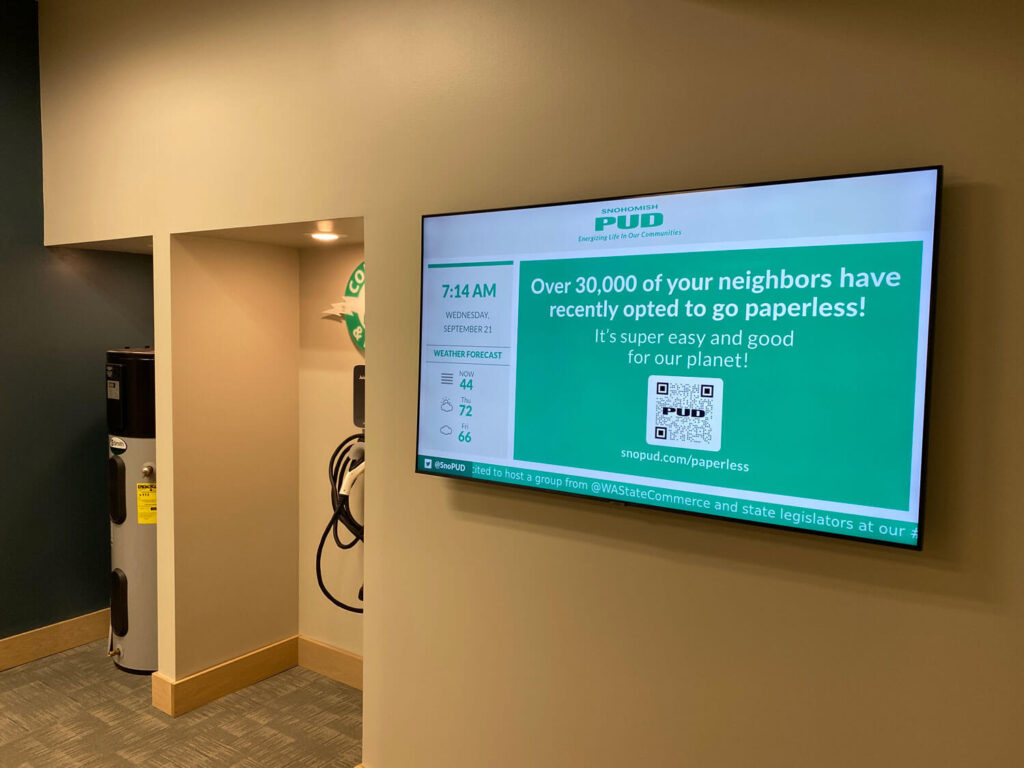 2) GIVE SOME DIRECTION
When entering your building, people will likely be a little lost, especially on a first-time visit. Regardless, digital wayfinding is one of the most effective uses for corporate digital signage. Including a digital directory or other navigation tools alleviates the frustration many may face trying to navigate your facility. For especially larger campuses, digital wayfinding becomes essential. You can take this a step further by incorporating interactive digital wayfinding. Through these kiosks, you give visitors control of their experience. As a result, they are able to find the exact location and routes they need. Wayfinding content can come in many forms. As stated previously, directories and interactive kiosks are effective navigation tools for viewers on foot. However, traffic routes and information can also be presented on wayfinding displays. This will give drivers within your facility the knowledge they need to perform their tasks efficiently. Here, they can see the fastest routes, potential backups, and weather conditions. Visitors also benefit, as they can plan their day out more. Overall, wayfinding helps flesh out your displays by adding utility.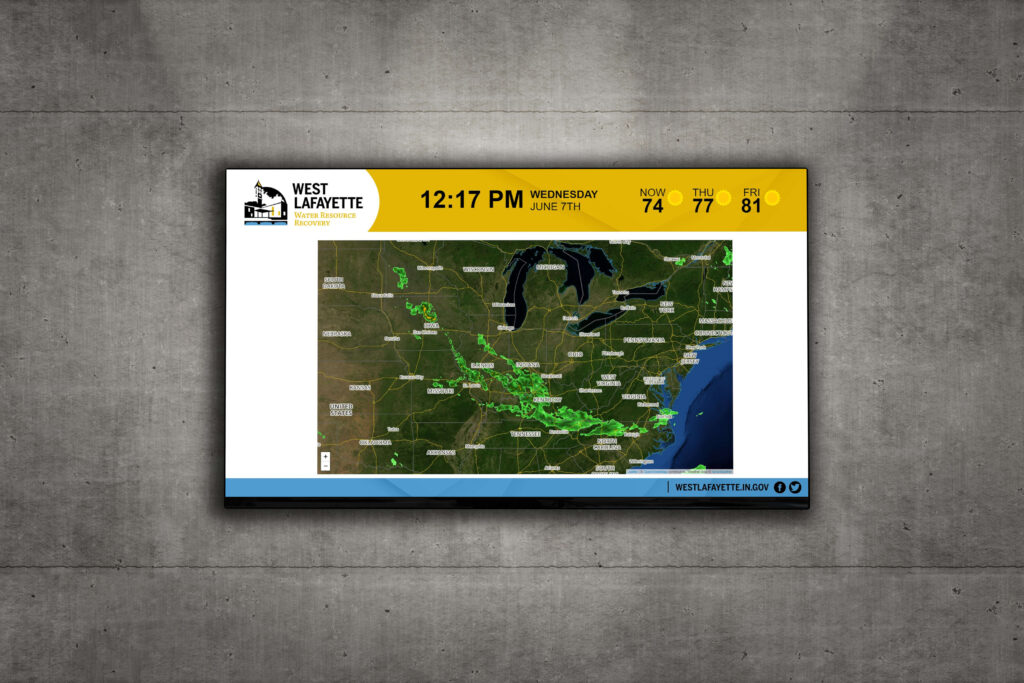 3) GET SOCIAL
We previously mentioned that social media can be great for leveraging user-generated content. However, there are many other ways to liven up your lobbies with social signage. For example, creating or participating in trends is great content to show people browsing a lobby. After seeing other users on social media being displayed through your signage, they may become encouraged to participate and post to your timeline as well! Therefore, more user-generated content will be made while also creating a subculture of loyal, enthusiastic customers! This is great for brands wanting to build their community. Of course, social media can also serve as a vehicle for your other content. Videos, images, gifs, and even polls can all be posted to social media. This content can be displayed as normal content through digital signage, allowing for seamless transitions between platforms.
4) HINT AT THE FUTURE
If you want to maintain top-of-mind relevance in your target audience, the calendar app will be a crucial aspect of your layouts. Calendars can be organized in order to group them based on specific themes. This can range from fitness schedules, to team outings, fundraisers, and other events. Through digital signage, these events can be advertised well in advance. By giving viewers plenty of notice, you will see registration numbers, fundraising goals, and overall engagement skyrocket. In addition to these ads, the calendars themselves can be presented alongside your other content. Animation options such as vertical scrolling or static fades add flair to your calendars that will draw attention. Because calendars are often grouped, you can also display different calendars across different screens to achieve certain goals. Of course, these calendars can be edited through CSS to ensure they match your branding standards. By giving something for viewers to look forward to, you can generate excitement the moment they step into the building and give them with something to think about as they leave!
ABOUT REACH
REACH acts as both a hardware and software provider for digital signage. When you partner with REACH, you join a network of industry professionals committed to your success. A strong belief in evolving technologies runs throughout the company, resulting in robust digital solutions. To begin your digital signage journey, click the button below to request a free demo from REACH today!