5 Tips You Need For Corporate Communication Signage
5 TIPS YOU NEED TO ENHANCE DIGITAL SIGNAGE FOR CORPORATE COMMUNICATIONS
A BETTER TOOL FOR COMMUNICATION
A recent study of 400 companies with over 100,000 employees investigated the estimated loss of revenue due to ineffective communication.
The result was an average loss of $62.4 million a year.
For businesses with 100 employees or less, the losses equated to $420,000 a year.
What this tells us is that no matter the size of a company, inadequate communication results in major losses. Thankfully, there are many opportunities within corporate settings to improve communication efforts and touch base with your staff where you otherwise wouldn't be able to. Digital signage for business communication can provide opportunities for concise, informative announcements, important news updates, or entertaining content. The variety digital signage offers ensure you have signage for every type of display, resulting in a greater boost to revenue. In this article, we will detail 5 tips and pieces of content to improve corporate communications signage, as well as detail how that can earn or save you money moving forward. Effective use of these strategies will open the door to more creative use cases and ensure your communication remains strong moving forward. However, to see clients leverage digital signage effectively firsthand, be sure to check out our case studies from the resource page. And if you're looking to try digital signage out yourself, click here to get started!
DISPLAY SALES CHARTS, MARKET DASHBOARDS, & GRAPHS
One of the most common uses we've seen for digital signage in the corporate space is to measure sales, production metrics, and other analytics in real time. Through integrations like PowerBi, you can sync third-party software to display information that helps your teams excel in their goals. In addition to numeric values, other information like company goals, marketing objectives, and deadlines can all be displayed through signage as well. This goes a long way to ensuring everyone on your team is on the same page and understands the tasks that need to be accomplished. Additionally, this allows people to track how close they are to achieving their goals. Therefore, on-the-fly changes and strategic adjustments can be made using the information from your displays. This saves money in the long run as your team is better equipped to handle challenges and make changes to improve analytics, rather than running an entire campaign on a losing strategy. Having this information readily available also alleviates confusion and frustration from your team, resulting in a better workplace environment. By bringing this all together, digital signage contributes to an increased revenue stream as your team will have access to information that allows them to succeed.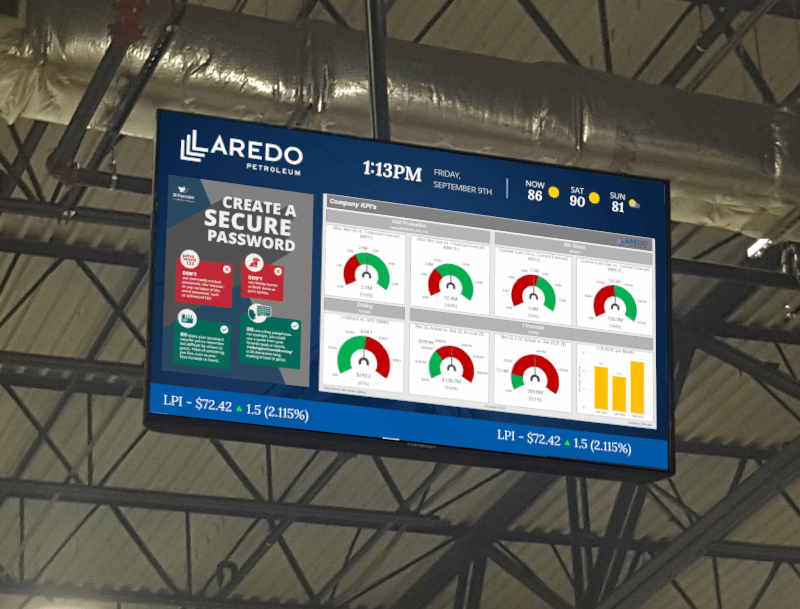 INDUSTRY STANDING, NEWS, & TRENDS
Digital signage software for business comes with a lot of flexibility when it comes to the type of news and trends you want to display. As described earlier, third-party sources can be integrated to display any type of news content you want. This means internal news sources and other custom links can be displayed as well. However, REACH also comes equipped with plenty of news sources ready to use as soon as you're signed into your profile. These include sources like The Economist, The Wall Street Journal, and Business Insider. In addition, these news sources can also be used in our Ticker application to provide simple, scrolling text that delivers news in an even more succinct manner. Of course, using the actual News application allows you to pull in headlines, images, and other features.
Keeping your staff informed on the news makes everyone aware of growing trends that can be applied to your strategy. Not only that, but it also gives you insight into potential competitors and their practices. This can help you evaluate your current market standing, see what trends are working, and incorporate them into your strategy. Additionally, news clips and interviews provide insight from industry professionals and leaders that provide expert testimony and knowledge. Having direct and free access to such resources increases your overall knowledge that can pave the way to more successful business ventures.
COORDINATING SOCIAL MEDIA & FEEDBACK
Many institutions neglect their social media accounts as a source of potential revenue. Worst case, a business may rarely post at all, or keep posts relegated to simple, informative posts. Others are a little more involved but fail to implement strategies that encourage viewers to take action. This completely misses out on the potential social media has to increase your brand recognition as well as revenue. For instance, trends and hashtags can be capitalized on by putting your own brand spin on them. Participation humanizes your brand and encourages people to check out the rest of your business. Building up your social media profiles also allows you to leverage user-generated content for display. This means you can save money by using other people's posts rather than creating your own.
Once you have their attention, you can provide viewers with immediate resources to take action through social media. Each post or profile can be coupled with links to digital storefronts, and sales can be promoted to a wider audience via social media. When displayed on digital signage, they can be paired with QR codes that give viewers the ability to navigate digital storefronts on their own. Sharing that on your screens expands your digital footprint and provides more avenues for your audience to interact with the school. Even when used for internal communications, social media signage can indirectly lead to a boost in revenue. By seeing customer feedback and reviews, your staff will feel motivated to continue performing at a higher degree. This results in more efficient workflows that save you money. In an informal sense, social media also provides insight into audience attitudes and trends. This means the information gathered through social media can also be applied in strategy, resulting in a greater understanding of your clients' needs and wants. By better serving these pain points, your revenue will increase and more leads will flock to your business.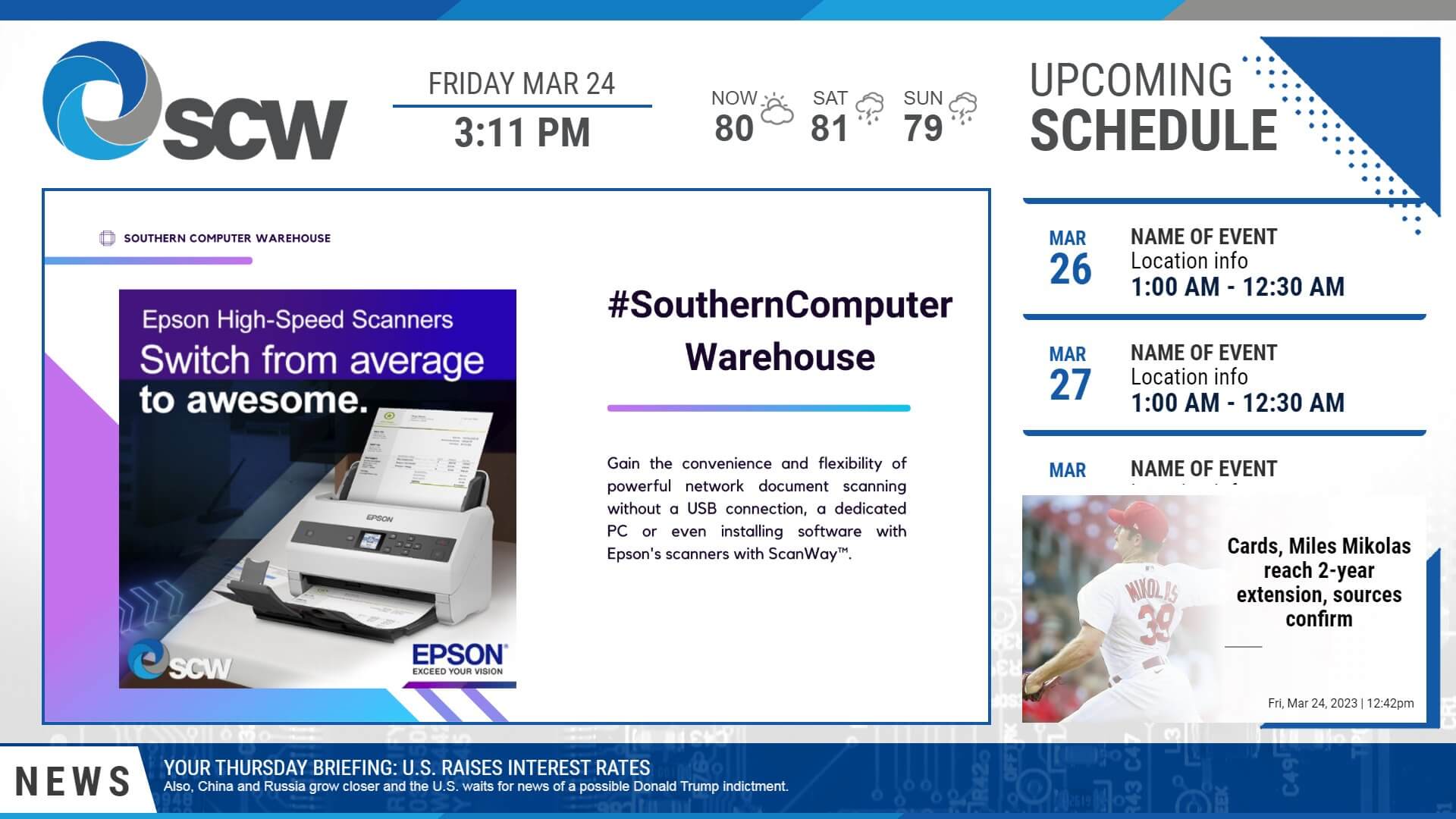 LIVE UPDATES CAN BOOST SALES DURING SLOW PERIODS
There are moments in every business where sales take a dip or leads begin to slow down. With digital signage, you can leverage those moments to bolster those down periods with limited-time promotions and deals. Combine that with real-time updates, and you can strategize to have this content displayed at specific times each day! For instance, if sales begin to dip on Wednesdays around 3 pm, you can incorporate a "10% Off Flash Sale!" to encourage more sales during this time period. If something in the market changes that directly affect the price of the product or service you provide, this can be reflected immediately through digital signage. Other media such as gifs and videos can be used as well to introduce dynamic flair to your signage and promote your materials.
LONG-TIME SAVINGS
So far, we have detailed ways digital signage for corporations can actively increase your revenue streams. However, there are ways in which digital signage actually saves you money which can then increase revenue. For example, replacing your traditional bulletin board with a digital solution reduces printing costs. Rather than printing and hanging up physical poster boards, you will be able to update up to hundreds of signs at a time. This also means you eliminate the time and cost of actually getting someone out to each physical location to change your announcements. So long as you have an internet connection, you can update any of your displays at any time.
ABOUT REACH
REACH acts as both a hardware and software provider for digital signage. When you partner with REACH, you join a network of industry professionals committed to your success. A strong belief in evolving technologies runs throughout the company, resulting in robust digital solutions. To begin your digital signage journey, click the button below to request a free demo from REACH today!