REACH is Adding More Campus-Wide Partners like Northwestern University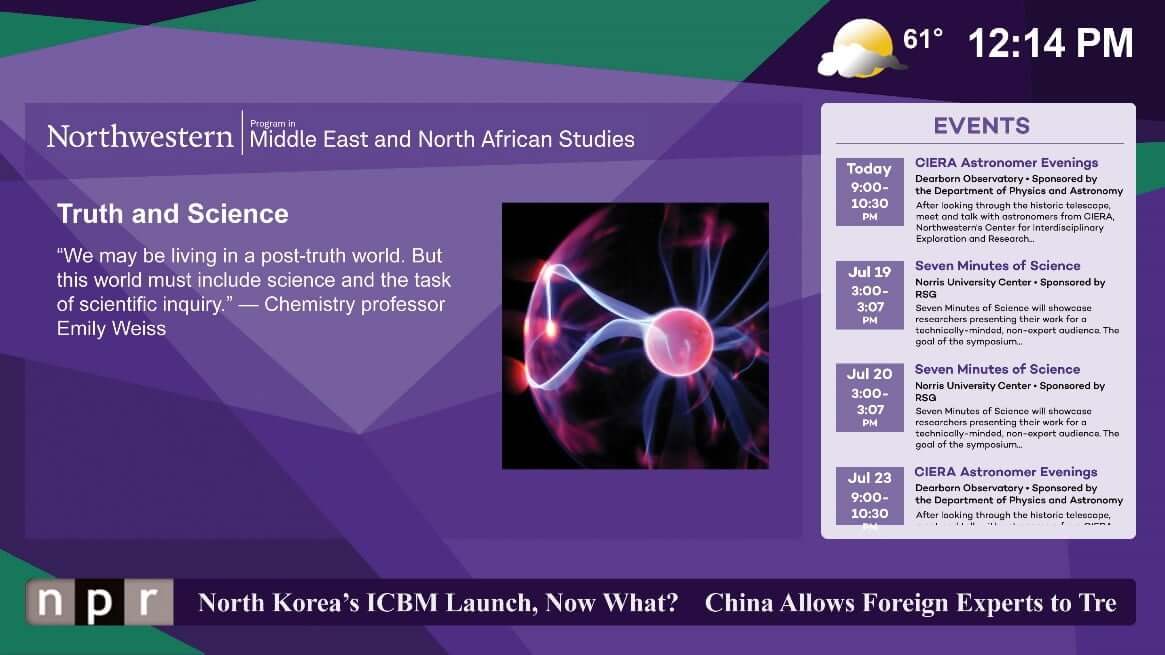 More and more educational institutions are beginning to understand the value of digital signage, and REACH Media Network is proud to announce that Northwestern University is adding new digital signage campus-wide. The University is excited to leverage many of the features that are part of REACH's cloud based digital signage solution.
Universities and educational institutions of all types see significant benefit from the easy-to-use content management system that's provided by REACH. This system allows anyone to easily update digital signage across different departments. University personnel can easily share announcements or even quickly distribute important information across an entire campus with the click of a button.
Digital signage software from REACH also offers fully customizable layouts, which allow departments to personalize their displays to ensure they stand out from other areas of the school. Each department likely has important information that they'd love to share, and digital signage gives these departments the screen real estate that can help to better tell their story.
One of the main reasons educational institutions like Northwestern are turning to REACH for all their digital signage needs is because of the customer support and training that's available to all of our partners. When you partner with REACH, you gain access to free unlimited technical support as well as free training to ensure your digital signage from REACH will become a popular campus-wide choice.
Digital Signage for Universities
At large universities, contingencies have to be in place in the event of any type of emergency. Most universities like Northwestern have a third party emergency alert system that is used to alert staff and students about an impending emergency. With REACH, this third party emergency alert system can be easily integrated with your digital signage to ensure everyone on campus is alerted to a problem as soon as it's identified.
REACH is proud to call Northwestern University a partner, and we're excited to see how we can continue to use digital signage on campus to better connect with staff and students.