Eastern Kentucky University Improves Communication w/ Digital Signage
Eastern Kentucky University Uses Digital Signage to Engage Students
A textbook example of building a community through signage
Background
Going into 2020, Eastern Kentucky University needed a new way to communicate with students. Amidst a changing global climate, the necessity for digital communication software to reach remote students and staff was at an all-time high. In addition, the school wanted a modern platform that would allow them to disseminate information to every facility on campus. Digital signage software presented a great opportunity to help them streamline their communication methods. With this in mind, EKU began searching for a platform that would meet their needs. Are you looking to try digital signage out yourself? Click here to sign up!
The Challenge
Eastern Kentucky University needed a flexible digital signage system that would bring the way it conveys information to students into the modern age. Aside from that, they also wanted to increase student engagement. Despite posting bulletin boards, posters, and announcements, students were not getting involved as much as EKU would have liked. Eventually, they realized that students were not listening or even aware of the announcements they were putting up. They needed something that would catch their eye and stick in their minds. With a recall rate of 80%, digital signage promised a fix to this issue.
Furthermore, the country was entering into a phase of lockdown due to a global pandemic. While some would return the following semester, many students and staff would opt to work remotely. With this added challenge, the university also needed a way to publish its announcements to students and staff from across the nation. Dynamic options such as video and wayfinding tools were also avenues of expansion EKU planned to tackle. Their search for a reliable digital signage platform eventually resulted in a partnership with REACH.
The Solution
With REACH, EKU was able to use cloud-based management software to share assets across multiple facilities at once while still tailoring its announcements to each location. For example, if a campus-wide event was happening, any location can advertise that event while still promoting their specific points of interest (i.e. the gym can have membership signage still placed prominently). Additionally, EKU began implementing touchscreens with interactive wayfinding tools. This creates an improved experience on and off-campus for students and visitors alike!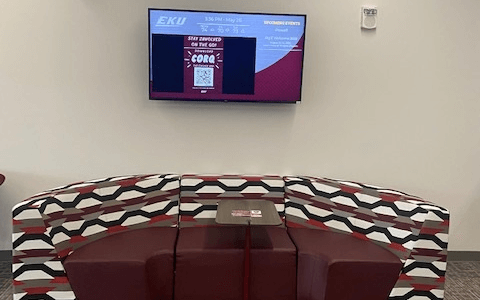 The Results
Since partnering with REACH, EKU has seen an increase in student engagement and a greater awareness of things going on around campus. Additionally, requests can be made to advertise student-run events, encouraging clubs to get their names out there. The software is also being used to educate students on digital signage strategies. Navigation has also been made easier through digital signage, as people are able to get around facilities more efficiently. Apps and integrations have only bolstered the experience, and the school plans to further expand these initiatives.
Testimonial
"REACH is a good and modern marketing tool. Every time we run into something, the team is very helpful and made sure it got fixed as soon as possible."
Dylan Bogard, Associate Director at Eastern Campus University
About REACH
REACH acts as both a hardware and software provider for digital signage. When you partner with REACH, you join a network of industry professionals committed to your success. A strong belief in evolving technologies runs throughout the company, resulting in robust digital solutions. To begin your digital signage journey, click the button below to request a free demo from REACH today!