The Ultimate Guide to Digital Signage Communications
The Ultimate Guide to Digital Signage Communications
How Can Digital Signage Apply to Corporate Communications?
Evolving technologies are opening pathways to more robust corporate communication options. Digital signage solutions have grown increasingly popular for employee communications, event planning/scheduling, and user management. This is because powerful applications and integrations have made it easier for corporations to add fresh, engaging content. As a result, companies are seeing improved productivity and higher returns on investment for their signage. If you want to use exciting new digital communication tools, contact REACH today to see how your brand can fit into the digital space.
However, it's important to understand digital signage for corporate communications can take many forms. For instance, a breakroom can host live TV, news stories, and sports updates that entertain staff during breaks. This can energize employees and motivate them to tackle the workday head-on! From there, companies can include PowerBI metrics or stock feeds that keep employees informed on their market standing and industry trends. Therefore, businesses can use this information to identify current weaknesses and improve their strategies on the fly.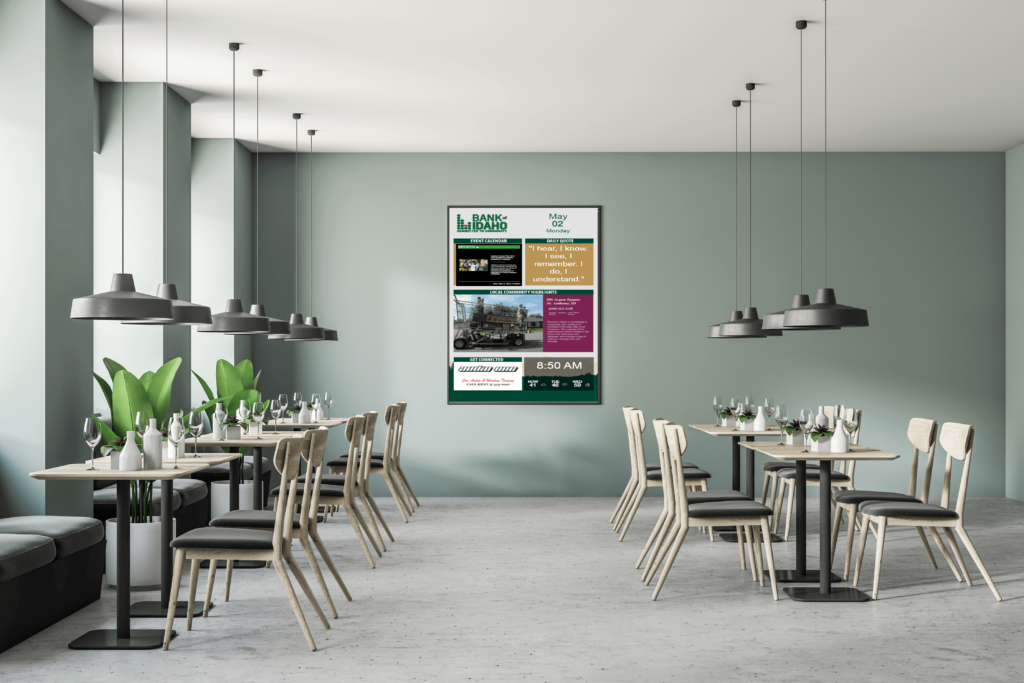 Just remember: digital signage involves the content, software, and hardware that work in tandem to deliver announcements to your audience. If your digital signage software is lackluster, your creativity will be restricted. Similarly, if your hardware is faulty, your messages won't get out at all! Using digital signage can be a big investment, which is why it is important to identify key areas of implementation.
Key Areas Your Company Can Use Digital Signage
As stated previously, breakrooms are common places to implement digital signage as it offers a lot of freedom to display different types of messaging. Since it is a room dedicated to taking a breather from the workday, the signage here can be more relaxed. Aside from entertainment options like live TV or sports scores, internal messaging can still be effective without being overly intrusive. For example, employee recognition boards can instill pride amongst staff and boost morale. Company social media channels can give everyone a glimpse into their coworkers' lives outside of work, or even display customer testimonials that demonstrate how their work pays off.
Lobby digital signage is also a crucial place to have some signage up. First impressions are important, and eye-catching signage can elevate the user experience. Lobby signage can include wayfinding tools that help visitors navigate your facilities. If your lobby includes a coffee shop or other food options, you can tantalize tastebuds with digital menu boards. This can all be used while still displaying informative messaging about your business, resulting in a cohesive communication strategy that serves the needs of your audience while also providing additional avenues of engagement.
Finally, production and sales floors can display KPIs, Microsoft Office integration like Excel spreadsheets, and company calendars. These tools can actually aid the workflow of your staff as they can use this information in their day-to-day jobs. This results in a more efficient work environment.
Choosing Your Signage
The best digital signage for your business is one that is easy to use, provides constant updates/support, and has the capabilities to fulfill your digital communication objectives (sounds a lot like REACH!). When choosing a digital signage software provider, browsing their website beforehand can give you an idea of the apps and integrations they have to offer. Additionally, many providers operate on cloud-based management software, so inquiring about that capability is also important. However, if you would like to skip the search process, there is another option as well…
Get Started Today
REACH acts as both a hardware and software provider for digital signage. When you partner with REACH, you join a network of industry professionals committed to your success. A strong belief in evolving technologies runs throughout the company, resulting in robust digital solutions. To begin your digital signage journey, click the button below to request a free demo from REACH today!