Revamp Your Summer Signage With These Powerful Apps
REVAMP YOUR SUMMER SIGNAGE WITH THESE POWERFUL APPS
APPS FOR ALL
As you already know, digital signage opens your world up to a wide variety of apps and integrations that can empower your marketing efforts beyond what's possible with traditional bulletin boards. With the proper software, these apps can even work in tandem to create a truly unique, dynamic marketing experience. These apps can then of course be edited or updated remotely from any location with a Wi-Fi connection. However, having access to all these tools does no good if you do not know how to use them. This article will give you a preview of some of our most popular applications during the summer season and how to use them effectively to leave the best impression on viewers. Want to see how digital signage apps can empower your marketing? Click here to sign up for a free demo, today!
SCHEDULE OUT THE SUMMER WITH CALENDAR APPS
One of the most common uses for digital signage is being able to display calendars and schedules alongside your usual promotional material. Doing so gives them a reason to look forward to future events, opportunities, and other marketing displays you may show in the future. Hence, calendars and schedules give people a simple reason to return to your signage day after day. More importantly, it provides useful tools viewers can actually utilize in order to plan out their summer or just day-to-day lives. Including camp sign-up dates, important conferences, production deadlines, and more show how this app can add value to almost any business. Third-party scheduling and calendar software can also be integrated with REACH's software to pull in calendars you've already created. Services such as Google, SharePoint, Avario, and more can all be integrated. Once you have these calendars set up, they can be customized even further with pre-made templates, CSS styling, and other options. The goal is for you to be able to digitally display your calendars while still being able to maintain your branding guidelines, creating a cohesive marketing experience.
CREATE STUNNING ASSETS WITH CANVA
One of our newer integrations is with the online graphic design tool Canva. Users can create a free or pro account and seamlessly integrate it with REACH by signing into their profile through our content management system. Once set up, you will have access to Canva's entire suite of content creation tools to extend your capabilities. This includes stock photos, professionally designed graphics, animations, font designs, and more! The best part is these assets can be created without having to directly leave REACH's software. Canva's tools are created so that those with little experience can still create stunning designs. However, marketing and creative departments will have a field day with everything that can be created, and pro accounts give you access to animation tools. Creating assets through Canva is great for generating content at a quicker, more efficient pace. Plus with all the resources and stock images already ingrained into the system, you save time and effort by being able to pull and repurpose those assets. The result is a constant flow of content so you never have to miss an important deadline!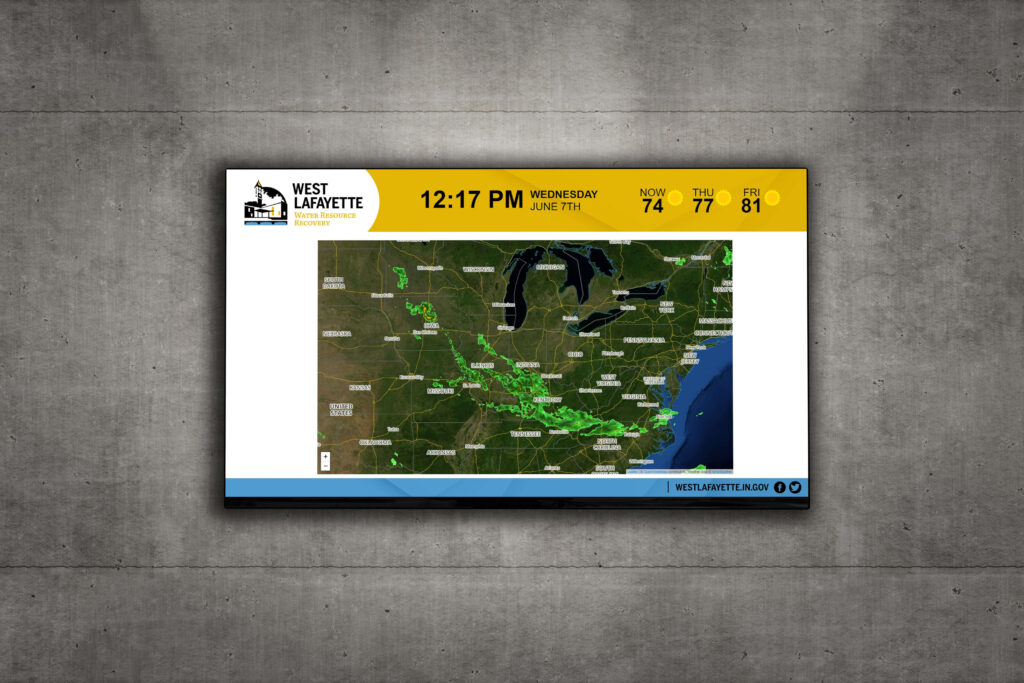 KEEP TABS WITH POWERBI & COUNTER INTEGRATION
Unfortunately, summer is a quick season and the clock is already taking! Thankfully, there are plenty of apps to help you keep track of all the numbers that fly around during this season. The counter app is great for keeping track of ongoing data, such as days without an accident, donations received, sales made, etc. On the opposite end, counting down the days until a team-bonding activity, registration deadlines, breaks, and other activities can introduce exciting anticipation to your displays.
However, some data sets are a little too complex to entirely cover through counter apps. Production metrics, sales floors, and shipping/travel networks. For more advanced spreadsheets and infographics, you'll want to integrate corporate metrics or a PowerBI account. Summer is a busy time of year, so presenting current company standings and statistics can help employees stay on task. Having this kind of information easily accessible, such as on sales or production floors, breakrooms, or high-traffic hallways, gives employees the tools and confidence they need to reach their objectives.
BRING PEOPLE TOGETHER WITH SOCIAL MEDIA
Social media can be your best friend throughout the summer season. With the wonderful weather and longer days, people are out and about doing exciting things. This lends extremely well to easy content that can be shared through digital signage. Facebook, Twitter, Instagram, Slack, and more can all be integrated and shared through digital signs. From here, what you can do with social digital signage is limitless.
For example, many companies can add a bit of personality to their brand by sharing internal Slack threads of company trips, vacations, and team outings. In fact, Lake-Sumter College recently revamped its digital signage program with REACH. As a result, it has seen a boost in student engagement and has empowered its students' learning. Instagram slides and stories can make hundreds of impressions while showing off your product or service in glamorizing frames and filters. Of course, hashtags and other identifiers can start popular trends and be shared beyond your digital footprint.
In fact, social media is great for leveraging content you don't even need to create! User-generated content is an endless source of material that if used appropriately, can grow a business's base. Using and promoting user-generated content shows an active interest in your audience. Doing so will encourage them to interact with and share your posts more, further growing your followers. Once your following is established, anything can be shared over social media. Employee highlights, user testimonials, viral challenges, and limited-time deals can all be promoted through social media and then shown through digital signage.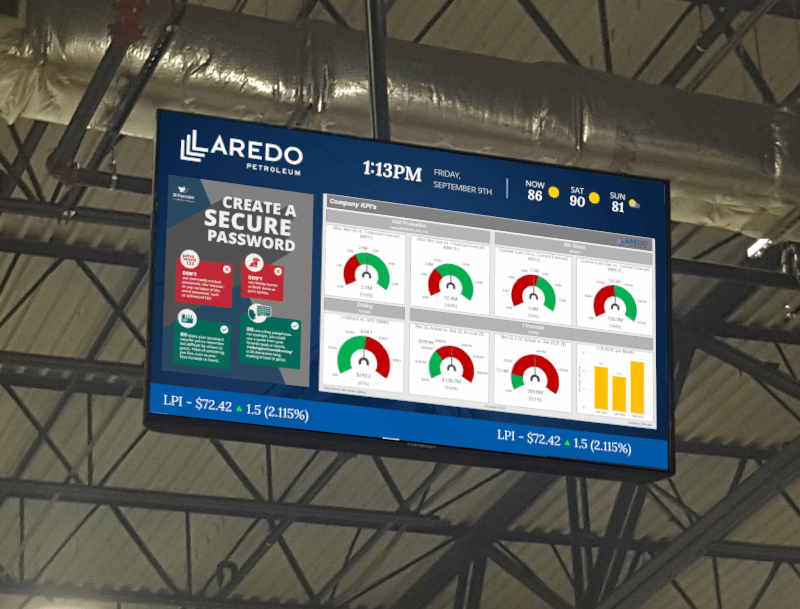 LIVE IN THE MOMENT WITH LIVE TV STREAMING
With so much going on during the season, it's impossible to cram every activity into a single day! That's why with REACH's streaming capabilities, you can display Live TV channels so your audience never has to miss a moment. News, sports, and other entertainment options can all be presented alongside your usual marketing material to flesh out your signage. Each display can even be set to a different channel, allowing you to introduce variety throughout your facilities.
However, streaming is not only restricted to television. Internet streaming capabilities expand your content library to avenues such as YouTube or even custom streaming integrations. For instance, you can set up a live stream to watch something interesting going on at your locations. We've seen examples of businesses setting up streams to watch nesting birds, busy street corners, concerts, and more! Incorporating this type of creating live stream can help your audience feel more connected to your business and spend more time in your facilities, resulting in more conversions.
WIN THE DAY WITH WEATHER ALERTS
Summer is also a season of extremes when it comes to weather. Every year we see record-breaking highs and lows and extreme winds paired with thunderstorms. Such extreme weather can affect sports, travel plans, public transportation, and other recreational activities. Using digital signage to share weather updates provides useful information viewers can use to go about their daily lives. This is also an easy resource to use to give your audience a reason to return to your signage. With a premium account, you can even implement live weather radars that show a real-time view of the weather in your area. This can then be scaled to the state, region, or county level. Using your displays for weather shows a vested interest in the lives and safety of your viewers as well.
To take it a step further you can also set up National Weather Alerts that will take over the content currently playing on your screens. This way, no one misses important safety updates and instructions during instances of moderate to severe weather.
ABOUT REACH
REACH acts as both a hardware and software provider for digital signage. When you partner with REACH, you join a network of industry professionals committed to your success. A strong belief in evolving technologies runs throughout the company, resulting in robust digital solutions. To begin your digital signage journey, click the button below to request a free demo from REACH today!