Shelter Mutual Insurance Expands Communication With Digital Signage
Shelter Insurance Revamps Communication Through Signage
Digital signage reforms internal communication for the insurance company
Background
Shelter Insurance originally was not looking to implement digital signage for internal communication. Rather, it simply wanted a way to show people new cafeteria options in hopes that it would gain more traffic. However, after doing some research, it was decided that digital signage could improve communication efforts for the company in general. From there, they began looking for reliable hardware alongside robust digital signage software. Looking to try digital signage yourself? Click here to sign up today!
The Challenge
One of the first things Shelter Insurance wanted to do with its digital signage is improve its menu boards. Being able to update menu items in real-time and draw more customers in was an enticing first step. But once it was time to expand to internal communication, Shelter realized they needed some additional features. Shelter wanted a bigger space for its announcements that would not involve physical media, and wanted to begin leveraging its social media channels. This way, they would be able to display a wide variety of information in a concise, efficient manner. Having large, vibrant signage would appeal to some of its older clients and staff who may not have the best eyesight. Such a system needed to give Shelter the functionality it needed, but also allow them to adapt on the fly. Eventually, they signed up with REACH.
The Solution
Shelter Insurance implemented BrightSign players for all of their screens. As the most reliable player on the market with plenty of advanced features, it was a perfect pairing with REACH's digital signage software. BrightSign players have advanced features such as cloud integration, live tv streaming, and interactive displays, giving a lot of flexibility to their clients. Shelter was now able to display local news sources, social media posts, and other pieces of content. Scrolling calendars have also improved involvement in company events. Shelter is able to create all its content independently and fulfill requests from each department from a centralized location. The result is a more streamlined process that allows them to create more content.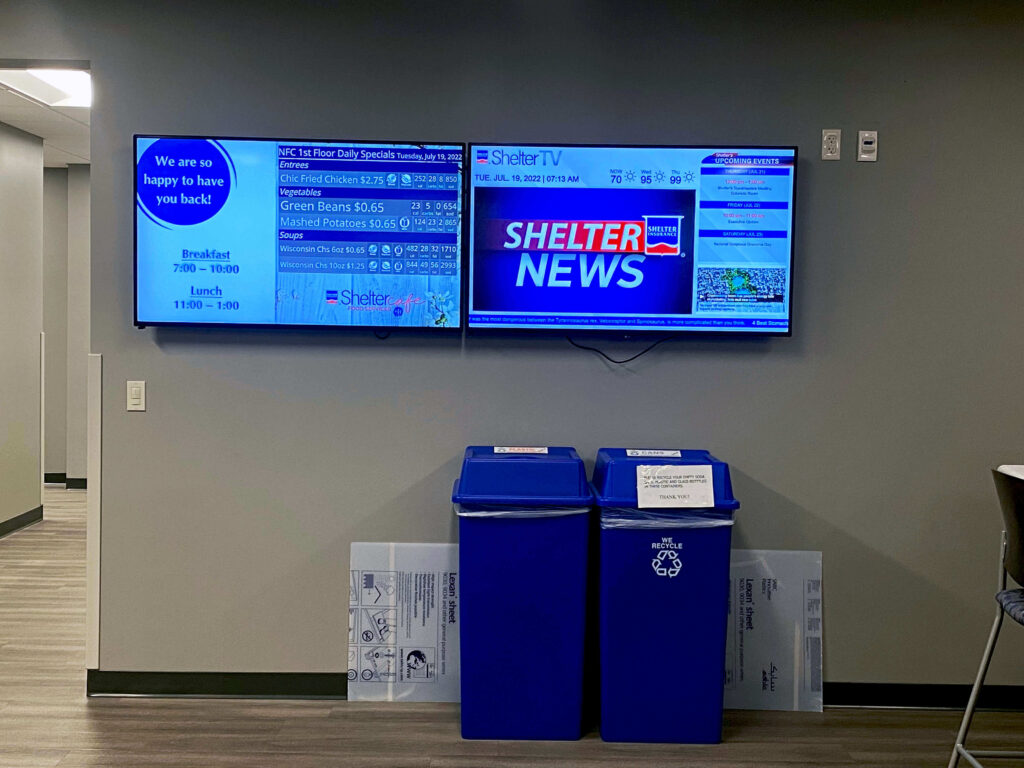 The Results
Since beginning its digital signage initiative, Shelter Insurance has expanded to 16 players, all powered through BrightSign. The company has seen a rise in engagement in events and better knowledge of company news. In addition, Shelter has seen an increase in staff morale, as signage is able to welcome employees as they arrive. Monthly employee highlights also encourage staff to perform to their best. Any troubles that arise are quickly solved through REACH's support network. As a result, Shelter has completely revamped its internal signage for the better.
Testimonial
"Digital signage was the first step to improving our company's communication efforts."
Brittney Harty, Graphic Design Specialist at Shelter Insurance
About REACH
REACH acts as both a hardware and software provider for digital signage. When you partner with REACH, you join a network of industry professionals committed to your success. A strong belief in evolving technologies runs throughout the company, resulting in robust digital solutions. To begin your digital signage journey, click the button below to request a free demo from REACH today!