How Digital Signage Can Change Your Website With One App
HOW DIGITAL SIGNAGE CAN CHANGE YOUR WEBSITE WITH ONE APP
WHAT IS WEBSITE DIGITAL SIGNAGE?
When you think of digital signage, you likely imagine physical displays located around facilities that present certain information or content. In most cases, this would be an accurate assessment of many digital signage displays and their use cases. However, there is a solution that takes the "digital" aspect of digital signage more literally: website digital signage. Using REACH's robust digital signage software for businesses, you can expand your signage capabilities to web-based platforms. Use the full power of our digital signage suite without dealing with physical limitations. Doing so will add quite a bit of flair and utility to your website, making content management a smoother process. Additionally, advanced customization options ensure the look of your layouts fit seamlessly into your website's theme. By tailoring it to your branding guidelines, you can maintain a level of consistency while innovating with dynamic content. And the best part? No hardware required! You can save on hardware costs and installation by utilizing this fully digital framework. Depending on the scope of your project, you could be up and running within the same day!
Now that we have an understanding of what website digital signage is, it's time to understand how we can use it. While there are many apps and integrations that REACH's software can utilize, we will focus on just one for this article. This will demonstrate how even one change with digital signage can have a huge impact. As scheduling, events, and deadlines are crucial to any business, we will go over how implementing a calendar to your website signage can result in huge benefits. If you're eager to see it for yourself, click the button below to view a variety of templates our current clients have made. Or if you're still unsure, check out our resource page for more details on how digital signage is the right fit for your business!
WHY USE THE CALENDAR APP?
It can be difficult to keep track of everything going on in your organization. With digital signage, missed deadlines become a thing of the past. Digital signage layouts allow multiple apps and integrations to run simultaneously. This means calendars can play alongside your main content without being a distraction. With calendars, you can cue viewers into important dates, deadlines, and events. Your calendars can then be grouped together similar to playlists based on common themes or traits. This allows you to create multiple calendar sets that can be presented in a variety of locations, serving many needs at once. Each calendar can be animated as well, drawing more attention with vertical scrolls or static fades. Of course, CSS editing allows you to maintain branding standards across every display as well. Displaying calendars through corporate digital signage helps staff remain on task, attend meetings, and achieve their goals. For external facing calendars, viewers are encouraged to register ahead of deadlines, made aware of future events, and generate excitement for your business! Additionally, making them aware of future events leaves them with something to think about as they leave your facility. This maintains top-of-mind relevance for your brand. Lastly, you can integrate third-party calendars through Google, SharePoint, or other scheduling software. This allows you to integrate calendars you may have already built out!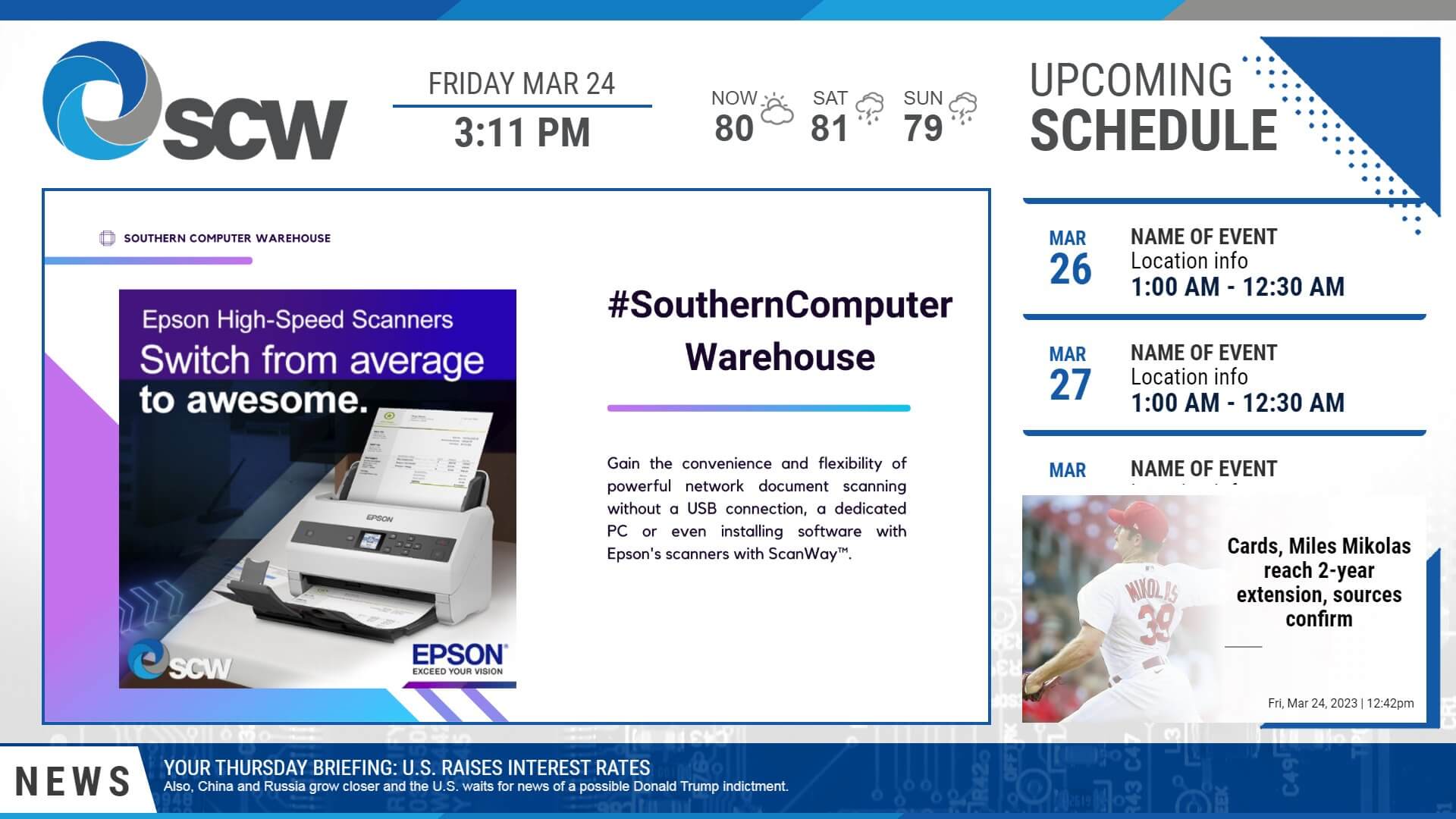 HOW DOES THIS HELP MY WEBSITE?
By integrating digital signage with your website, you can bolster internal communication efforts by providing a calendar feed that provides live information that you can update in real-time. Considering digital signage is known to receive more attention than bulletin boards and emails, you'll increase the amount of eyes and improve retention among your team. As a result, there will be less confusion and frustration in the workplace. This will enable employees to work more efficiently and hit deadlines with greater ease. This can also help management teams with scheduling, as interactive kiosks around collaborative spaces and conference rooms can display live schedules of room rentals. Of course, shift schedules, holidays and company events can all be scheduled as well. 
These tools can work externally as well, providing customers a live-view of important events or specials you want them to be aware of. These can be shared through live displays as well as your website, expanding the potential touchpoints you can reach your target audience. Customizing your calendars to match your brand standards will provide a cohesive experience to customers as well. The flexibility of website digital signage will be your greatest strength!
ABOUT REACH
REACH acts as both a hardware and software provider for digital signage. When you partner with REACH, you join a network of industry professionals committed to your success. A strong belief in evolving technologies runs throughout the company, resulting in robust digital solutions. To begin your digital signage journey, click the button below to request a free demo from REACH today!