4 Tips To Increase Corporate Revenue With Digital Signage
4 TIPS TO INCREASE CORPORATE REVENUE THROUGH DIGITAL SIGNAGE
FREE UP THE BUDGET WITH DIGITAL SIGNAGE
Digital signage has evolved in many ways as the industry has moved forward. Gone are the days of simple PowerPoint slides and grainy videos. With a combination of advanced apps and integrations, digital signage offers a degree of flexibility not offered through traditional media. As a result, there are a variety of dynamic functions to include in your displays that will gain more traction and can even result in boosted revenue. Especially in a corporate setting, there are a variety of strategies and content pieces you can include that will help you achieve your communication and marketing objectives. When creating content and employing digital signage, however, there are a few key strategies to keep in mind to ensure you're getting the most out of your software. This article will teach you some key factors to keep in mind when cultivating your signage strategy. Have you been meaning to take the leap to start your own corporate digital signage journey? Then click here to get started!
MONETIZE YOUR SIGNAGE
This may initially seem like an obvious piece of advice, but you would be surprised how many people do not realize you can monetize your signs! What we mean is, using your signage to sell ad space and other paid, promotional material could turn your displays into additional revenue streams for your business! If you have business partnerships and relations with other companies in the area, you can sell your signage space to promote their products or services as well. This way, you are receiving a stream of income from these signage rentals. The amount of space you afford can be adjusted based on your needs, meaning you can dictate small portions of the screen to these partnerships or dedicate entire screens. This would work in tandem with price adjustments as well, and the majority of screen space can still be dedicated to your own messaging.
Additionally, with the rise of interactive signage displays, you can get users to engage directly with profitable calls to action. Creating kiosks for vending machines, cafes, and other dining areas cut back on wait times and frustration while giving customers direct control over their experience. This in turn encourages people to engage more frequently with your displays, resulting in more conversions. Even QR codes can be leveraged through corporate signage by providing links to product landing pages. Of course, all these options can be used internally or employed by third-party companies you are selling your space. Either way, digital signage for corporate communications offers an abundance of opportunities to create additional revenue streams.
GET MORE ATTENTION ON ANNOUNCEMENTS
In a recent study, it was found that digital signs receive 400x more attention than traditional bulletin boards, with 63% of people saying they notice digital signs. With such stunning statistics, it's obvious that digital displays are a more effective communication tool compared to similar avenues. Simply put, the bright displays, vibrant colors, and dynamic elements of digital signage all work together to capture the attention of viewers. With so many moving parts, something on your screen is bound to catch their eye! However, this is also where a balance needs to be struck. To avoid overwhelming your audience, ensure the most important parts of your display are presented cleanly. To guarantee every aspect of your display gets proper attention, having a well-organized layout for your announcements is a good rule of thumb in general. The more attention your screens get, and the easier the info is to read and understand, the more likely viewers will perform a desirable action. Of course, there are plenty of tools digital signage software for corporate business offers to help streamline this. Playlist tools can help organize content pieces so similarly-themed assets can be played together, and disabled once their need has expired. Calendars can be grouped to alleviate confusion with schedules, events, and holidays all intermixing. Any tool used can also be customized through CSS to maintain your branding standards. This creates a holistic marketing experience where your brand and message are consistent across all locations, resulting in greater attention and top-of-mind priority.
CREATE EXCITEMENT AROUND YOUR SIGNAGE
Another easy way to generate more revenue through digital signage is to get people excited about your signage! For internal communications, this could mean highlighting well-performing employees, displaying company social media chats/trends, hosting simple trivia, quizzes, or surveys, and presenting user reviews. All of this works together to cultivate a positive and efficient work culture that also motivates staff to perform at their best. For external communication, excitement can be generated through limited-time promotions, participating in social media trends, highlighting key customers, and hosting exciting events. When people are excited to view your signage, they're more likely to become interested in your business and take action.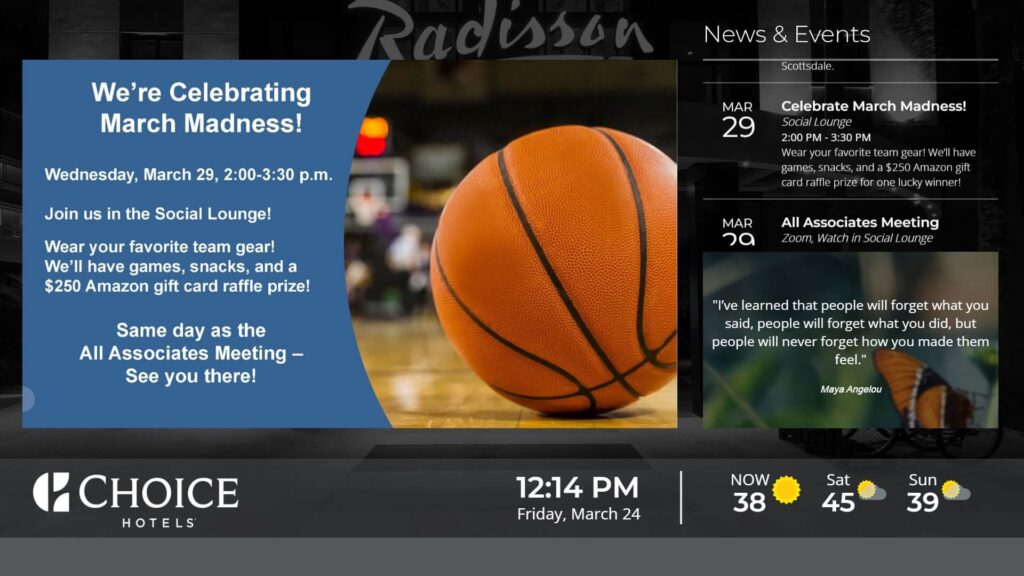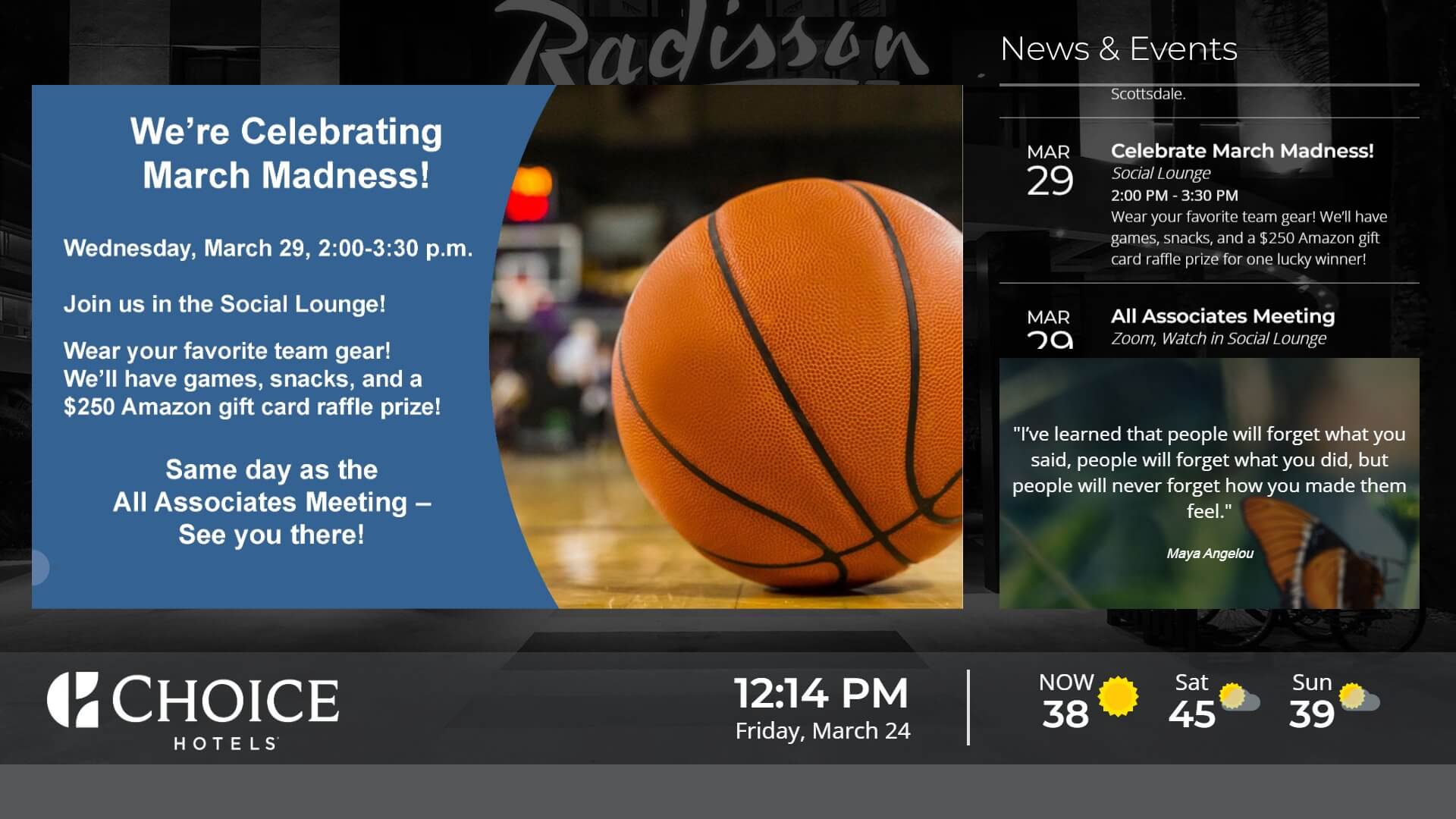 SAVE MONEY IN THE LONG RUN
When all these strategies are put into place, digital signage will eventually start to generate revenue. However, digital signage can also save on costs as well. Traditional bulletin boards and menu boards need to be physically updated. This requires time, labor, and printing materials all be accounted for. With digital signage, time spent sending employees out to manually update announcements can now be spent on more important matters. This is because digital signage software is powered by the cloud, enabling users to send all their updates from a central location. As long as you have an internet connection, you can send updates from anywhere. Since everything is digital, printing costs are a thing of the past. You can even save money on hardware, as REACH's content-management system is "hardware agnostic," meaning it can be played on almost any media player. Using your own hardware, you can immediately get started on creating assets!
ABOUT REACH
REACH acts as both a hardware and software provider for digital signage. When you partner with REACH, you join a network of industry professionals committed to your success. A strong belief in evolving technologies runs throughout the company, resulting in robust digital solutions. To begin your digital signage journey, click the button below to request a free demo from REACH today!