Hy-Line Cruises Bolsters Advertising With Digital Signage
Hy-Line Cruises Executes On-Ship Digital Signage Network to Boost Revenues & Improve Experiences
Learn how iconic East Coast cruise line, Hy-Line Cruises, implements digital signage to create new sources of monthly recurring income
Background
Hy-Line Cruises is a family-owned ferry and cruise company located in Massachusetts. Hy-Line operates tours and cruises to Nantucket, Marthas Vineyard, Cape Cod, and Hyannis. What started as a marine sightseeing business put on by two brothers has steadily grown into a multi-dock, 350+ person crew and operation. 
As a result of the recent growth, Hy-Line Cruises was forced to implement new, more efficient ways to better communicate with guests and draw in more business. Digital signage presented a lucrative opportunity, as it could display cruise ship-related traveler information while also serving as advertising space for cruise ship destination advertisers.
The Challenge
When first looking into cruise ship digital signage, Hy-Line discovered many challenges. The first cruise line digital signage solution they decided to go with came with many technical issues, including downed monitors and connection difficulties. Because of the problems, Hy-Line was losing money, and advertisers began to complain. This prompted Hy-Line to start looking for alternative solutions. As a result, Hy-Line renewed its search for more stable, robust cruise line digital signage solutions.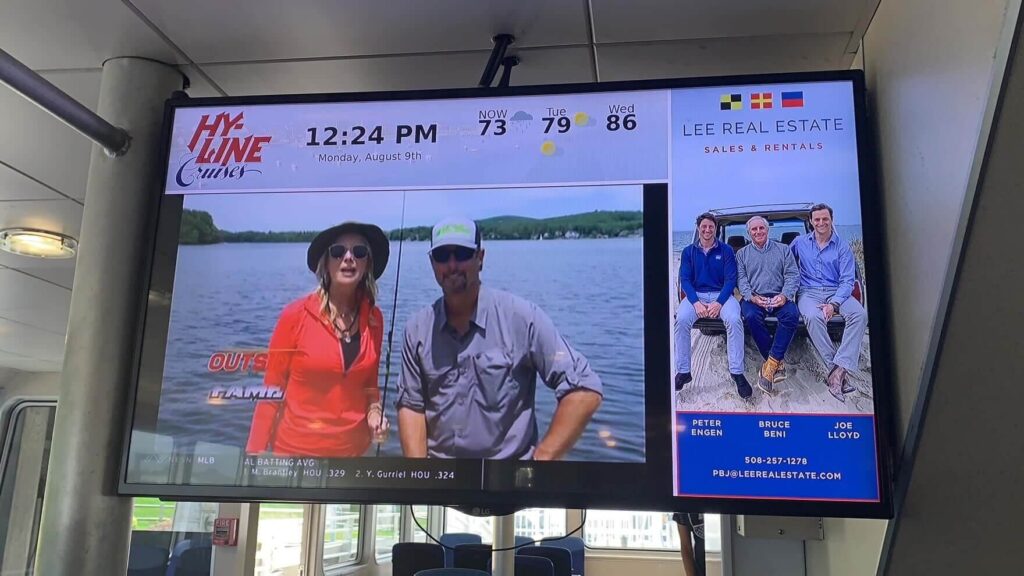 The Solution
After evaluating multiple vendors and doing extensive testing, Hy-Line chose REACH. Once Hy-Line partnered with REACH, it was time to restructure its cruise line signage management system. Part of the upgrade featured location-based advertising that enabled Hy-Line to display specific pieces of content based on the location of the display. This allows Hy-Line to tailor content to the needs of each region they serve.
In addition to advertisements, Hy-Line set up real-time streaming of sports games and other media. This reflects positively on Hy-Line as an entertainment entity and results in higher customer satisfaction.
The Results
Since partnering with REACH, Hy-Line Cruises has expanded its cruise line digital signage operations and shows no sign of slowing down! Investing in digital signage has resulted in an exceptional return on investment. The revenue generated has allowed Hy-Line even greater freedom in its messaging, as they are not reliant on advertisers anymore. 
Hy-Line plans to continue expanding its digital monitor initiative. Next year, the company will add more screens and new integrations implemented into their digital communication. Social media will also see an increased focus, as they aim to display social channels in their designs. The results should continue to yield further profits and communication opportunities, as the company is excited to grow alongside REACH.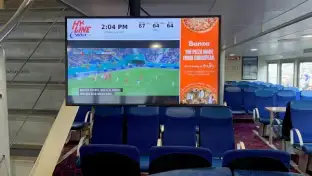 Testimonial
"It's useful every day because we can push out information whenever we need to quickly and easily. I don't know why people wouldn't go with REACH. Depending on the time, location, or clientele, we can edit our digital signage layouts in real-time to fit their needs. With REACH digital signage software, we can add additional elements like time and weather updates to help flesh out the experience for viewers while providing a level of utility." – Betsy Rich, Hy-Line Marketing Manager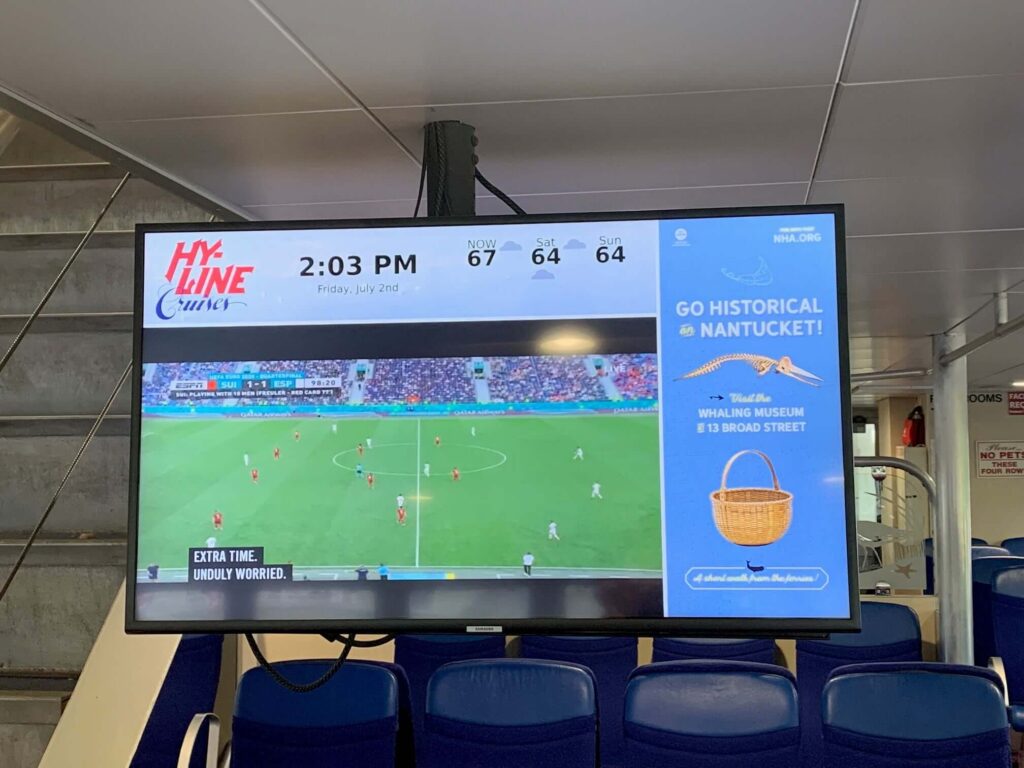 "I don't know why people wouldn't go with REACH."
About REACH
REACH acts as both a hardware and software provider for digital signage. When you partner with REACH, you join a network of industry professionals committed to your success. A strong belief in evolving technologies runs throughout the company, resulting in robust digital solutions. To begin your digital signage journey, click the button below to request a free demo from REACH today!