Digital Signage Content and Stock Photos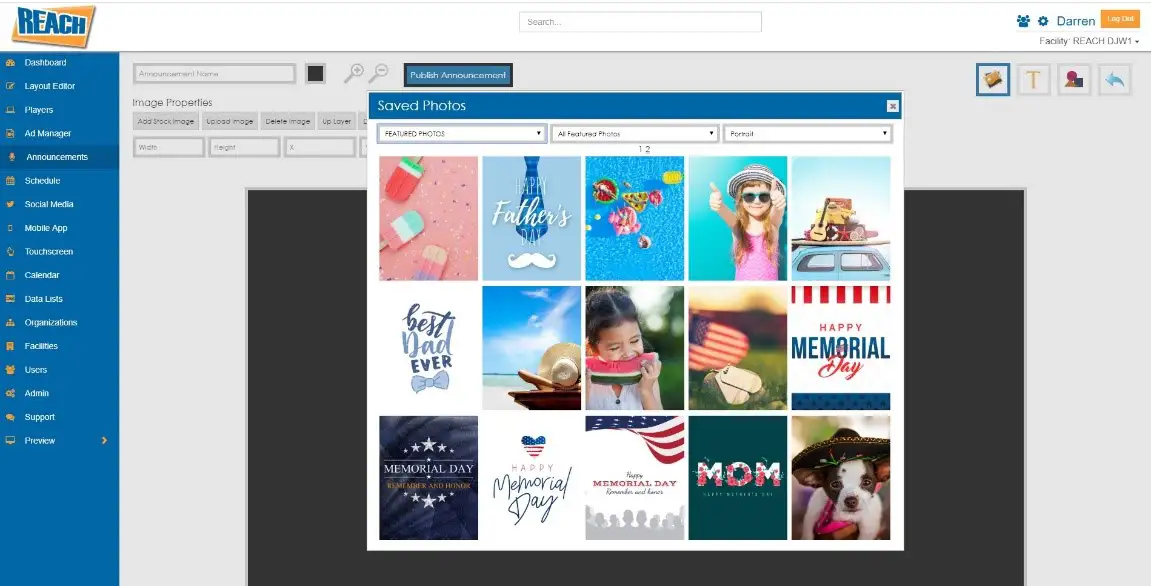 One of the most difficult aspects of engaging digital signage is creating the content in such a way that is engaging for those who are constantly walking by. Sure, anyone can throw up some bland text onto a digital sign, but will people actually pay attention? The answer is likely, no! At REACH Media Network, we've made it our mission to not only create high quality digital signage software, but to create it in such a way that is user friendly and easy for anyone to use regardless of their technical prowess. One way that we do this is by providing a wide array of free digital signage content and stock photos that make creating any type of digital signage a snap!
Licensed Content Available for Use with REACH Digital Signage Software
At REACH, we've licensed content from hundreds of providers such as ESPN, Bloomberg, USA Today, Google, Entertainment Weekly and many others. This allows you to gain access to free headlines, pictures and videos that are updated every 20 minutes throughout the day. This way your viewers will instantly be pulled in to engage with your content thanks to these real-time updates.
Free Library of Stock Photos
In addition, when it comes to designing your digital signage content, you'll have access to a massive library of free stock photos including Holiday themes, Scenery backdrops, Birthday and Anniversary templates as well as photos from literally every category you could think of. This way you can avoid designing bland digital signage and instead have highly engaging content that will be welcomed by your viewers. In today's fast paced culture, you have to create content that's visually appealing and engaging or else all of your efforts will be for naught.
Over our many years in business, we've worked with a wide array of clients across all industries. Below are just a few of the most common industries we work with on a daily basis:
Colleges
K-12 Schools
Religious Venues
Healthcare
Hospitality
Parks and Rec
Corporate
Fitness Centers
JCC Facilities
Government
Many others!
Contact REACH Today to Learn More About Our Library of Free Content Resources
If you're interested in learning more about the wide array of free content that you'll have at your disposal when you work with REACH, feel free to reach out to our team today. We can be reached by phone at 952-255-6296 or via email at info@reachmedianetwork.com. We look forward to hearing from you soon.
Related articles: