Managing Your Digital Content Library
Attention-grabbing content
The Rules of Designing Digital Content
A large volume of media assets is essential in order to push diverse, attention-grabbing content to your audience. Otherwise, your digital signage solutions can grow stale. Unfortunately, having a vast library of assets can also cause disorganization, making it hard to find the right materials to complement your communication efforts. Hence, it is important to organize your assets to ensure the graphics you need are easy to find.
REACH's Media Library and Calendar applications provide intuitive organizational tools that establish a solid infrastructure for content creation. But simply throwing things in a folder does not always mean you are organized. Knowing the best organizational practices will streamline the content creation process and result in a more efficient working environment.
Check the Calendar
Many would tell you that having a planner or calendar is a great first step in organizing your library. Online sources like Google Calendar make this process even more straightforward, as they can be accessed from anywhere and will send push notifications when you have events set up. This can ensure everyone remains on schedule and important deadlines are met.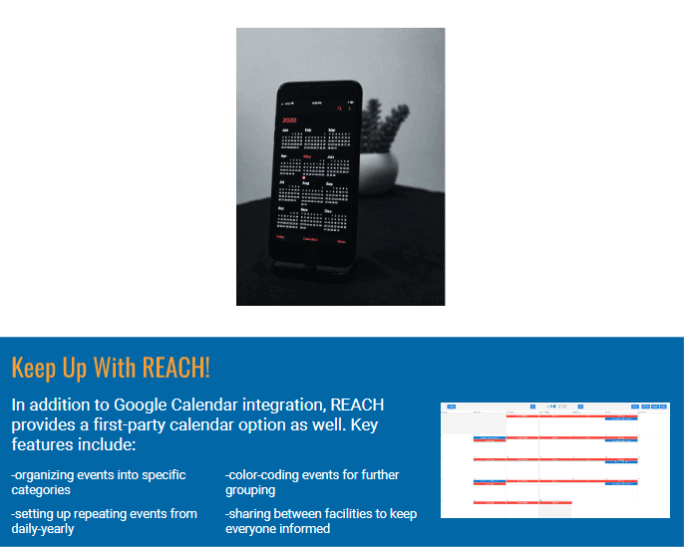 KNOW YOUR AUDIENCE
Centralize Your Assets
Having content scattered in multiple different areas can waste time trying to find the right piece or asking a coworker to send you a file. With cloud management software, you can consolidate your content, making it accessible for the whole team. REACH's Media Library is available to anyone in your facility with access to it. You can also sync OneDrive accounts with our software to further pull items from a personal or business cloud account.
Cloud software has the added benefit of backing up your assets, making accidental deletions a thing of the past. Backing up your assets makes recovering any deleted items possible, which prevents wasting time re-doing a project.
KNOW YOUR AUDIENCE
Keep a Healthy Rotation
As stated before, moving items to a folder does not automatically mean the content is organized. It is important to consider consumer behavior and seasonal trends. Not many people are looking for swimsuits in the winter, and hot chocolate 5ks are not as popular in the spring. Hence, it is important to consider all the factors that go into what makes your content work. Grouping based on trends, behavior, seasonal changes, holidays, or even current events will make your efforts more cohesive and diverse for your audience.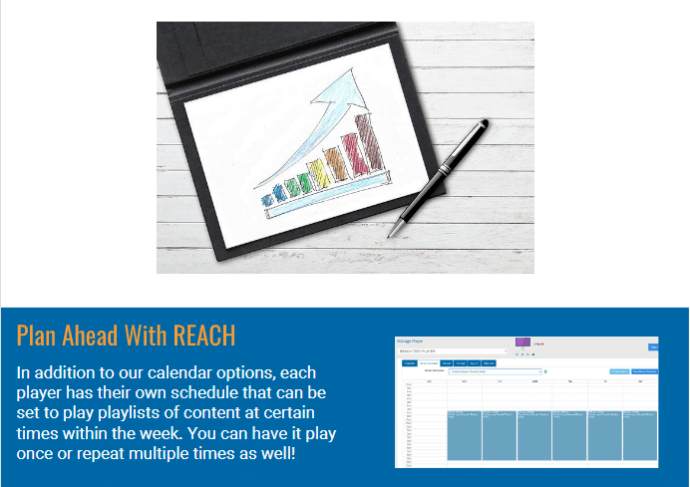 Related articles:
Request a demo
REACH is Ready
The longer you wait to begin organizing your assets, the more time that will be spent scrambling to find them when it matters most. Thankfully, you do not have to do it alone. When you join the REACH family, you also partner with a team of industry experts who are dedicated to assisting in your communication goals. We believe in our clients' success and value ongoing relationships. Visit our website now to learn more and contact us with any questions or concerns you may have.