Enterprise Corporate Digital Signage Solutions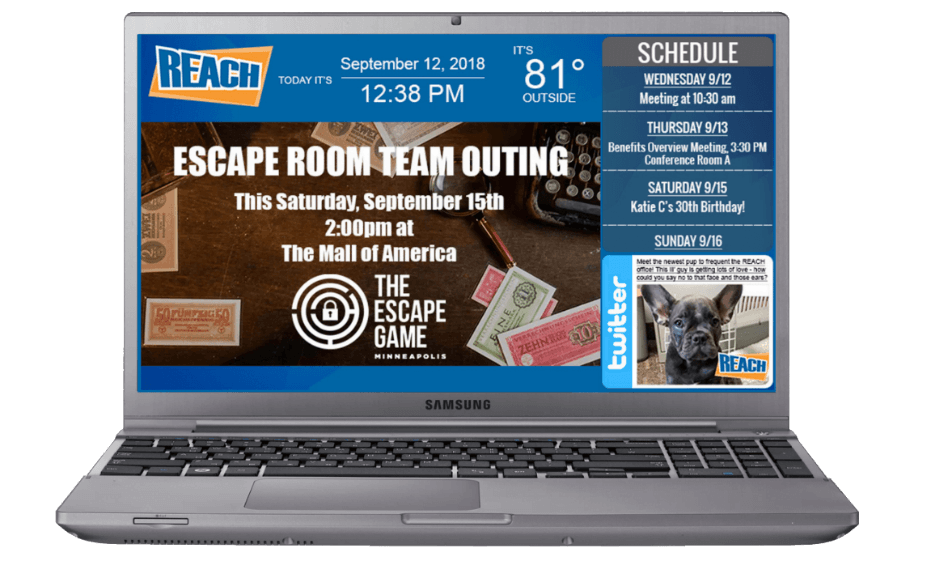 Organizations of all sizes are beginning to leverage the many benefits of digital signage solutions to help better connect with both employees as well as clients. Regardless of the size of your organization, there are a whole host of ways your organization can benefit from corporate digital signage.
Benefits of Enterprise Corporate Digital Signage Solutions
Below are just a few of the many benefits your organization can take advantage of by adding digital signage:
Showcase employee achievements – One key aspect of building up your company's culture is by making your employees feel appreciated. Digital signage allows you to highlight employee achievements so that everyone within your company can see what can happen when an employee goes above and beyond in their job role. This can not only help an employee feel valued, but it can also encourage other employees to put in the extra effort because they know they'll eventually be recognized.
Integrate key KPI information – Another way to keep employees motivated is by constantly keeping your KPI's displayed via digital signage to ensure everyone keeps "their eye on the prize." By keeping your company's key performance indicators front and center you'll be surprised at how much more effective your team will be when it comes to reaching those goals.
Add on Desktop Screensaver – Not only can our software be used to power digital signs throughout your facility, but you can also utilize our add-on desktop screensaver to give your employees an interactive view that is interactive and can be updated in real time via our cloud based interface.
Deliver company announcements – If you're like most companies you may send out an email to announce a very important company initiative only to find out later that the majority of your employees never read the email. This is due to inbox overload as the average employees receives massive numbers of emails each day. With digital signage, you can post these key announcements so that every time an employee walks by a certain area they'll look up and be reminded of any important announcements you're trying to convey.
Post company events – Thanks to digital signage solutions you can also showcase upcoming events that may be relevant to your employees. Even better still, you can actually interface your digital sign to an online calendar so that events can auto populate without you having to add them manually. This way you can ensure that all important events are seen by all your employees.
Use as a collaborative tool – If you have multiple locations, installing digital signage can go a long way towards encouraging collaboration. Easily display the same content across different locations so all of your employees feel as if they're connected to the company.
Talk to REACH About Other Ways Your Company Can Benefit from Corporate Digital Signage Solutions
As a growing business, it can be difficult to think of ways to keep your employees on task and engaged. Enterprise corporate digital signage solutions offer a unique way to connect with your employees and even customers as well in various retail settings. To learn more about our cloud based digital signage software, don't hesitate to contact us today at 952-255-6296.