A Dependable, Turbo Charged Alternative to Scale Digital Signage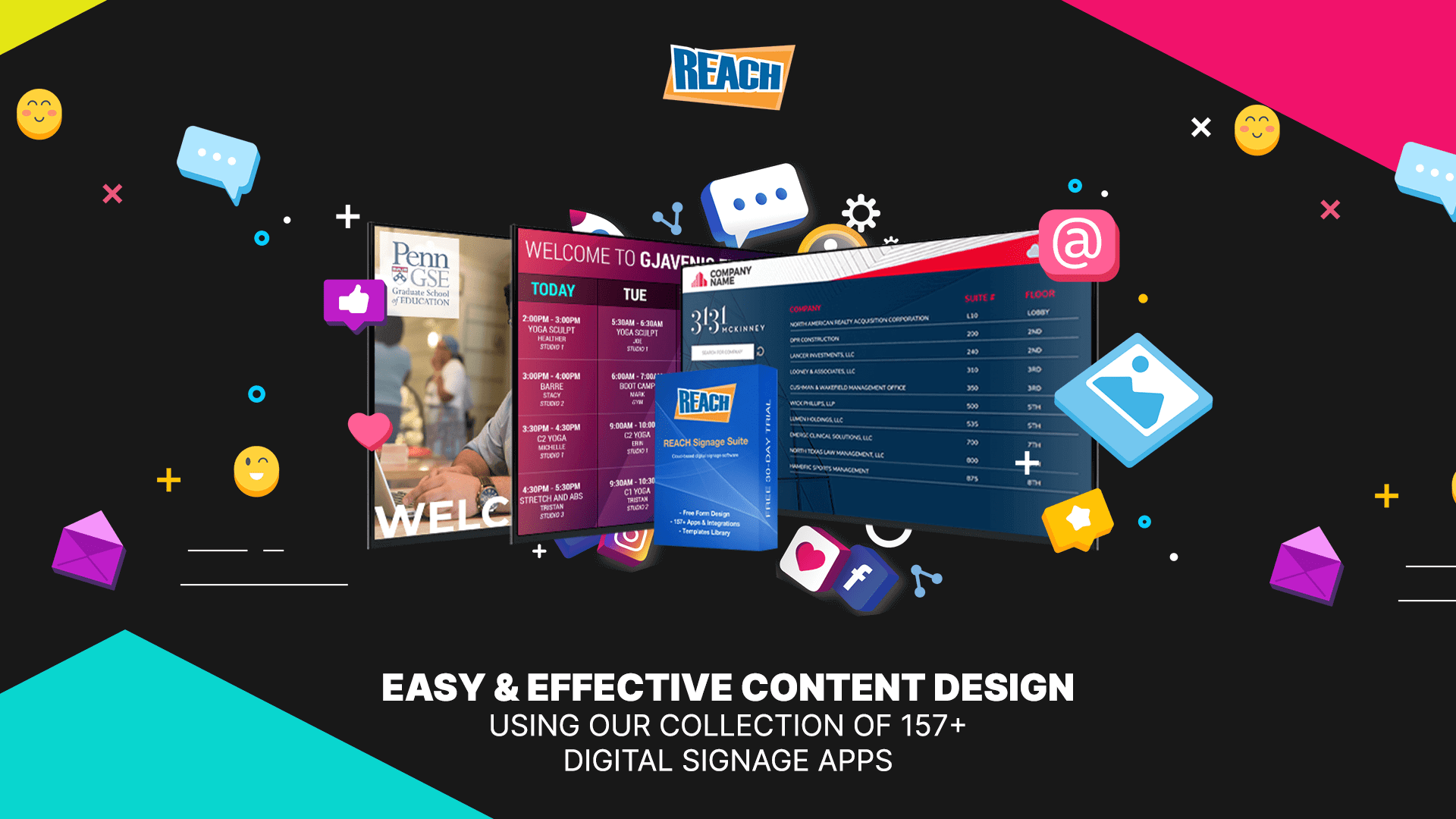 A Dependable, Turbo Charged Alternative to Scala Digital Signage
You need a dependable and efficient digital signage solution, but you can't commit to Scala; hence you're looking for an alternative to Scala Digital Signage. If so, you've come to the correct place! REACH Media Network has been operating successfully for over 17 years as a privately held corporation.
As a result, we can provide an alternative to Scala Digital Signage, a mature, robust digital signage software platform, without having to answer to a board of investors or compromise on our product's integrity.
Please review our five target markets if you have a specific requirement:
Scala Digital Signage Software Alternatives
You've clicked on the correct page if you're looking for an alternative to Scala Digital Signage. Our cloud-based digital signage platform, REACH, allows you to easily create and manage your screen content with various customizable design options. Next, you can quickly transmit high-quality content to your displays from anywhere using our unified collection of tools.
Apps for Digital Signage That Can Be Tailored to Specific Needs
To aid in the creation of content, REACH provides a free library of more than 157 customizable digital signage apps, such as:
Business News
Event Calendar
Honoring and Recognizing Staff
Trending Topics in the World of Entertainment
Microsoft Office Suite (Word, Excel, and PowerPoint)
Animated Wallpapers and Videos
Twitter, Facebook, Instagram, VLC, High Definition, and YouTube LIVE
Emergency Alerts and Lock Downs
Consider Automating Some of Your Content Distribution
Integrating REACH's digital signage solution with your existing analytics dashboards, spreadsheets, tables, calendars, and event listings is a fast and simple method to expand the reach of your information. For instance, the manual updating of a spreadsheet is now obsolete thanks to the use of digital signs.
We can sync your data and content to streamline the real-time presentation of APIs, charts, and KPIs for your organization. O365, POS data, and reports are all examples of connected third-party platforms.
Not Limited to Any One Piece of Hardware
Whether you're in the market for a new media player or have one already, REACH can be used for any purpose. It makes no difference to us what sort of hardware you're using. Therefore, our program is compatible with any device.
If you need assistance locating hardware or digital displays that meet your needs and budget, REACH is here to help. Moreover, we supply durable and easy-to-setup digital signage players..
In the event of a network failure, our software will continue to display content cached on the digital signage media player. Because of this, you no longer have to worry that a power outage may render your display inoperable. Even if the image quality is low, the REACH software will always give you something.
Enterprise Digital Signage with Advanced Multi-User Control
For digital signage networks with a wide range of users and installation points, SSO is an option. These kinds of configurations speed up user setup and management.
With SSO, workers may use a single set of credentials to sign into any enterprise-grade cloud applications connected to their IdP. This makes it easier to manage who has access to which cloud-based SaaS programs. REACH also requires SAML 2.0. Thus the platform is interoperable with all widely used identity providers (Security Assertion Markup Language).
REACH works with various SAML2 Identity Providers, including ADFS, OKTA, and Shibboleth. Then there's Azure Active Directory (AAD). Once we have completed the SAML2-based SSO configuration, we will provide the customer with a dedicated URL that may be used each time they log into the REACH platform. Users also can have the REACH system begin SSO-mediated login on their behalf once they have submitted their username (often an email address). This option is available to users. In addition, REACH is integrated with LDAP and SAML2.
Conclusion
If you have doubts that we are the best replacement for Scala, please sign up for a demo or request a free 30-day trial. This will provide you with hands-on experience with our digital signage system and, more importantly, allow you to determine if we are a good fit for your needs.