DIGITAL SIGNAGE FOR PARKS AND RECRETION CENTERS
Improve the way you engage with your park visitors and efficiently guide visitors using our dynamic digital signage software, room schedule displays, and interactive touch screens. With our extensive app library, creating an attractive and informative screen is simple. Our digital signage for parks and recreation centers will provide you with a seamless way to integrate with your current scheduling software to avoid duplicate work.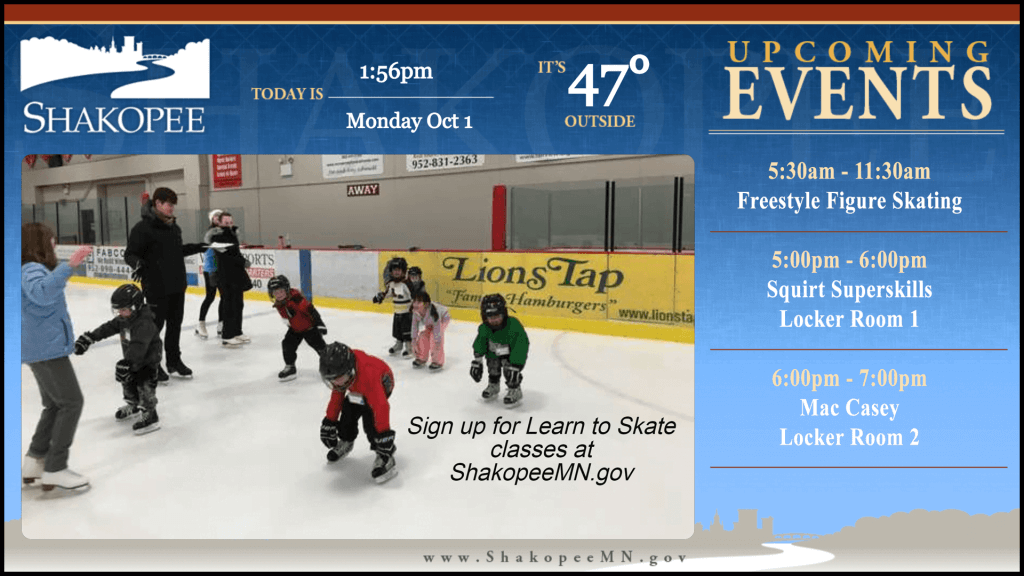 PARKS AND RECREATION DIGITAL SIGNAGE
If you manage one or more parks and rec facilities, you obviously have your hands full. Your facility is likely used almost every day of the year and it can be difficult to always connect with visitors. One way that the team at REACH is helping parks and rec facilities connect with visitors is with digital signage software. REACH Media Network offers a whole host of features that will help to better engage with your visitors and allow you to showcase all the wonderful events and attractions that are offered at your location.
Ways to Use Parks and Rec Digital Signage to Connect with Visitors
Below are just a few of the ways your team can leverage the power of digital signage to better communicate with visitors.
Showcase upcoming events – Your facility is bound to have quite a few important events coming up. Do you feel like your visitors are aware of these events? We're going to guess that the answer is no! Use digital signage to display all your upcoming events to ensure your visitors are constantly reminded of what's coming up at your facility!
Share videos and photos – Another way to use digital signage is to showcase videos and photos of individuals enjoying your wonderful amenities. Everyone likes to see themselves on the big screen, so encourage visitors to submit pictures or videos that show the wonderful amenities you have to offer at your facility.
Share social media posts – If it wasn't on social media, did it really happen? In all seriousness, individuals are glued to their mobile devices more than ever before. Why not harness this popularity by encouraging visitors to share pictures and videos on social media with relevant hashtags? You can use a REACH app to post any content that matches a certain hashtag. In addition, you can simply post your own social media updates to keep everyone informed about what's going on at your facility.
Showcase news, sports and weather content – Because your digital signage will be connected to the internet, you'll be able to easily show news and sports headlines as well as local weather information to keep your visitors better informed.
Eliminate paper usage – Do you typically distribute several paper handouts related to certain activities or events at your facility? Why not take this same information and display it on a digital sign? This way you'll save on the cost of paper as well as cut down on the environmental impact.
Why Turn to REACH for Your Parks and Rec Digital Signage?
At REACH we understand that you have options when it comes to parks and rec digital signage. We hope that you'll give us a shot for any of the following reasons:
Free updates and technical support – While we live and breathe all things digital signage, we understand you may not. For this reason, we provide free software updates as well as free technical support for our products. This way you'll constantly be receiving software updates to make your digital signage even better, and if you run into any issues, we're always just a phone call away. We'll never charge you for support or software updates! We're focused on building a long-term relationship with you, not charging you for each and every software update or customer support interaction.
Free apps & apps – When you partner with REACH, you'll instantly have access to our scores of apps & apps that make creating interactive digital signage as simple as a few mouse clicks. A few of these apps include:

Weather
Photo Stream
Sport Scores
Time and Date
Calendar Integrations
Video Stream
Social Media Content
YouTube Videos
News Headlines
Traffic Updates
Live TV
Emergency Alerts
Pricing Information
Much more…
Free templates – Regardless of what you're looking to accomplish with digital signage, chances are that we have a free digital signage template that you can easily access and modify to meet your needs. This allows you to quickly drop in your facility's logo and make a few changes and instantly have a ready-to-use digital screen. All our templates can be modified to meet your needs, but many of our partners find that they can use them as is.
Cloud-based platform – Our content management system is completely hosted in the cloud, which allows you to access all your digital signage from anywhere, provided that you have an internet connection. This is extremely beneficial, especially if you have multiple digital signage devices located around your facility. Simply log in to our easy to use control panel and make changes on the fly.
Ready to Use Digital Signage at Your Parks and Rec Facility?
To learn more about our digital signage for parks and rec facilities, or to schedule a free demo, our team is ready to hear from you.