Hallandale Beach Improves Community Engagement Through Digital Signage
Hallandale Beach Improves Community Engagement Through Digital Signage
Modern solutions help better serve a community
Background
The City of Hallandale Beach is located in the southeast region of the state and serves over 30,000 residents. With such a large population, quick and efficient communication is key in order to inform residents about news and events around the area while also driving engagement for community events. However, Hallandale Beach was facing a problem. Previously relying on paper and poster announcements, Hallandale Beach would have to physically visit each location to update announcements. Eventually, it became evident a more modern solution was needed. That is when they began looking at digital signage vendors. Looking to try digital signage out yourself? Click here to sign up today!
The Challenge
Hallandale Beach needed a modern solution that would allow them to quickly update announcements while maintaining brand consistency. The screens they were using before were all set up differently and managed by different people. Hallandale wanted a centralized solution that would allow them to manage their screens from one location. Additionally, they wanted the flexibility to integrate other forms of media besides their announcements, such as social media and calendar events. This added flexibility would also allow them to tailor content based on the location of each screen. The result would be a more streamlined approach to their messaging that would allow them to create content quickly. Once they knew what they wanted, they began demoing layout designs with REACH.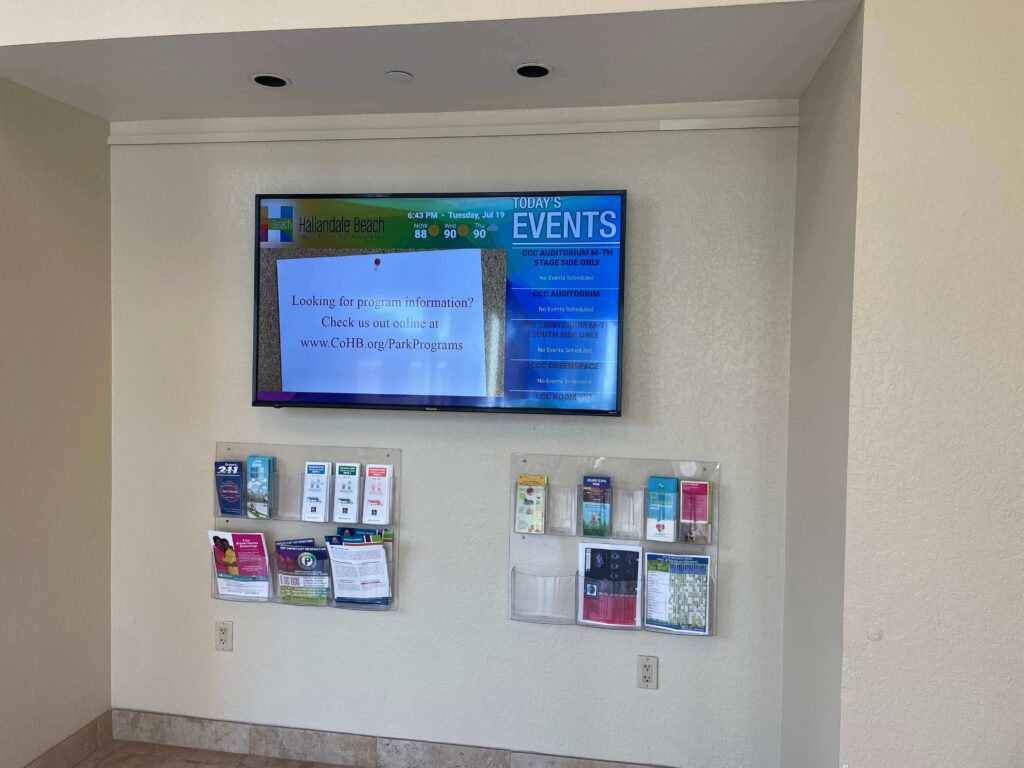 The Solution
Hallandale Beach began implementing BrightSign players with REACH software across multiple locations. BrightSign is known to be one of the most reliable digital signage players on the market. Not only that, but many models come with advanced features such as live streaming, live TV, and other advanced capabilities. Paired with REACH's robust software, Hallandale immediately started creating content. They were able to promote events, set reminders, and expand their social media branding to the public. Whenever they created a new asset, they could set what screens would be displayed on and when. The ease of REACH's software and the reliability of BrightSign gave them the tools to take their communication efforts to the next level.
The Results
Since beginning its digital signage initiative, Hallandale Beach has implemented 9 screens across multiple locations, 8 of them being powered through BrightSign players. The city has expanded its digital footprint and has been able to improve community engagement through more vibrant signage. It has reformed its branding, giving them a professional, consistent look that can be found whether you're enjoying a day at the park or visiting one of its various facilities.
Testimonial
"It's simply the easiest system to use. We haven't had any issues."
Cathie Schanz, Parks, Recreation, & Open Spaces Director at Hallandale Beach
About REACH
REACH acts as both a hardware and software provider for digital signage. When you partner with REACH, you join a network of industry professionals committed to your success. A strong belief in evolving technologies runs throughout the company, resulting in robust digital solutions. To begin your digital signage journey, click the button below to request a free demo from REACH today!