DIGITAL SIGNAGE FOR GYMS
Captivate your audience with digital signage using videos, news feeds, announcements, schedules, and social media posts. Adding our room schedule displays and mobile app can increase class attendance and alert members of cancellations or upcoming events.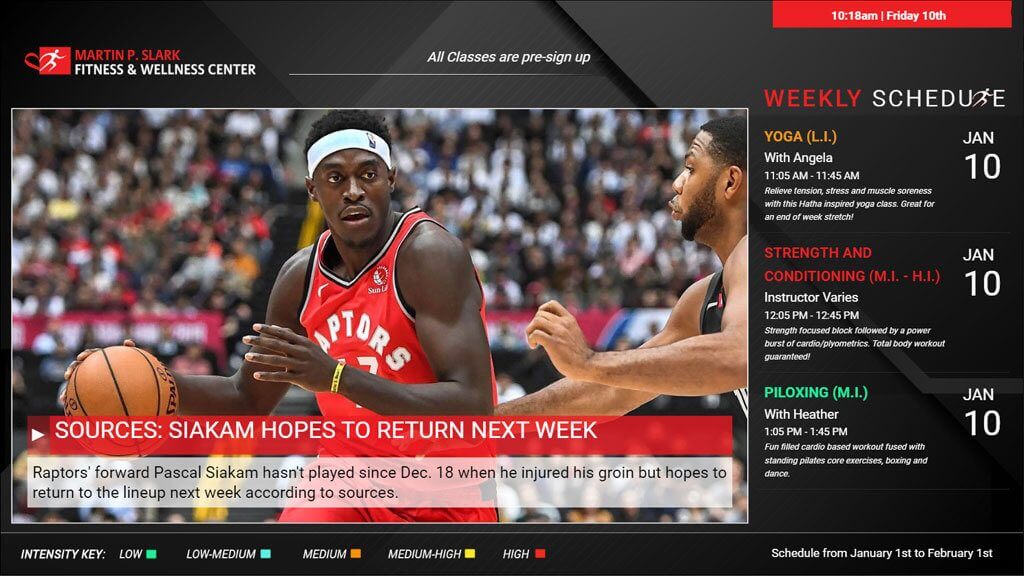 HOW DIGITAL SIGNAGE IN GYMS CAN HELP MEMBERS
Fitness centers are more popular than they have ever been before. Year after year, individuals make their New Year's resolution, which most often involves getting in shape. Now is the time to enhance your fitness center with high-performing digital media solutions from REACH Media Network. By boosting the technology in your fitness center, you will be able to provide your customers with updates and workout options that they have never experienced before.
Announcements – Digital signage allows you to provide customers with instant access to exercise class schedules and announcements.
Promotions – Posting retail products like energy shakes, bars, and activewear while someone is working out is sure to boost the retails sales at your facility.
Highlights – Using the signage to promote customers of the month, membership specials, and new exercise options is another great function of the interactive capabilities.
Content Management Software – This great feature provides customers with updated weather, global and local news and event scheduling. Customization allows you to control what is shown on each device. This software can work with multiple devices and can stream the same information over multiple locations. Linking to iPads, tablets, mobile apps and televisions is what makes this so unique. This software cannot be matched and is sure to bring your fitness center to the next level of your industry.
Additional Service, Support and Experience
Our team will support you every step of the way from installation to fixing any issues if they ever happen. We guarantee 99% uptime on our digital media solutions. Serving over 2,500 clients, we have the experience to make sure that your transition to our digital media solutions is smooth and simple. Contact our team and schedule your demo today.