Enterprise-Grade Digital Signage Players From REACH Are Here!
ENTERPRISE-GRADE DIGITAL SIGNAGE PLAYERS FROM REACH ARE HERE!
A PLAYER FOR EVERYONE
The powerful, DS3 Players from REACH are here! Built as a player designed for any client, this hardware is packed with a variety of enterprise-grade capabilities the affordable price of $199. Optimized for performance, the DS3 is a perfect option for those who want a commercial-grade player. If the player goes offline, caching options will make it so that previous content will continue to run. Once you have the player back online, the new content will update to your displays. This ensures that even at the worst of times, you should never experience a black screen with REACH's software running. As with all our cloud-powered hardware, these updates will occur in real-time so long as you have an internet connection. This allows for content management regardless of where you are. If you're ready to leap into your digital signage journey, click the button below to get started. Or if you're eager, request a free demo here!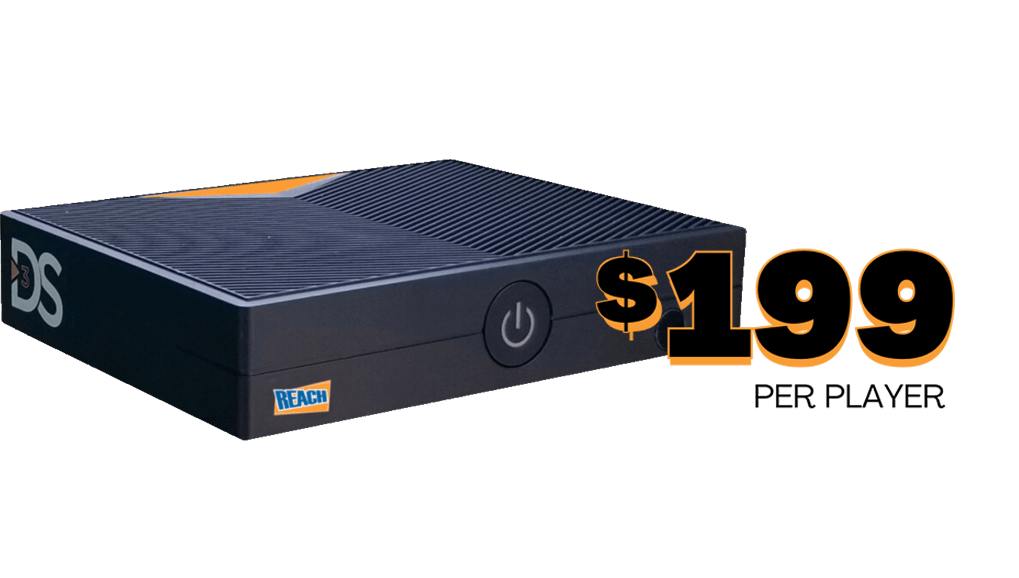 DS3 KEY FEATURES
The DS3 comes packed with all the features you need to start delivering high-quality content to your viewers. With a flexibles software interface and powerful specs, the DS3 is equipped for any scenario regardless of industry.
WHAT'S INCLUDED?
HDMI & Ethernet Cable
Shipping & Handling
1-Year Warranty
Pre-Installed REACH Software
OPTIONAL ADD-ONS
3-Year Hot Swap Warranty for $39
Wireless Keyboard with a Touchpad Mouse For $25. (Recommended if you are using WIFI.)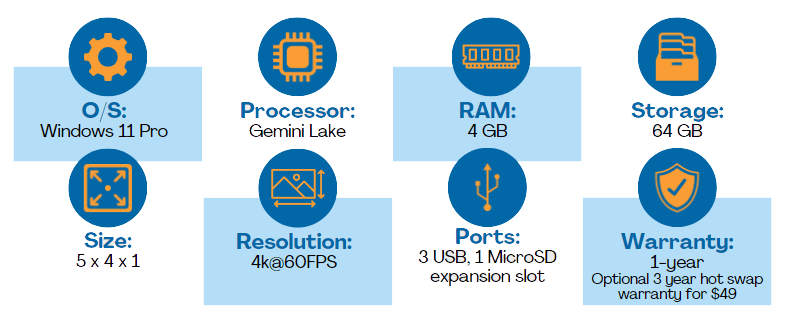 THINGS TO KNOW
The DS3 is the perfect player for those just starting their digital signage initiatives without wanting to skimp on performance. Pre-installed with REACH's software, this plug-and-play hardware is meant for you to immediately start cranking out content! However, you may find yourself wanting to get started even sooner. That's why REACH's software is "hardware agnostic," meaning it can be run on players you may already have laying around! From Fire Sticks to Chromebox's, REACH's software can adapt to nearly any media player with streaming capabilities. For more information, feel free to reach out to see if your hardware is ready to run REACH!
ABOUT REACH
REACH acts as both a hardware and software provider for digital signage. When you partner with REACH, you join a network of industry professionals committed to your success. A strong belief in evolving technologies runs throughout the company, resulting in robust digital solutions. To begin your digital signage journey, click the button below to request a free demo from REACH today!