Top 6 Digital Signage Apps To Use This Holiday Season
Top 6 Digital Signage Apps To Use This Holiday Season
Introduction
The holidays are in full swing, which means it's time to introduce some seasonal spice into your digital signage strategy! Even if your organization does not celebrate specific holidays, introducing a holiday theme to your signage can freshen things up for your audience. Many apps can even help provide utility during seasonal changes. Here are the top 6 digital signage apps you should be using right now! Looking to try it out yourself? Click here to sign up today!
Playlist
Chances are you will be looking to update your content to fit certain holiday themes. Even if you do not have any content specifically for the holidays, changing up your look by adding some snow and other festive decorations can go a long way towards freshening up your look! Doing so is a great way to get fresh eyes on your displays. Additionally, this will draw in new viewers who are interested in the holiday theme. From here, you can create a seasonal playlist of content for your layout designs. With REACH's robust software, you can set up playlists to automatically start and stop after the holiday season. These playlists can be saved for next year, making it easier to update your seasonal content. Jump in now and start trying them out!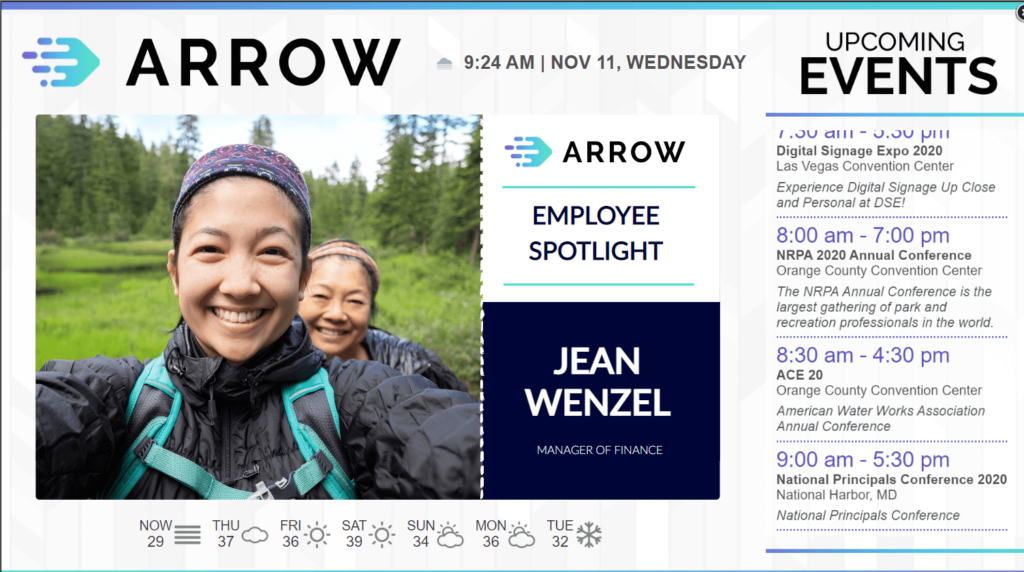 Calendar
Things tend to get a little hectic around the holidays, but digital signage can help alleviate this confusion. Calendar apps and integrations can keep the team on task and prepared for important deadlines. Different calendar options control how calendars appear in each display. This can range from vertical scrolling options to more static formats. Additionally, our calendar app can integrate with third-party software such as Google Calendar, SharePoint, OneDrive, and more! Digital displays tend to draw more attention than traditional media, so implementing a calendar within your layouts has a much greater chance of gaining attention.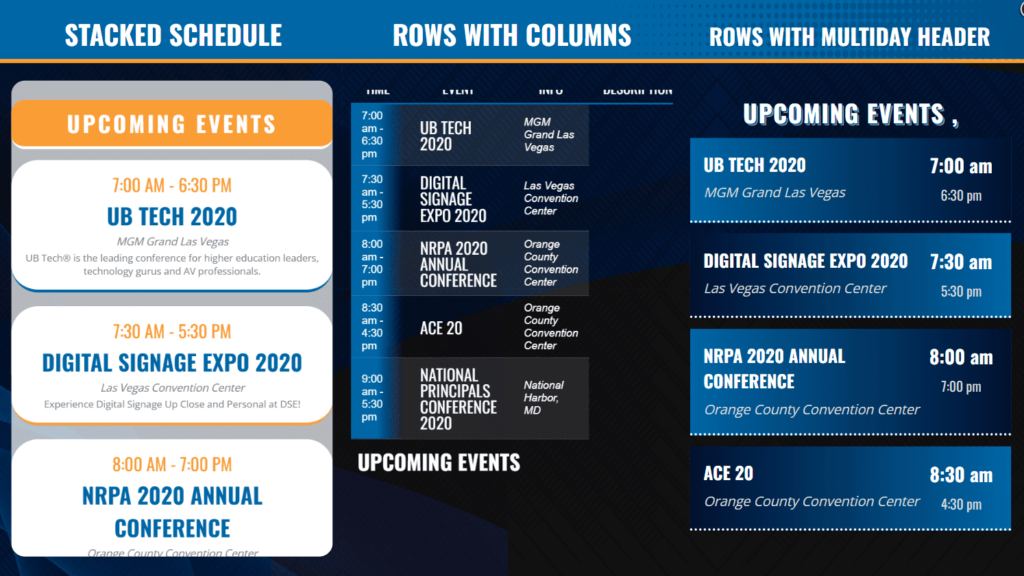 Radar
Oh, the weather outside is frightful this time of year! With seasons changing, weather can affect travel plans. Even those using public transport may need to account for delays and cancellations. With this in mind, our premium radar app can help service staff and customers alike! Being able to provide a reliable source of information is a strong incentive for audiences to revisit your signage each day. Not only that, but it can help establish your brand as a reliable solution to daily problems, which instills trust within your audience. Reach out today to hear more about our premium app packages!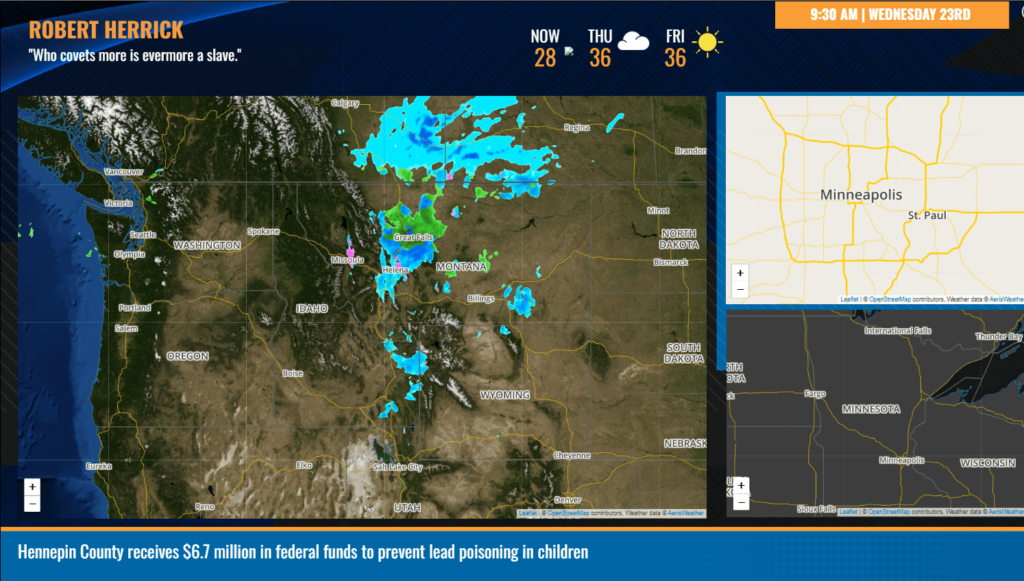 Data List
The data list application is a versatile app within REACH's digital signage software. Many restaurants and food centers will be updating their signage this time of year for seasonal deals. Even if menu items are not changing, introducing a holiday aesthetic into your digital board can help freshen things up and draw people to try things they have not before. Other uses include keeping track of production, manufacturing, and sales metrics, which can be especially useful during this time of year. Our creative team can build stunning data sets that maintain your branding guidelines.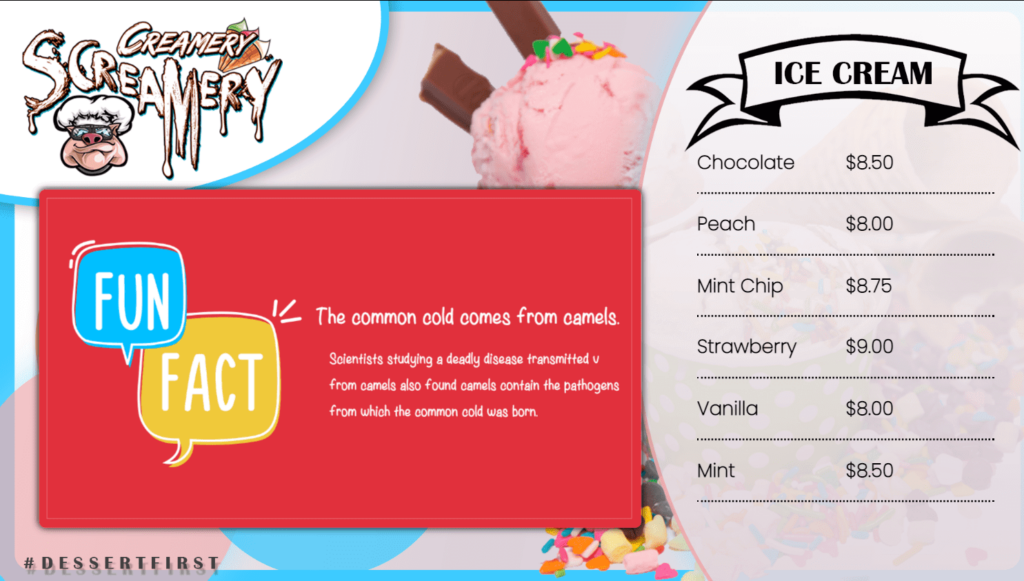 Countdown
Everyone is counting down to something this time of year! Why not make the wait a little more tangible by including a counter in your layouts? Including a countdown to certain holidays can help build anticipation and position your signage as an exciting source of entertainment. But why just count down? You can also count up depending on what information you are trying to convey. For instance, if your company participates in fundraisers or food/gift drives, you can count up the number of assets raised for your cause. Doing so can instill a sense of accomplishment in participants and actively gives them motivation to continue performing well.
Social Media
Integrating your social media channels can help you get ahead of seasonal trends. Share posts from all major social media outlets, and even include hashtags and photos. REACH's digital signage software gives you complete control over your social channels, as you can moderate hashtags and appoint staff to approve posts before they show up on your timeline. This allows you to utilize the strengths of social media without risking inappropriate interactions. Social media can also boost morale around the office, as platforms like Slack can show off fun travel adventures from staff throughout the season.