The Perfect Fully Enhanced Alternative to ScreenFluence Digital Signage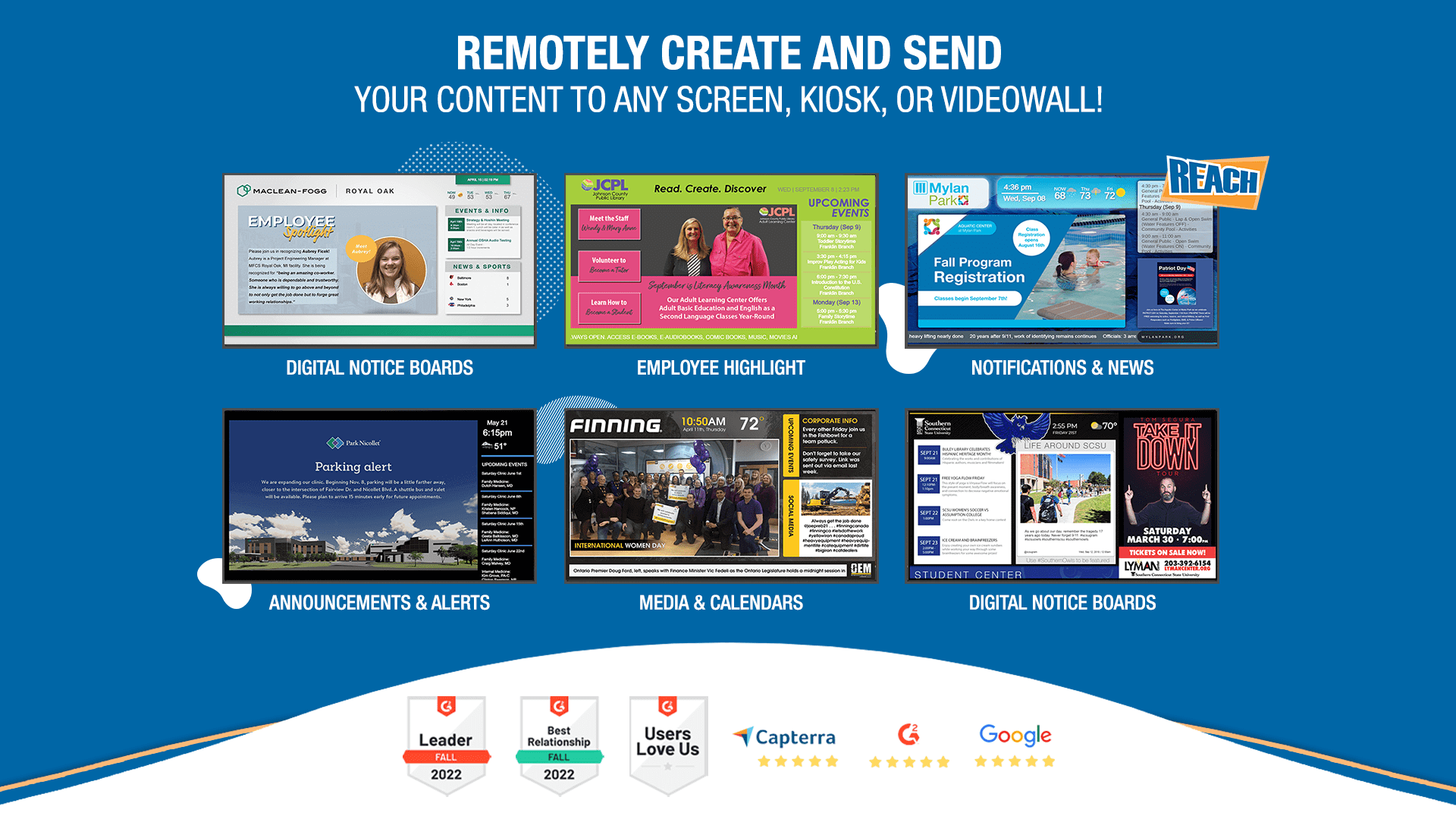 The quest for a solid, feature-rich replacement for ScreenFluence Digital Signage is over.  You have stumbled upon a fantastic alternative to ScreenFluence. After 17 years, REACH Media Network has seen over 15,000 screens managed using our cloud-based Digital Signage Software. With REACH, you will gain the best variety of apps to design your content, set up playlists quickly, and remotely update and monitor your screens.
If you're seeking a specific application, please take a look at one of the five customer favorites below:
REACH Media Network's digital signage software CMS is utilized in many settings, including corporate offices, hospitals, restaurants, supermarkets, and educational institutions. Make and maintain anything from a simple full-screen slideshow with scrolling tickers to a complex, unified dashboard using REACH.
Fully Customizable Digital Signage Software
The field of digital signage is snowballing, and our web-based technology makes it easy to create exciting multimedia displays. Using the 157+ applications and integrations available in REACH, tailoring your site to your brand's style is a breeze.
Data and updates on the stock market

Inspirational Quotes from Recent Times

Real-time radar updates and traffic info

Streaming media with images, such as slideshows and videos

Personalized HTML/Web Content

Power BI and SharePoint

Incorporate your Office 365 or Google Calendar

The option to integrate personalized ticker feeds and to scroll RSS

Tweets, Instagram photos, and Facebook statuses are all updated in real-time
Performance Dashboards and Measuring Indicators
REACH is an application program interface (API), graph, and key performance indicator (KPI) viewer that operates in real-time. After that, you can use bare-bones auxiliary systems. To give you an idea, a digital sign can be utilized in place of printed signs, saving you the trouble of constantly updating a paper-based spreadsheet. In addition, data from many systems, such as point-of-sale terminals, reports, and even external applications like Microsoft Office 365, can be compiled in a single repository.
Put Your Current Equipment to Use
Please select the right digital signs and supporting gear with the guidance of our specialists or the available resources. To top it all off, we only provide the best digital signage players for sale.
In the case of a network disruption, our software is designed to keep digital signage content playing.
Organization-Wide Single-Sign-On Digital Signage Administration
Your employees must only log into REACH once using SSO with an IDP. Some cloud-based SaaS solutions include stringent security measures. SAML 2.0 must be used if REACH is to be implemented. The developers of the SAML (Security Assertion Markup Language) network are counting on participation from many ID card producers (Security Assertion Markup Language).
REACH works with SAML2 Identity Providers, including ADFS, OKTA, and Shibboleth. Compared to its competitors, Azure Active Directory from Microsoft stands out due to its extensive functionality. We will provide the client with an always-active URL for the REACH portal after we have deployed the SAML2-based SSO. The REACH system will use the user's credentials (often an email address) for mediated single sign-on. One needs to refrain from participating if one so chooses. LDAP-SAML2 and the REACH framework are very comparable to one another.
Conclusion
Schedule a demo or ask for a free 30-day trial to learn more about switching from ScreenFluence Digital Signage to our platform. In addition, we would appreciate it if you rate our support and let us know how we did.