A Feature Rich Fully Scalable Alternative to Embed Signage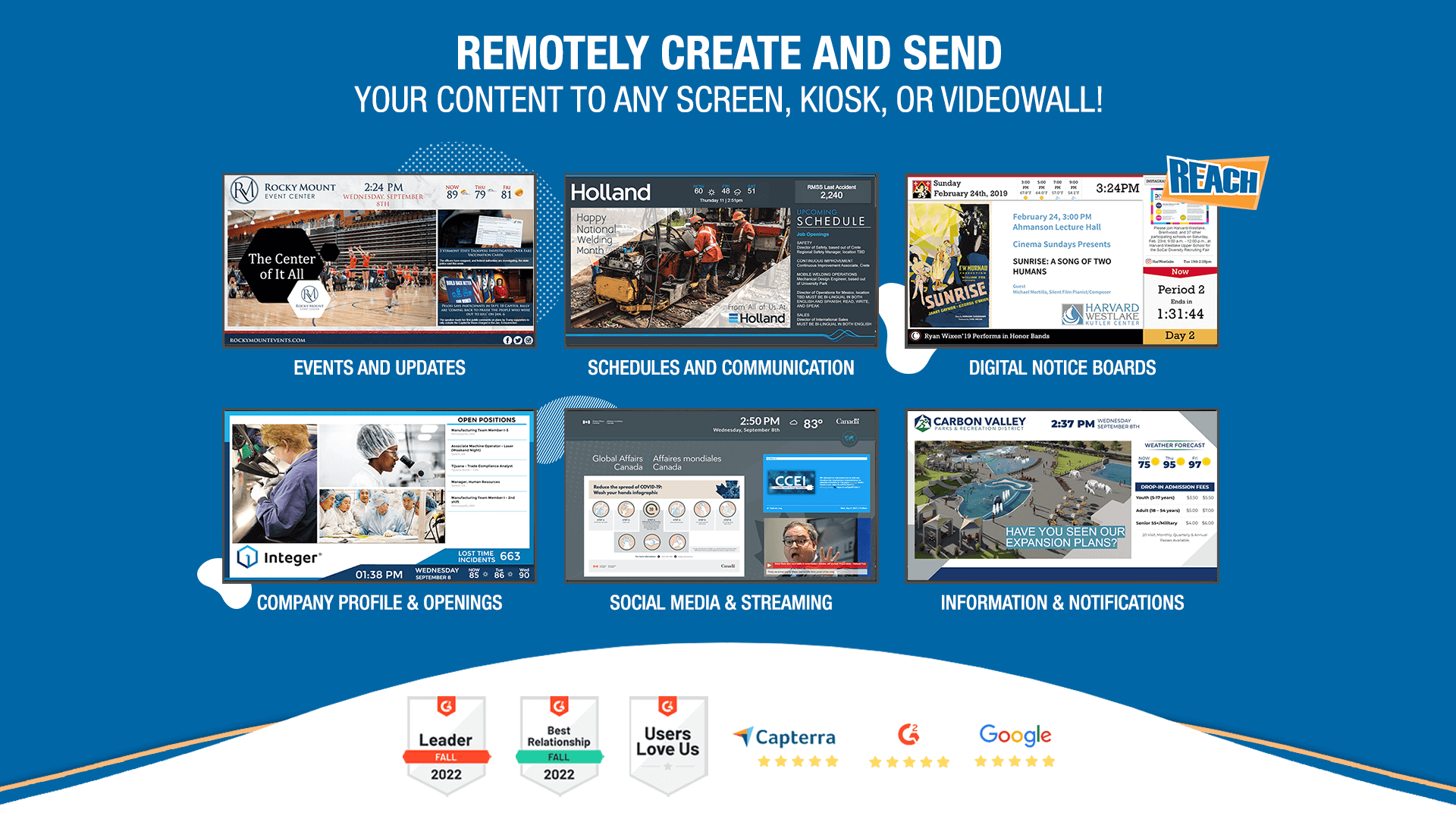 Are you looking for a reliable, feature-packed alternative to Embed Signage?  If so, your search is over because you have found a great alternative to Embed Signage. Since REACH Media Network has been in the business for over 17 years, our digital signage software has been deployed by over 5,000 companies across 15,000 screens!
If you're seeking a specific application, please take a look at one of the five customer favorites below:
Alternatives to Embed Signage
Many businesses and institutions, such as corporations, hospitals, retail stores, offices, bookstores, and other industries, use cloud-based digital signage software from REACH Media Network. Using REACH, you can quickly build and maintain anything from a simple full-screen slideshow with scrolling tickers to a complex, unified dashboard for communicating with your audience.
A Fully Customizable Digital Signage Software Option
Digital Signage is becoming more popular, and our web-based service makes it easy to create attractive multimedia displays. REACH has more than 157 apps and integrations that make it easy to make changes consistent with your brand.
Stock exchange updates and news

Inspirational quotes of the days

Live radar and local traffic reports

Media Streams with Slideshows, videos, and images

Custom HTML and webpages

PowerBI and Sharepoint

Connect your O365 or Google Calendar

Scrolling RSS and custom ticker feeds

Live Instagram, Twitter, and FaceBook feeds
Performance Metrics and Key Performance Indicators Dashboards
You can use REACH to show different kinds of data in real-time, such as APIs, graphs, and key performance indicators (KPIs). One example is using a digital sign instead of making changes to a spreadsheet by hand. Also, data from different places, like point-of-sale systems, reports, and third-party apps like Microsoft Office 365, can be put in one place.
Use Your Existing Hardware
You can use the equipment you already have or the skills of our staff to help you choose the right digital signs and hardware. Also, we only stock and sell digital signage players that are known to be good.
Our software is designed to keep playing digital signage content, even if the network is down.
Single Sign-On Enterprise Digital Signage Management User Control
With SSO and the IdP, your employees only need to log in once to use REACH. Cloud-based SaaS solutions can be very strict when it comes to protecting data. If you want to use REACH, you'll need SAML 2.0. The people who set up the network (Security Assertion Markup Language) are counting on many companies that make ID cards to join (Security Assertion Markup Language).
Shibboleth, OKTA, and ADFS are all SAML2 Identity Providers that can be used with REACH. Azure Active Directory from Microsoft stands out from its competitors because it can do more than them. Once SAML2-based SSO is set up, we will give the client a persistent URL that can be used at any time to get to the REACH portal. The REACH system will use the user's credentials to get in (often an email address) for mediated single sign-on. People are not required to take part. Both REACH and LDAP-SAML2 have a lot in common.
Conclusion
You can schedule a demo or ask for a free 30-day trial to learn more about how to switch from Embed Signage to our platform. Give our service a try and see if it works for you.