A Remarkably Effective Alternative to Play Digital Signage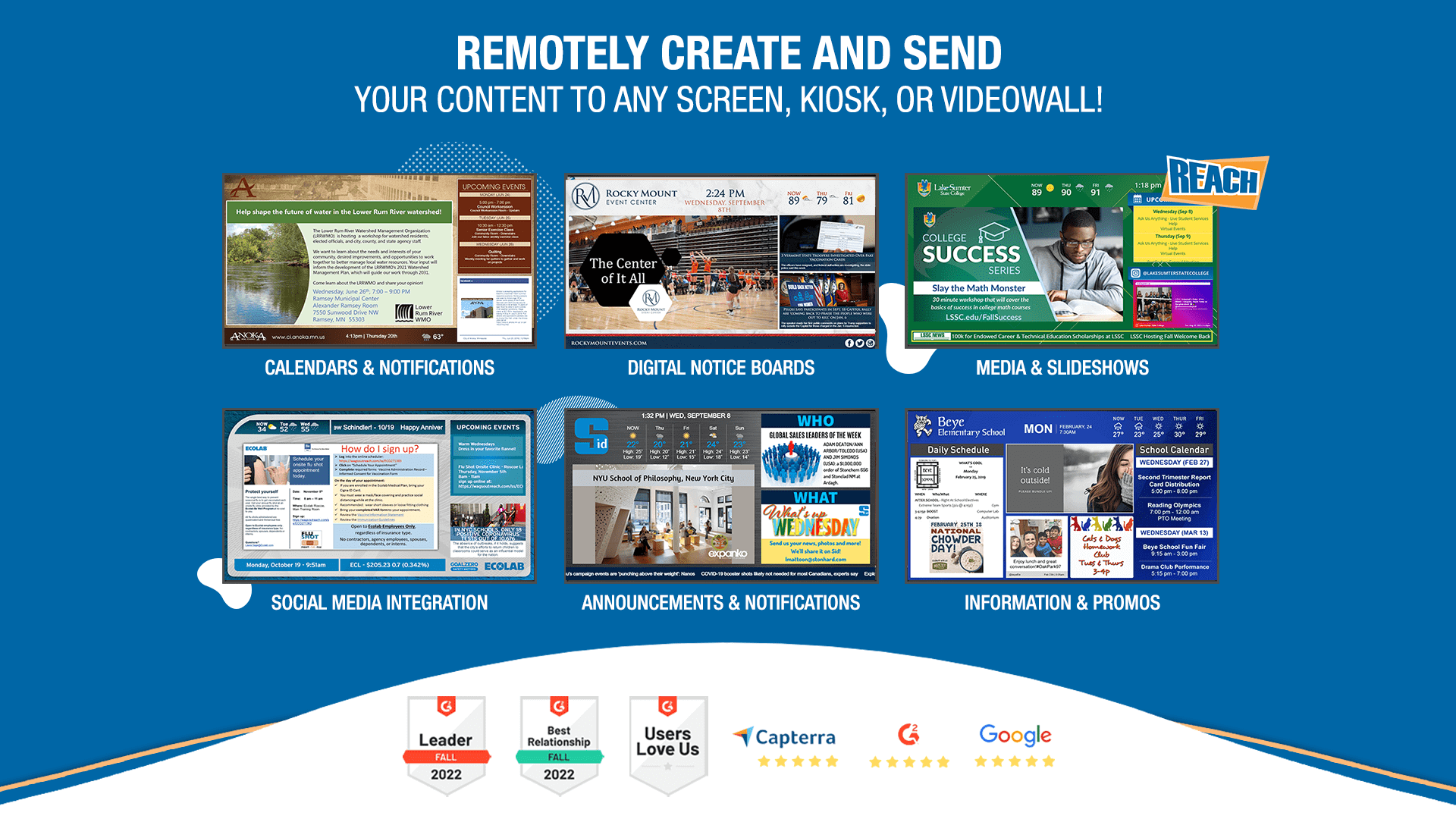 Are you looking for a digital signage solution that is an alternative to Play Digital Signage in terms of customization and ease of use? If that's the case, you've identified the optimal solution. After 17 years in business, REACH Media Network has perfected a powerful and flexible digital signage software platform.
If you're looking for a specific solution, please check out one of our six most popular solutions:
Play Digital Signage Software Alternatives
REACH Media Network provides a screen content management solution in the cloud that companies, medical offices, schools, and enterprises use across. REACH can let you quickly create and manage anything from a basic full-screen slideshow with scrolling tickers to a complex, integrated communication dashboard.
Digital Signage Software That Anyone Can Use
Creating engaging multimedia presentations has never been easier than with our web-based digital signage service. In addition, REACH provides access to more than 157 apps and connections to further facilitate brand-consistent upgrades.
Videos, Images, and PowerPoints

Entertainment and Sports News Feeds

Schedule changes and other event information

Reports on traffic conditions and live radar maps

Interactive HTML feeds and text tickers

Emergency notifications 

Twitter, Instagram, and Facebook
An Effective Management Tool: Key Performance Indicator and Metric Dashboards
Use REACH to plot KPIs, charts, and APIs in real-time. Integrate the methods you're using now (such as metrics dashboards, spreadsheets, tables, calendars, event listings, and so on). For example, one possible use of digital signage is to do away with the need to update the spreadsheet manually. Microsoft Office 365 (O365), POS data, and reports are just some third-party apps that can be integrated.
High-Performing and Versatile Hardware Options
REACH can assist you if you use or are considering purchasing a digital signage media player. Our team of professionals is here to lend a hand in making any digital signage or hardware selections. In addition, each digital signage player we supply is trustworthy and straightforward.
In a network outage, the digital signage media player's cache will continue to operate normally because our software is designed to run without an internet connection. Therefore, the screen remains visible even during power outages.
Enterprise Digital Signage User Management Control
Single Sign On (SSO) is the way to go if your digital signage network has numerous users or locations because it simplifies adding and removing users.
Your employees may use REACH with just one credential to remember, thanks to SSO and the IdP. For SaaS software running in the cloud, access can be strictly controlled. REACH can only be used with SAML 2.0. The network's goal is to build relationships with major identification providers (Security Assertion Markup Language).
As SAML2 Identity Provider, REACH is compatible with Shibboleth, OKTA, and ADFS. Microsoft's Azure Active Directory stands out as a leader compared to other services due to its advanced features (AAD). Once SAML2-based SSO has been deployed, we will provide the customer with a permanent link to the REACH portal. User credentials will launch a mediated single sign-on (SSO) session when this option is selected within the REACH system (often an email address). Every individual user has the opportunity to participate. There are many similarities between REACH and LDAP-SAML2.
Conclusion
If you are considering switching from Play Digital Signage, we encourage you to schedule a demo or request a free 30-day trial to see if our solution fulfills your needs. Then, try our system to see if it lives up to your expectations.