A Feature-Rich Alternative to Broadsign Digital Signage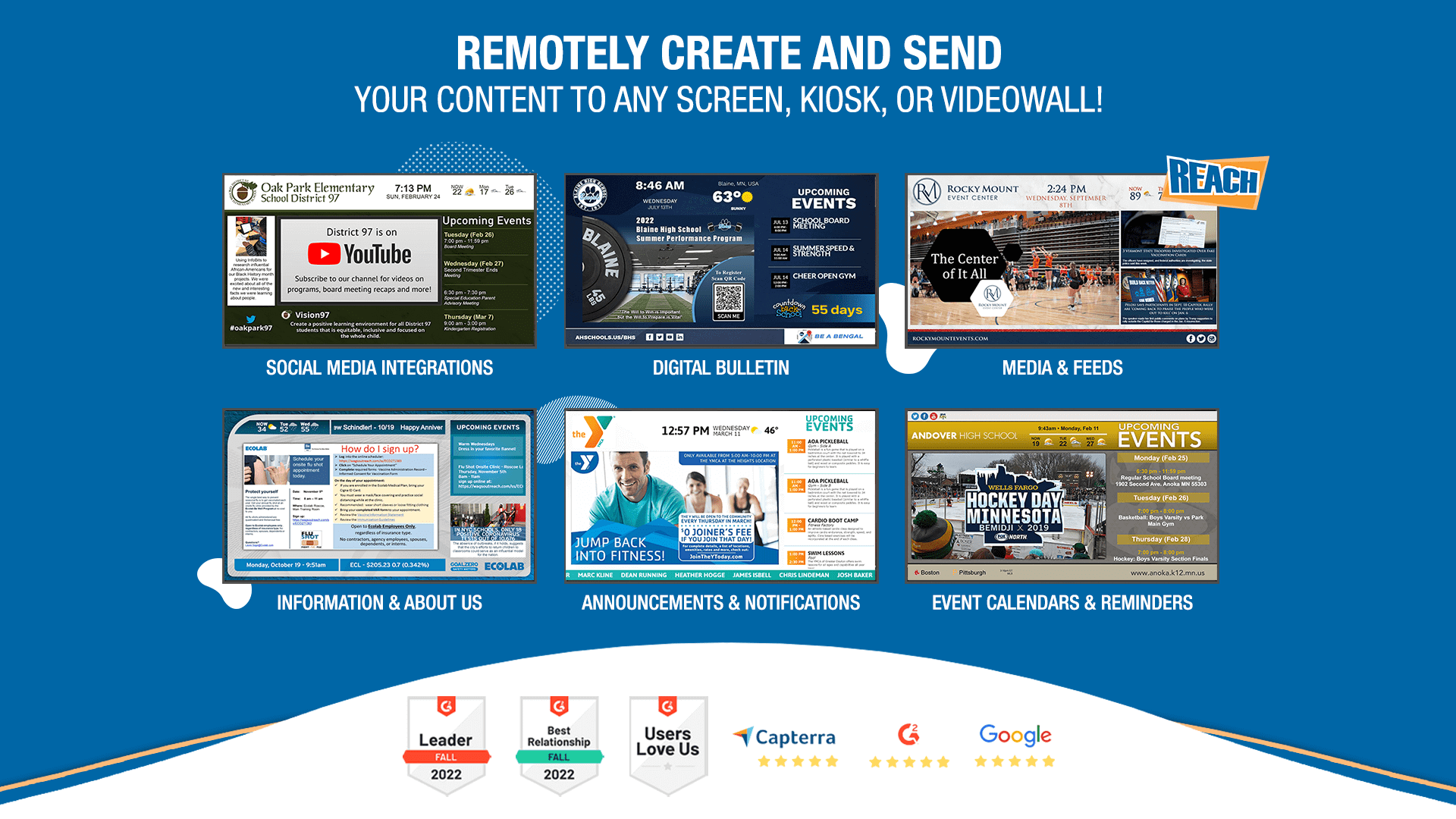 Want an alternative to Broadsign that is adaptable and easy to use for digital signage? If yes, you can stop looking now; you've just come across the perfect solution. After being in business for more than 17 years, REACH Media Network has built a digital signage infrastructure that is feature rich and reliable.
We have a replacement for Broadsign Digital Signage, a popular and well-known digital signage software platform known for being dependable and scalable.
Are you looking for a specific use case? Check out our 5 most popular solutions:
Broadsign Digital Signage Software Alternatives
Companies and organizations in education, government, healthcare, and internal business communications can now use REACH to set up and manage their screen content. From uploading simple full-screen slideshows with scrolling tickers to setting up fully integrated communication dashboards, you can use REACH to set up and manage your screen content smoothly.
Easy-to-use Digital Signage Apps
With our digital signage solution that runs in the cloud, you can make eye-catching multimedia messages quickly and easily. With more than 157 customizable apps and connectors for digital signage, it's easy to make changes that stay true to the brand.
Entertainment and Sports News Feeds

PowerPoint, Google Slides, Excel, and Microsoft Word

Photo, Video, and Media Streams

Scrolling Tickers

Live Radar Maps and Traffic Reports

Event Schedules and Calendar Feeds

Instagram, Facebook, and Twitter updates

Full-Screen Emergency Alerts Screen Takeovers

Live TV and Video Feeds

SharePoint and PowerBi
Dashboards for KPIs and metrics that work together
REACH lets your organization show APIs, charts, and key performance indicators (KPIs) in real-time. Connect the systems you already have (such as metrics dashboards, spreadsheets, tables, calendars, event listings, and so on). For example, digital signage removes the need to update a spreadsheet manually. Third-party applications like Microsoft Office 365 (O365), point-of-sale data (POS), and reports can be added.
Robust Hardware Options
REACH can help if you already have a digital signage media player or want to buy one. Our team is ready to help you choose the digital signage or hardware that fits your budget and meets your needs. Also, we offer reliable digital signage players that are easy to set up.
Our software is made to run without a network, so if it goes down, the cache on the digital signage media player won't go dark. If the power goes out, you can still see what's on your screen, so don't worry. Even though the REACH software's images could be better, there is always enough information to work with.
Interfaces for managing digital signs for large organizations
SSO is valid for digital sign networks with many users or locations (Single Sign On). This makes the process of managing users more accessible and faster.
With SSO and the IdP, workers only need to remember one set of credentials to use a wide range of powerful cloud apps that they couldn't use before. If your SaaS apps are hosted in the cloud, it's much easier to control who can use which ones. Without SAML 2.0, you can't use REACH. All major identifier providers are welcome to join the network (Security Assertion Markup Language).
Shibboleth, OKTA, and ADFS are all SAML2 Identity Providers that can be used with REACH. Azure Active Directory stands out because it has things that no other service has (AAD). After SAML2-based SSO is set up, we'll give the client a persistent URL to access the REACH portal whenever needed. When the user enters their username and chooses this option, the REACH system will do a single sign-on (SSO) mediated login (often an email address). Users can decide to take part or not. Between REACH and LDAP-SAML2, there is a clear link.
Conclusion
Schedule a demo or ask for a free 30-day trial to find out if we're the best choice to replace Broadsign Digital Signage. This will help you decide if we're a good fit for your needs and allow you to see our digital displays yourself.