Youth Programs Find New Life With Digital Signage
YOUTH PROGRAMS FIND NEW LIFE
WITH DIGITAL SIGNAGE
BUILDING YOUR CAMPS
Summer is right around the corner, meaning preparations for summer camps, clubs, and activities are in full swing. In order for your programs to grow and last, fresh faces are needed. Not only that, but new participants add new personalities and ideas to your camps that encourage more sign-ups, therefore growing your community. With digital signage for youth programs, you can reimagine your advertising and introduce new life to your camps!
The flexibility of digital signage can give you the tools to provide multiple content pieces at once. This can give a more holistic view of your organization that inspires viewers to join in the fun! Dynamic elements such as videos and animations can draw attention more than static bulletin boards. Simultaneously, cloud-based management systems allow you to update and manage your displays from one central location. So long as you have internet access, you can create and upload new content from anywhere. Leveraging these tools to appeal to your target audience can see registration numbers soar when coupled with proper strategy.
GETTING INVOLVED BY SHOWING ENGAGEMENT
Firsthand accounts and user reviews are the strongest methods of persuading someone to join your club. With digital signage for summer activities, you can bring these reviews directly to your audience. Highlighting positive reviews and feedback not only positions your camps as credible organizations but can also boost morale with the staff working them! This creates a better working environment that will result in happier campers and counselors alike. Taking it a step further and highlighting employees through "Counselor Highlights," also puts a face to your camps. This can create early connections between your audience and the people running your activities, increasing the chances of registration.
However, showing engagement can come in many forms. HD videos can be uploaded or streamed to show specific activities children will engage in. Social media timelines can be integrated to show in-the-moment fun and live updates. Once you have these assets, playlists can be scheduled weeks, months, or even years in advance! This will let you set up pre-planned content streams that will turn on and off automatically once the season is over.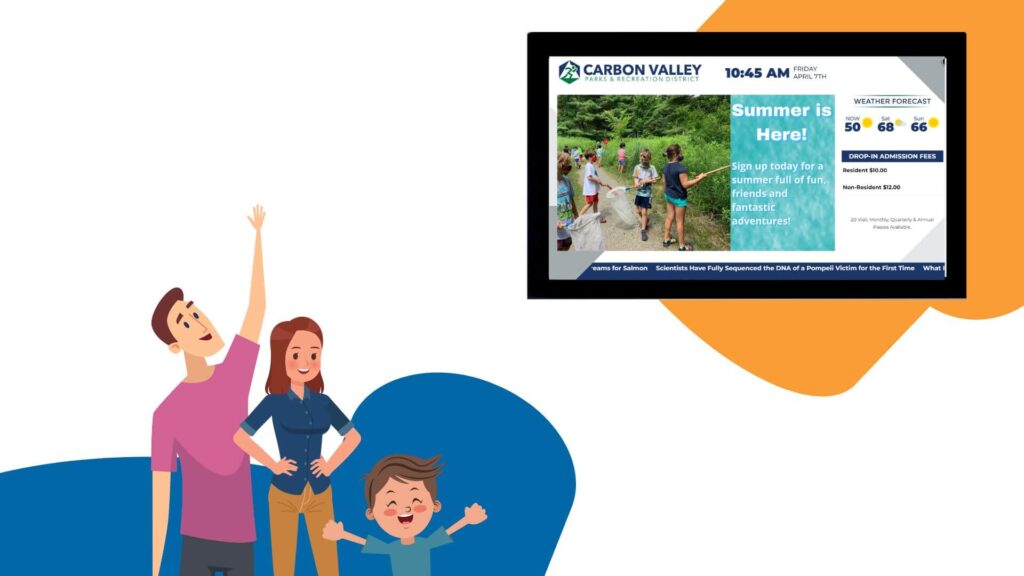 SEALING THE DEAL
Once you have their attention, it's time to capitalize on this crucial moment by inspiring action. Digital signage for summer youth clubs can provide immediate avenues to register for camps that traditional bulletin boards cannot. Through QR codes and other links, you can redirect viewers to registration and other sign-up pages. Digital signage allows you to reach your audience at their emotional height regarding the decision to join your camp. Providing a route to immediately join creates a sense of urgency and can be the tipping point for them to take that final step.
If there is not enough space in your layouts, providing wayfinding tools and other resources showing where to sign up can still secure registrations. Regardless of your strategy, this is important information that should be readily available.
GET STARTED, TODAY!
It's never too late to start your digital signage journey! REACH acts as both a software and hardware provider, so we can set you up with everything you need to get started. Our software is also "hardware agnostic," meaning our software can play on most digital media players! If you even have a Fire TV Stick or some other player, you can start creating beautiful digital displays.
Click the button below to request a free demo and see how your community can benefit from digital signage solutions!