Digital Signage For Rec Centers Streamlines Summer Camp Registration
DIGITAL SIGNAGE FOR REC CENTERS STREAMLINES
SUMMER CAMP REGISTRATION
SUMMERTIME FUN BEGINS!
The summers are rife with numerous camps, clubs, and activities for people of all ages to enjoy! With so much going on, it's the perfect opportunity to update your digital displays in order to maximize participant involvement. However, actually getting people to sign up can be a challenge in itself. Even the most vibrant displays won't matter if no one can get anywhere. That's why digital signage for rec center camps aims to bolster your ads while providing quick avenues for viewers to take action. The result is an omnichannel strategy that provides viewers with the info, motivation, and tools you need to convert interest into registration!
TABLE OF CONTENTS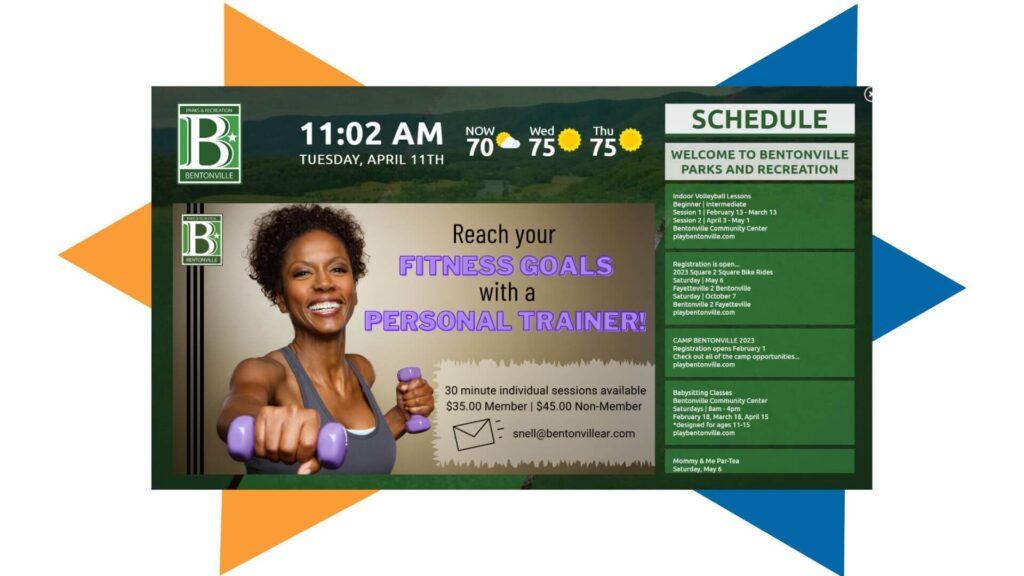 The utility of digital solutions for summer camps allows you to interact with your audience in ways traditional media couldn't allow for. In addition to providing quick and easy registration portals, other content such as important dates and wayfinding tools can all be presented alongside other content. This content can then be tailored to further encourage audiences to take action.
QR CODES: ENCOURAGING IMMEDIATE ACTION
You've created beautiful assets, you've picked the perfect location for your display, and now only one question remains:
How do we get people to actually sign up? While ads can persuade viewers into taking action, they typically lack the means of doing so. That changes when implementing QR codes into your summer camp digital signage templates.
QR codes are an easy way to provide participants a route to sign up for your programs, immediately. If your content is powerful enough to make an impression and encourage sign-ups, you can then leverage that emotional response and convert it into a registration. These QR codes can redirect viewers to all sorts of links, from registration pages to newsletter enrollments. Regardless of the content, QR codes can also show you the level of interest in a program by analyzing click-through rates, conversions, and other metrics.
DIGITAL DISPLAYS & TOOLS OF PERSUASION
Summer camp digital displays allow you to portray a variety of content in a concise manner. In addition to your advertisements, supplemental content such as calendars, news headlines, RSS feeds and more can all be displayed. With this in mind, there are many tools available to you to help convey your message and persuade viewers to join your clubs!
For example, implementing urgency ads can create a pressing need in your audience to sign up as soon as possible! Messages like "Don't Miss Out!" "Clock's Ticking!" or "Last Chance!" tell your audience that deadlines are fast approaching. Coupling these announcements with a calendar integration that scrolls through important dates tells them the timeframe they have to send their forms! You can even take this a step further by including a counter app that counts down the days until a camp starts or spots open. This provides a consistent source of information for patrons to check back on and see how much time is left.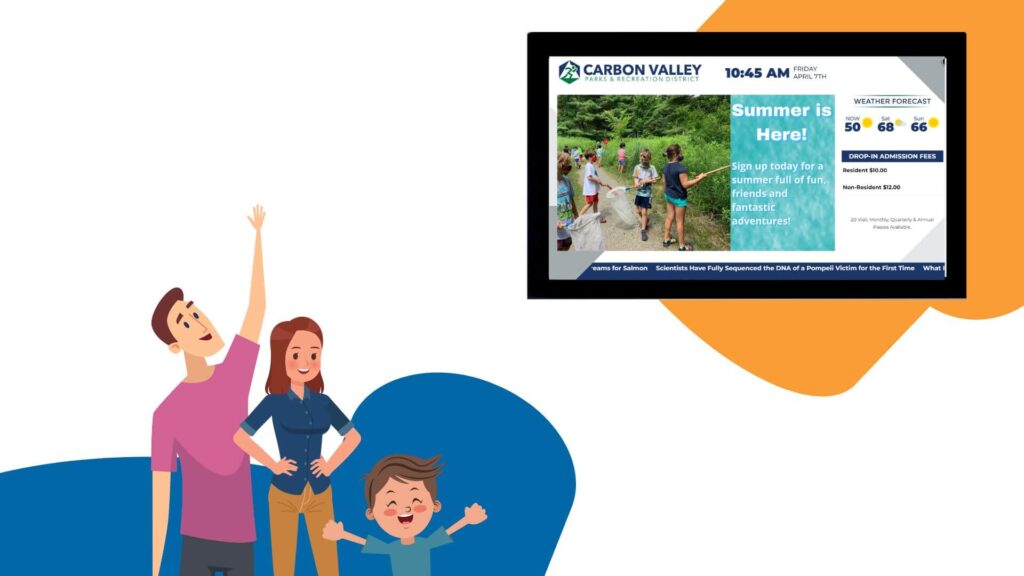 Digital billboards for summer camps also provide a lot of advantages over traditional media. As stated above, you can fill these layouts with all sorts of supplemental content. Mixing it up and including a video can show patrons firsthand the fun activities within your camps. Including user reviews can add credibility to your camp and makes parents feel more secure about sending their kids. There are plenty of tools to provide you with a flexible marketing solution that can be tailored to fit your messaging.
THE REST OF SUMMER
Everyone knows that a loyal, returning customer is easier to maintain than persuading new patrons. However, that is not to say that this segment should be ignored. Using digital signage to encourage future registration for loyal customers is essential for long-term success.
Hosting "camper of the week" or sharing funny stories, pictures, and other media can show parents how much fun their kids are having. This affirmation will encourage them to not only sign up again next year, but could even inspire them to check out other clubs. Detailing how certain camps, facilities, and activities are changing ahead of time can also get people excited for the future and bring in early adopters. With proper implementation and strategy, these digital solutions for summer camps can create long-term enrollment for all your programs!
GET STARTED, TODAY!
It's never too late to start your digital signage journey! REACH acts as both a software and hardware provider, so we can set you up with everything you need to get started. Our software is also "hardware agnostic," meaning our software can play on most digital media players! If you even have a Fire TV Stick or some other player, you can start creating beautiful digital displays.
Click the button below to request a free demo and see how your community can benefit from digital signage solutions!