Make Your Signage Sparkle With 4 Easy Content Ideas
MAKE YOUR SIGNAGE SPARKLE WITH 4 EASY CONTENT IDEAS
START SPANGLED SIGNAGE
Heat up the grill and get the hot dogs rolling, cause the 4th of July is just a few days away! During this holiday, sales, promotions, events, and other items will be shared in stores and homes all over the country. But just because people will be outside watching fireworks does not mean that there are no digital signage opportunities. On the contrary, the 4th provides a lot of thematic material to create great digital content! Couple that with some stock imagery REACH provides for free, and you can crank out plenty of patriotic assets that can be used for years moving forward.   Looking to try digital signage out yourself? Click here to get started!
PATRIOTIC ANNOUNCEMENTS / ASSETS
REACH's content management system is equipped with its own announcement editor that allows you to create fresh asses directly from the Media Library. From this editor, you can access REACH's extensive library of stock photos. This includes 4th of July-themed photos that can be used in your design. From there, you can also use custom fonts and other materials to really create that classic American image. Again, these will save directly to your media library once you've saved these formats. However, another option is available as well. REACH has recently integrated with Canva to allow users to sign in and create Canva images from our software. By signing into your Canva account from the Media Library, you gain access to the entirety of Canva's asset library without having to leave the site. From here, you'll have even more options for customizability, such as adding animations, filters, and advanced cropping options. These tools can create announcements that can be used to promote sales, events, limited-time items, and other materials. It's really up to you and your creativity, leaving the door open for endless possibilities!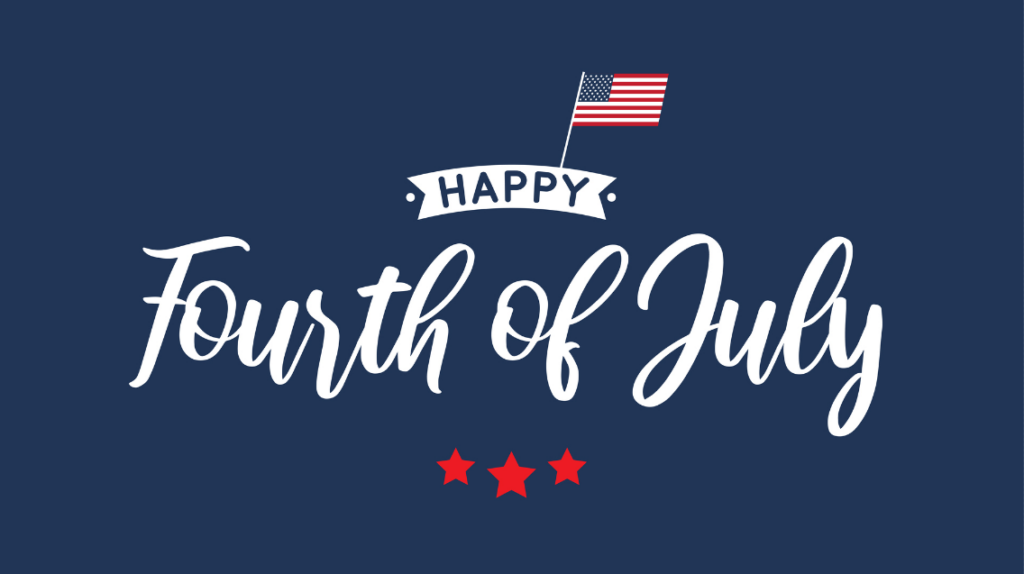 STREAMING THE BIG SHOW
Plenty of people will be heading out during the evening to marvel at fireworks shows. However, not everyone gets to enjoy the fun. The weather may hinder displays in some regions, disabilities may prevent some people from traveling, or even noise/pollution ordinances could prevent fireworks altogether. That's why another easy way to get eyes on your displays is to establish a live stream of fireworks shows. Doing so gives viewers a safe way of viewing holiday celebrations from the comfort of their homes. Not only that but having extravagant firework displays streaming from your screen is a great way to initially attract attention and add nice ambiance to the rest of your layout.
4TH FACTS
The 4th of July is a holiday that is rich with history. While most people understand the importance of it, many likely lack a complete understanding of the story surrounding our independence. With that in mind, another, more subtle way of celebrating the 4th is leveraging REACH's trivia application. Through this feature, unique facts can be shared that audiences may not be aware of. Implementing this feature not only fits the theme of the day, but provides a reason for viewers to return each day to get a new factoid.
#SHARETHETEAPARTY
Finally, social media is the greatest tool you can use when it comes to any holiday. People will be sharing content all over the web, providing plenty of opportunities to leverage user-generated content. You can even encourage people to directly interact with your brand and post to your timelines by creating thematic trends or challenges. Using a hashtag to make these posts easily discoverable and encourage audiences to spread your message will eventually result in a growing digital presence. Of course, typical promotions and announcements can also be shared through social media, allowing you to maintain your typical brand standards.
ABOUT REACH
REACH acts as both a hardware and software provider for digital signage. When you partner with REACH, you join a network of industry professionals committed to your success. A strong belief in evolving technologies runs throughout the company, resulting in robust digital solutions. To begin your digital signage journey, click the button below to request a free demo from REACH today!