The Clear Alternative to Mvix Digital Signage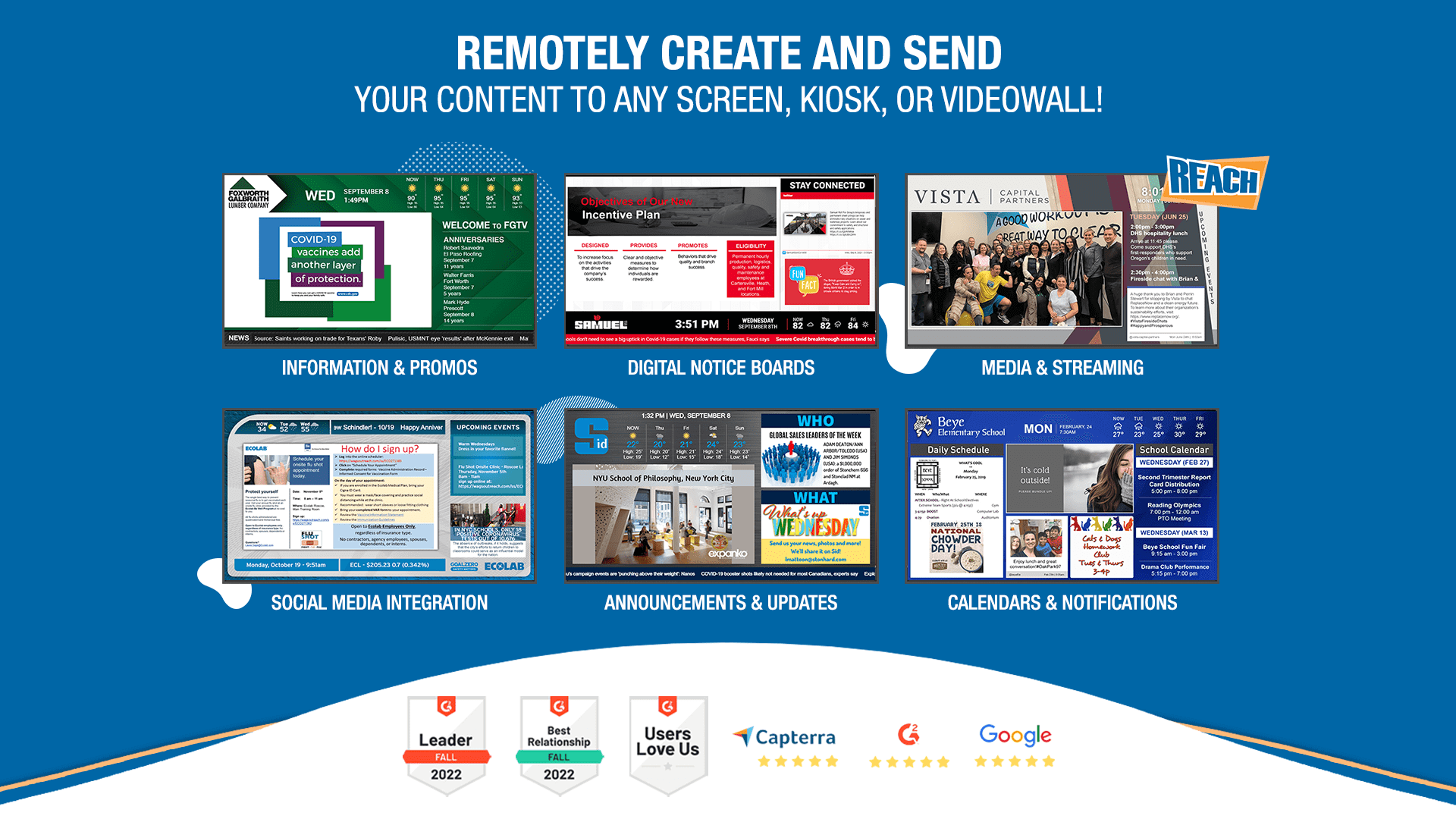 Do you require a dependable and effective digital signage system, but Mvix is not checking the boxes? If you seek an alternative to Mvix Digital Signage,  you've come to the correct place! For more the sixteen years, REACH Media Network has been helping customers set up and manage digital signage!
REACH Media Network is a privately held cloud-based digital signage software company, and we offer a reliable alternative to Mvix Digital Signage. From a robust and powerful interface that lets you quickly set up your content to remote management of your players, we can help you!
If you have a particular requirement, please review our five target markets.
Digital Signage Software Alternative to Mvix Digital Signage
We have you covered when it comes to an alternative to Mvix Digital Signage! First, our cloud-based digital signage platform, REACH, makes it simple for you to generate and manage the material displayed on your screens, and you may customize their appearance. Next, you can instantly distribute high-quality content to your displays from anywhere using our unified set of capabilities.
Customizable Digital Signage Apps
REACH provides a free library of over 157 digital signage applications that can be modified to create content. Among these applications:
Outlook and google calendars

Live traffic and weather radars

Employee anniversaries and recognition

Live local and national news

National weather alerts

OneDrive & SharePoint

PowerBi dashboards

Quote of the day

Sports headlines
A Powerful Integrations Engine for Content Automation
Integration of REACH's digital signage solution with your existing analytics dashboards, spreadsheets, tables, calendars, and event listings provides a quick and straightforward approach to reaching more people with your information. Once set up, you will never have to update a spreadsheet again manually!
We can synchronize your data and content to make it easier for your organization to display APIs, charts, and key performance indicators (KPIs) in real-time. Examples of interoperable third-party platforms include O365, POS data, and reports.
Use Your Existing Hardware
REACH can be used with your chosen hardware, whether you want a new media player or currently own one. 
REACH is available to assist you with selecting and purchasing digital signage players that satisfy your needs and are within your budget. 
In a network outage, our software will continue to display content saved on the digital signage media player. As a result, you no longer need to worry about your display failing if the power goes out. The REACH software will always provide something, regardless of the image quality.
Digital Signage with Advanced Control for Multiple Users for Businesses
SSO is viable for digital signage networks with numerous users and installation sites. When these settings are used, creating and managing users is expedited.
With SSO, workers can sign into all enterprise-grade cloud applications connected to their IdP using a single set of credentials. This makes it easy to track who can use which cloud-based SaaS applications and how. REACH also requires SAML 2.0. Thus, the platform is compatible with all significant identity suppliers (Security Assertion Markup Language).
REACH is interoperable with multiple SAML2 Identity Providers, including ADFS, OKTA, and Shibboleth. Microsoft Azure Active Directory is an additional service (AAD). Once we've completed configuring SAML2-based SSO, we'll provide the customer with a unique URL that they may use to sign in to the REACH platform. After providing their username, users can also have the REACH system initiate SSO-mediated login on their behalf (often an email address). Users may select this option. Moreover, REACH is compatible with the LDAP and SAML2 systems.
Conclusion
Please join up for a demo or request a free 30-day trial if you are unsure that we are the ideal replacement for Mvix. This will provide you with hands-on experience with our digital signage system and, more importantly, allow you to determine if we meet your needs.